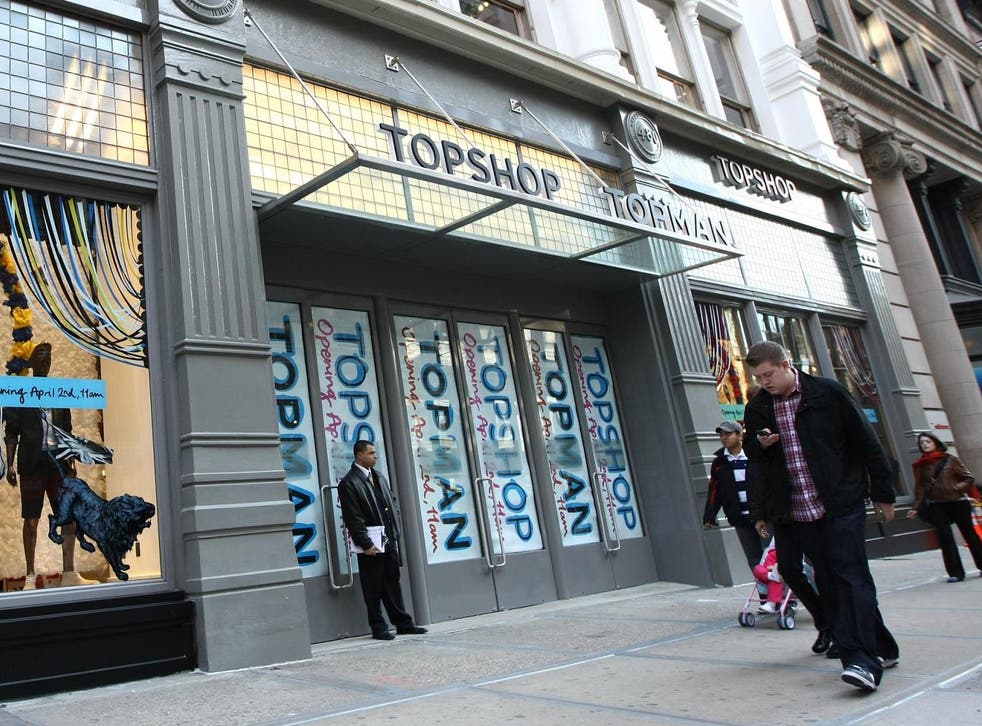 Topshop to close all US stores
Arcadia also plans to close 23 stores across the UK and Ireland
Sabrina Barr Comments
Sir Philip Green's Arcadia Group has announced the closure of all of its US Topshop stores.
Earlier this year, it was reported that Arcadia Group was potentially going to cut jobs and close stores in order to explore ways of making the business more efficient in an "exceptionally challenging retail market".
As part of a rescue plan for the company, 23 stores under the Arcadia Group umbrella, – including Topshop, Dorothy Perkins and Miss Selfridge – are also set to shut across the UK and Ireland.
High street shops Dorothy Perkins, Burton, Topshop and Topman have been earmarked for closure as part of a company voluntary arrangement (CVA) – a legally binding agreement which allows a company in debt to reach a voluntary agreement with its creditors so that it can repay its debts over tie.
The proposed closure of the Arcadia stores is putting more than 500 jobs at risk.
Ian Grabiner, chief executive of Arcadia, says the shutting down of several of the firm's stores has been a "tough but necessary decision for the business".
"Against a backdrop of challenging retail headwinds, changing consumer habits and ever-increasing online competition, we have seriously considered all possible strategic options to return the group to a stable financial platform," Grabiner states.
"We will ensure all potentially affected colleagues are kept fully informed as we seek approval from our creditors on today's CVA proposals".
Daniel Butters, partner at Deloitte, says that Arcadia and its fashion brands have faced "unprecedented market conditions in recent years, which have significantly impacted the group's financial performance".
"These CVAs will provide a stable platform for Arcadia's experienced and committed leadership team to implement its turnaround plan and ensure the long-term sustainability of the group," Butters adds.
In addition to the announced closure of various high street stores, Lady Tina Green, wife of Sir Philip and ultimate owner of Arcadia, is putting £50m of equity into the business, having already loaned the company another £50m.
Topshop launches first-ever vegan shoe collection

Show all 12
Furthermore, in the event that Arcadia is sold, Lady Green has offered landlords a 20 per cent stake of the proceeds.
In October, Sir Philip found himself at the centre of accusations of racist and sexist bullying of staff and claims he then used non-disclosure agreements to keep the allegations a secret, all of which he has denied.
Prior to that, the businessman was criticised over the 2016 collapse of BHS, which caused a loss of 11,000 jobs.
Here's a full list of all the Arcadia stores set to close in the UK and Ireland:
UK:
Aberdeen (Dorothy Perkins and Burton)
Ashton-under-Lyne (Topshop and Topman)
Bedford (Topshop and Topman)
Bluewater, Kent (Miss Selfridge)
Cheshunt (Outfit)
Fareham (Topshop and Topman)
Glasgow, Buchanan Street (Burton and Topman)
Luton (Topshop and Topman)
Newcastle, Northumberland Street (Outfit)
Nuneaton (Topshop and Topman)
Reading (Dorothy Perkins and Burton)
Salisbury (Topshop and Topman)
Southend (Miss Selfridge)
Stirling (Dorothy Perkins and Burton)
Swindon (Miss Selfridge, Wallis, Evans)
Swindon (Dorothy Perkins and Burton)
York (Dorothy Perkins and Burton)
Ireland:
Cork (Dorothy Perkins and Evans)
Dublin, St Stephen's Green (Topshop and Miss Selfridge)
Dublin, Jervis (Topshop and Topman)
Dublin, Henry Street (Evans and Wallis)
Dublin, Liffey Valley (Wallis)
Galway (Miss Selfridge)
All Arcadia stores in the UK and Ireland will "continue to trade as normal" before Arcadia meets with its creditors on 5 June to seek approval for its closure plan.
All 11 of the retailer's Topshop and Topman stores in the US are set to close.
Register for free to continue reading
Registration is a free and easy way to support our truly independent journalism
By registering, you will also enjoy limited access to Premium articles, exclusive newsletters, commenting, and virtual events with our leading journalists
Already have an account? sign in
Join our new commenting forum
Join thought-provoking conversations, follow other Independent readers and see their replies