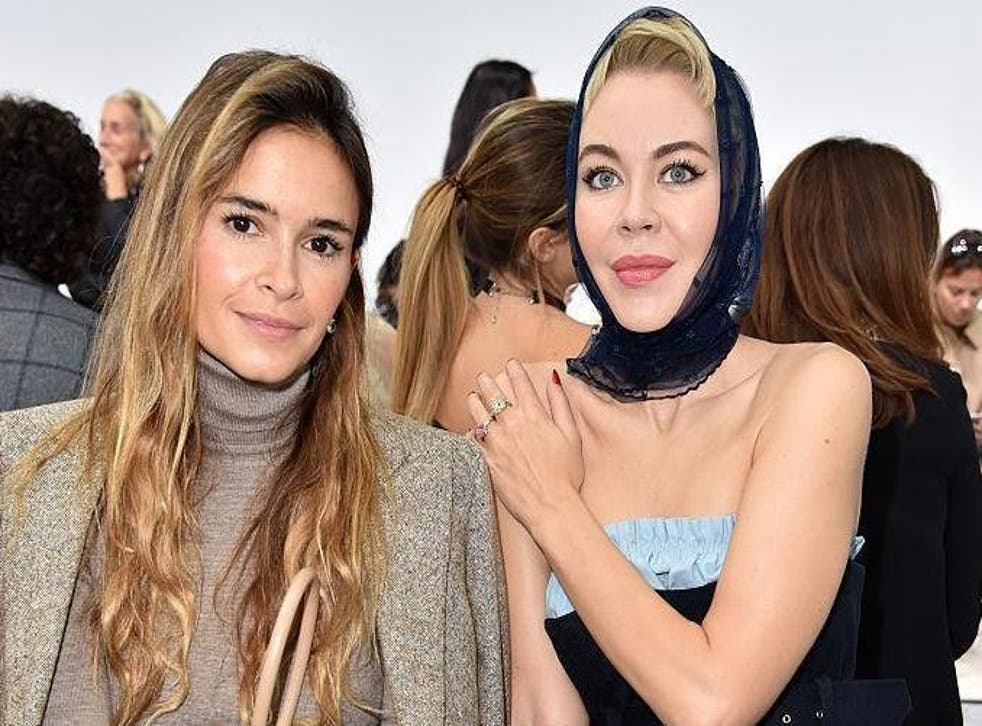 Naomi Campbell condemns Russian designer for writing N-word in note
'This better not be real'
A Russian designer is facing backlash after using a racial slur in a note during Paris Couture Week.
On Tuesday afternoon, Ulyana Sergeenko, 36, came under fire for sending a bouquet of flowers to her friend, fashion entrepreneur Miroslava Duma, with a handwritten note that read, "To my n****s in Paris."
Duma, 32, later shared the note on her Instagram Stories alongside a heart emoji and tagged Sergeenko in the post.
The offensive and casual use of the racial slur quickly prompted outrage on social media with several industry insiders, including supermodel Naomi Campbell, condemning the designer.
Sharing an image of the offensive post on her Instagram Stories, Campbell wrote, "This better not be real."
Similarly, fashion photographer Ed Kavishe posted a screenshot of the note adding, "What planet would you think this was acceptable language and behaviour? You don't get to use these words ever."
As a result of the backlash, both women issued a public apology on their Instagram accounts.
Explaining that the note was a reference to the Kanye West and Jay-Z song "N****s in Paris," Sergeenko defended her actions by saying that she herself was born in a small town in East Kazakhstan, that her daughter was half Armenian and that Kanye West was one of her favourite musicians.
She even went on to admit that she and her friends call each other the N-word sometimes.
"Mira is a dear friend and even the fact that she so naively posted my private card to her on her social means that we meant nothing wrong and didn't realise the consequences," Sergeenko wrote.
"I have certainly learned my lesson and I am grateful for it. There is enough anger in the world out there, please, can we stop it here?"
However, the apology prompted further backlash from more fashion industry players.
"This DISGUSTS me. To see Mira post something on IG so casually using this racial slur, and then have Ulyana defend the usage with such a bs excuse makes my blood boil," tweeted Callia A. Hargove, a social media editor at Teen Vogue.
"So tired of 'fashion girls' thinking that listening to one rap song gives them the right."
Fashion blogger Bryanboy also slammed her response adding, "So Lena Dunham definitely wrote Ulyana's apology letter! Of course she's not Racist, Kanye West is her favorite musician!"
"I love rich Caucasian woman privilege! I mean."
Duma also released her own apology on Instagram saying that she regretted promoting the "utterly offensive word."
But, to complicate things further a disturbing video of the fashion entrepreneur surfaced from 2012 where she makes homophobic and transphobic comments about blogger Bryanboy and transgender model Andrej Pejić.
Despite attempts to redeem herself she was immediately removed from the board of Dallas-based parenting brand, The Tot, which she co-founded.
"We at The Tot are deeply shocked by the offensive and racist post shared last night by Miroslava Duma during Paris Fashion Week," the brand posted on Instagram.
"In no way do those actions or statements reflect the values of The Tot.
"Cultural reference or not, racism in any form is unacceptable, regardless of whether it's accidental or unintentional.
"Words are powerful and we know those words hurt. Effective immediately, we have removed Miroslava Duma from the board of our company."
Join our new commenting forum
Join thought-provoking conversations, follow other Independent readers and see their replies