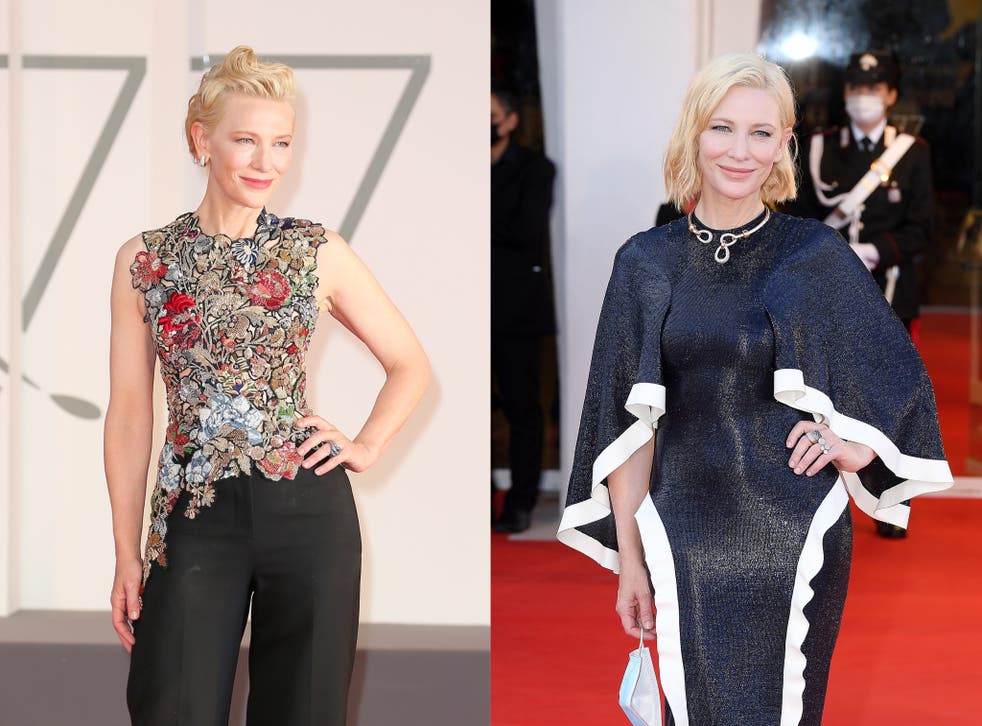 Venice Film Festival 2020: Why Cate Blanchett is rewearing old designer dresses on red carpet
The actor, who is jury president of this year's Venice Film Festival, has reworn designer outfits by Alexander McQueen and Esteban Cortazar on the red carpet
The 2020 Venice Film Festival has been notably different to previous years, with attendees social distancing on the red carpet and keeping face coverings close at hand.
Cate Blanchett, who is president of the jury at this year's film festival, has taken the new coronavirus regulations in her stride, appearing twice on the red carpet since the event began on Wednesday 2 September.
Eagle-eyed fashion aficionados may have found Blanchett's outfits of choice familiar, with the actor wearing a midnight-blue, shimmering gown by Esteban Cortazar for the first night and an asymmetrical, floral Alexander McQueen top with a tuxedo jacket and trousers for the second.
It turns out that both of these ensembles have been worn by Blanchett before, as she is making an effort to champion sustainable fashion, celebrity stylist Elizabeth Stewart explained on Instagram.
"It's chic to repeat! Cate Blanchett has decided to re-wear some of her most cherished looks at this year's Venice Film Festival," Stewart said.
"In her words, beautiful things can come out of sustainability!"
The Esteban Cortazar gown was first worn by Blanchett in 2015, while attending the BFI London Film Festival premiere of Carol.
The Alexander McQueen top, on the other hand, was originally part of a dress that the 51-year-old wore to the Baftas in 2016.
In addition to promoting sustainability, Blanchett is also donating all of the outfits she wears at this year's Venice Film Festival to an auction being run by Chic Relief, a non-profit organisation created by Stewart.
Chic Relief has partnered with Red Carpet Advocacy to put on the auction, with all proceeds being donated to educational company Facing History and Ourselves and UN Women.
Best-dressed stars on the socially-distanced Venice Film Festival red

Show all 24
Red carpet outfits worn by other high-profile guests at Venice Film Festival will also be put up for auction.
The auction is due to take place from Wednesday 23 September to Friday 2 October.
To take a look at all the best-dressed stars on the red carpet at this year's Venice Film Festival, click here.
Join our new commenting forum
Join thought-provoking conversations, follow other Independent readers and see their replies