Swarovski heiress's wedding dress sends internet into meltdown
People are obsessed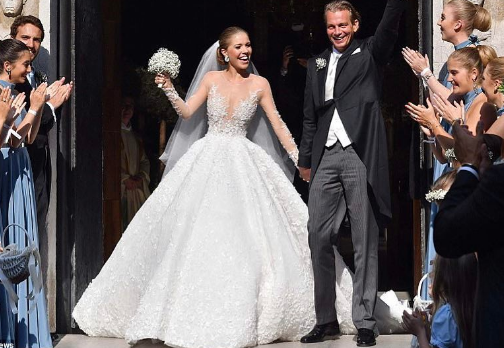 There are wedding dresses, and there are "oh my days, what is this item of pure beauty straight out of my dreams" wedding dresses.
And one frock in particular is practically breaking the internet right now.
It's the dress of Victoria Swarovski, a singer and heir to the Swarovski crystal empire.
Last week, the 23-year-old married Werner Mürz, a Munich-based entrepreneur, in Trieste, Italy, and people are going crazy for her incredible gown.
It was a bespoke creation by designer Michael Cinco, featuring 500,000 crystals and a six metre train.
It weighed 100 pounds too, according to Brides.
The dress is rumoured to have cost around €900,000, but others are reporting it to be worth as much as €1 million.
"Thank you my love for making me the most beautiful dress ever!" Victoria said to Cinco.
And it seems many are in agreement with her description.
People have described the dress as "stunning", "unreal" and "breathtaking."
"The most beautiful bride!" commented one person.
"This is just perfect!" added another.
Victoria wore the stunning gown for the main ceremony, before changing into two other dresses - one for the cutting of the cake and another for the party.
The cake was a five-tier fondant cake covered in baby breath, if you were wondering.
The wedding celebrations went on for three days in total and of course, there were lots of Swarovski crystals.
At the welcome party the day before the wedding, Victoria wore a red beaded gown, embellished with crystals.
The dress code for the night was red for women and white for men.
It was an undoubtedly sparkly few days.
Join our commenting forum
Join thought-provoking conversations, follow other Independent readers and see their replies