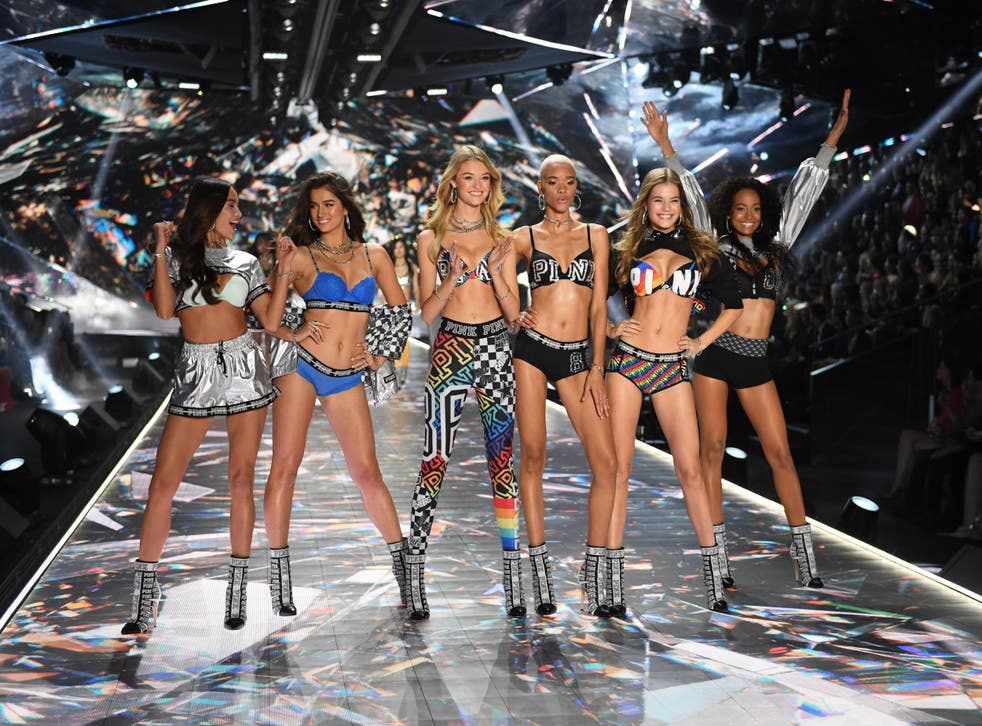 Victoria's Secret Fashion Show 2018: Adriana Lima and Kendall Jenner walk the runway
The show marked Adriana Lima's last appearance on the catwalk for the lingerie brand
The annual Victoria's Secret Fashion Show was in full swing on Thursday evening, taking place at Pier 94 in New York.
Models including Gigi and Bella Hadid, Kendall Jenner, Leomie Anderson and Behati Prinsloo took to the runway wearing ornate lingerie ensembles created in collaboration with British designer Mary Katrantzou, with a focus on vibrant floral prints.
The extravaganza marked 23 years since the brand's first catwalk show in 1995, and 41 years since the company was founded by Roy Raymond in San Francisco, California.
It also marked Brazilian model Adriana Lima's last appearance for Victoria's Secret, having modelled for the lingerie company since 1999.
As the brand's longest serving 'Angel', Lima looked visibly emotional on the runway as she walked to a standing ovation.
"Dear Victoria, thank you for showing me the world, sharing your secrets, and most importantly not just giving me wings but teaching me to fly," Lima wrote on Instagram.
Many have been expressing their admiration for Lima on social media, with one person describing her departure from Victoria's Secret as the "end of an era".
There were a number of significant firsts for Victoria's Secret during last night's spectacle.
Former America's Next Top Model contestant Winnie Harlow became the first model with vitiligo to take part in the show.
She discussed the significance of this with People magazine prior to the show, saying: "This is the first major show I've done that will be broadcasted across the world on TV, which raises the stakes big time. But I'm more excited than anything else."
Kelsey Merritt became the first Filipino-American model to become a Victoria's Secret Angel, expressing her excitement on Instagram with the caption: "It's showtime!"
"FIRST EVER Filipina to walk for the Victoria's Secret Fashion Show. Kelsey Merritt. History, beauty, grace, pride and sexiness," one person wrote on Twitter.
Swedish model Elsa Hosk was chosen to wear the Victoria's Secret "Fantasy Bra", following in the footsteps of models such as Tyra Banks and Alessandra Ambrosio in previous years.
Featuring more than 2,100 Swarovski lab-made diamonds, the bra is alleged to be worth approximately $1 million (£767,000).
Despite the bra's ornate design, some people have expressed their disappointment over its simplistic design, with one person describing it as a "mess".
According to a diamond expert, the bra isn't actually worth the amount announced by Victoria's Secret.
"The overvaluation of the bra is very clear because of what we know about the price of synthetic diamonds," Grant Mobley, a diamond expert and gemologist, told Page Six Style.
"Currently selling for $800 USD per carat, the reported 71 carats included in the bra would only be worth $56,800 USD. When you add the price of the stones to the cost of workmanship and the price of the metal — the total value would still be far below six figures."
The Victoria's Secret Fashion Show has received heavy criticism as of late, with model Robyn Lawley calling for the show to be boycotted until it becomes more diverse and inclusive of different body shapes.
"Victoria's Secret has dominated the space for almost 30 years by telling women there is only one kind of body beautiful," she wrote in an online petition.
"I have a daughter and I refuse to let her grow up with those limited ideals."
Of those watching the show, some were critical of the way in which the brand seems to favour Kendall Jenner over other models due to her celebrity appeal by having her wear more elaborate designs.
"Victoria's Secret dressed Kendall Jenner with one of their best outfits and gave Barbara Palvin A PAIR OF BLACK LEGGINGS ugh," one person wrote on Twitter.
Some argue that the Victoria's Secret Fashion Show shouldn't exist in 2018 in its current state, due to the way in which it seemingly fails to promote body positivity and diversity.
Join our new commenting forum
Join thought-provoking conversations, follow other Independent readers and see their replies