The Independent's journalism is supported by our readers. When you purchase through links on our site, we may earn commission.
10 of the best vintage shops in the UK, from London to Margate
Sartorial treasures troves stocked with retro gems to suit any look, Sarah Young writes
Tuesday 01 September 2020 08:00 Comments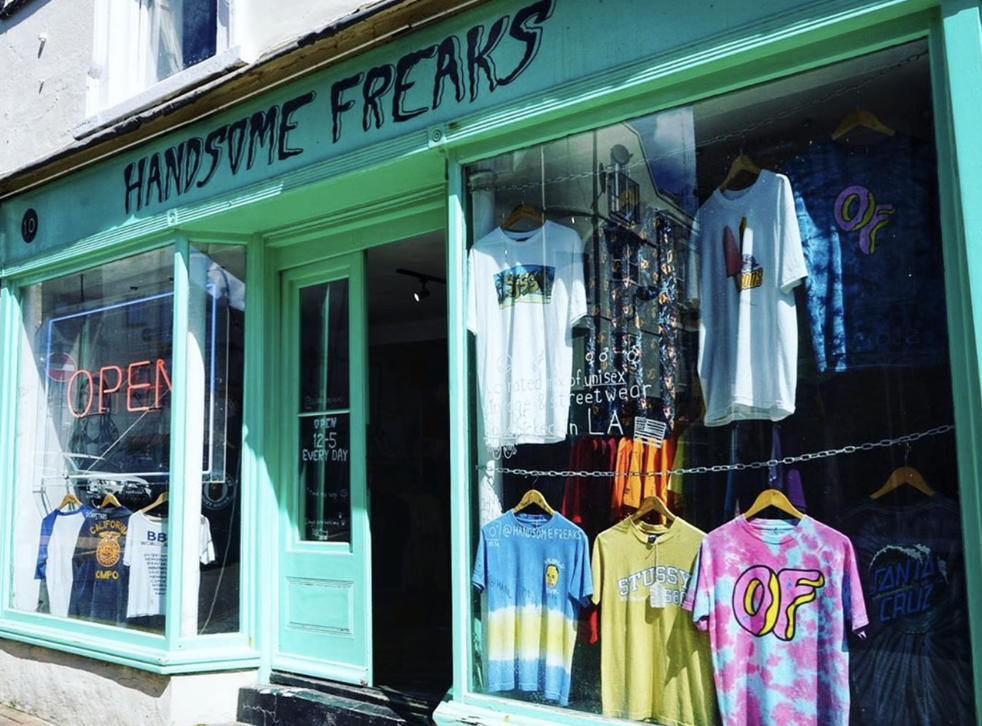 With increasing concerns about the climate crisis and the impact fast fashion is playing, vintage shopping has become a go-to for people keen to reduce their sartorial carbon footprint
An industry that thrives on providing consumers with the latest trends, fashion's rapid turnover means that we consume approximately 80bn pieces of clothing each year.
What's more, The Waste and Resources Action Programme (WRAP) – a charity that works with governments, businesses and communities to improve resource efficiency – estimates that around £140m worth of clothing goes into landfill each year.
While there are plenty of ways you can do your bit for the planet, from switching to a meat-free diet to ditching single-use plastic, one of the easiest ways to reduce your footprint is to forgo buying new clothes and invest in pre-owned pieces instead.
By purchasing a second-hand item, you can rest assured that no new fibres have been produced to create it, and that it no longer runs the risk of ending up in landfill. Plus, let's face it, you'll also save yourself money too.
7 of the most wanted sustainable products right now

Show all 7
Vintage shops are also a treasure trove of unique and wonderful things where you're likely to find one-off fashion pieces that will inject your wardrobe with a heavy dose personality and style.
A study by Thred Up, the world's largest online thrift store, found that in 2018 64 per cent of women said they would buy pre-owned pieces compared with 45 per cent in 2016 – and it is thought that by 2028, 13 per cent of the clothes in women's wardrobes are likely to be recycled.
In fact, vintage shopping has become so popular that even Kim Kardashian is in love with it.
The reality TV star recently sported second-hand Azzedine Alaïa to Paris Fashion Week, vintage Jean Paul Gaultier to the opening of UCLA's Robert G. Kardashian Center for Esophageal Health and a pre-owned 1990s Thierry Mugler gown to the Hollywood Beauty Awards. If it's good enough for Kim, it's good enough for us.
Read on for 10 of the best vintage clothing shops in the UK.
Rokit Vintage, London
Rokit Vintage first launched as a stall in London's Camden Market back in 1986, focusing on vintage denim thrifted from American cowboys.
The demand was so great that within a matter of weeks the stall was exchanged for a two-storey shop on Camden high street and the Rokit vintage brand was born.
The brand's stocks an unrivalled selection of vintage pieces for men, women and children including tailoring, dresses, shoes and jewellery.
Today, there are four Rokit Vintage shops located in Camden, Covent Garden, and Brick Lane.
Over the last 30 years, Rokit has recycled more than one million tonnes of discarded clothing and accessories.
Handsome Freaks, Margate
Established in 2013 by shop ower Ally Blackgrove, Handsome Freaks is located in the sleepy seaside town of Margate.
The shop offers a vast range of vintage clothing and streetwear including designer T-shirts and all-American classics which Blackgrove handpicks from Los Angeles every month.
City dwellers will be pleased to hear that a selection of Handsome Freaks' range is currently available to buy in Selfridges where it is hosting a pop-up from 17 to 24 October.
Vintage to Vogue, Bath
Tucked away on Milsom Street in Bath, Vintage to Vogue was launched by John and Imren Lowin in 2013.
With a combined interest in styling and restoration, the couple have ensured their shop caters for both men and women seeking quality vintage clothing and accessories.
The shops specialises in pieces from bygone eras, all the way through to items from the classic designers of today, including period dresses, vintage leather bags, coats, brooches and blouses.
The brand's stock also includes classic designer names such as Dior, Chanel and Ossie Clark.
Wavey Garms, Peckham
Founded by South Londoner Andreas Branco in 2012, Wavey Garms started out as a Facebook reseller group for fashion aficionados to share and sell rare vintage finds.
The online brand's loyal following quickly developed into offline projects including parties, photoshoots and a pop-up store before it officially moved into a physical space in 2015.
The shop stocks pieces from popular streetwear brands such as Stone Island and Ralph Lauren as well as designer brands like Moncler, Moschino and Versace.
Armstrongs Vintage, Edinburgh
Armstrongs has three shop locations across Edinburgh and is one of the most popular and oldest vintage clothing stores in the UK.
Established in 1840, W. Armstrong & Son has been in the heart of Edinburgh for many years and offers an eclectic and wide range of unique vintage clothes.
The Armstrongs team shelps its customers get the most of out their shopping experience by selecting some of their favourite one-of-a-kind pieces from the 1960s, 1970s and 1990s
Beyond Retro, London
Beyond Retro is one of the most well-known vintage shops, with eight locations scattered across the UK and Sweden.
The brand first launched in 2002 as a single warehouse-turned-retail store and now recycles in every way possible – from plastic bags to packaging.
When it comes to buying stock, Beyond Retro choose to ship their products from abroad by boat rather than air, to keep their carbon footprint minimal.
You can find Beyond Retro stores in Brick Lane, Dalston, Soho, Brighton and Bristol.
Retro Rehab, Manchester
Located in the vintage fold of Manchester's Northern Quarter, Retro Rehab is a small boutique that offers a great selection of secondhand buys, from clothing and accessories to fine jewellery,
Shop owner Shelley Taylor strives to provide affordable, quality, vintage pieces by sourcing products from around the world, lovingly repairing items and bringing them back to life.
The brand's re-worked garments are carefully crafted to create something new and wearable from something old and tired.
Cow, Birmingham
Known to locals as Big Yellow Vintage due to its bright yellow exterior, Cow is located just outside Birmingham's main shopping area.
The Birmingham site is one of a chain of four stores in Britain and stocks everything from big brands and one of a kind pieces to handmade and reworked garments to fill your wardrobe sustainably.
Wolf & Gypsy, Brighton
Despite Brighton brimming with vintage stores, Wolf & Gypsy manages to stand out from the crowd with its super-sleek selection of secondhand clothing for women.
The shop makes a concerted effort to merchandise its clothes well, so it doesn't feel like a scrum to find hidden gems and stocks everything from dresses to workwear and coats.
Wolf and Gypsy also stocks new clothing and accessories as well as lifestyle pieces and homeware.
Vintage Tramp, Herefordshire
Located in the quaint town of Ledbury, Herefordshire, Vintage Tramp is a treasure trove of goods from almost every era, boasting an impressive collection of under-skirts, statement coats, jewellery and party dresses.
Their pieces are very reasonably priced, making the shop the perfect place to find a bargain if you're ever spending the weekend in the country.
The boutique stocks a huge range of genuine and reproduction clothing for men and women and is also an official stockist of Collectif, Hell Bunny, Hearts and Roses and Gatsby Lady.
Register for free to continue reading
Registration is a free and easy way to support our truly independent journalism
By registering, you will also enjoy limited access to Premium articles, exclusive newsletters, commenting, and virtual events with our leading journalists
Already have an account? sign in
Join our new commenting forum
Join thought-provoking conversations, follow other Independent readers and see their replies