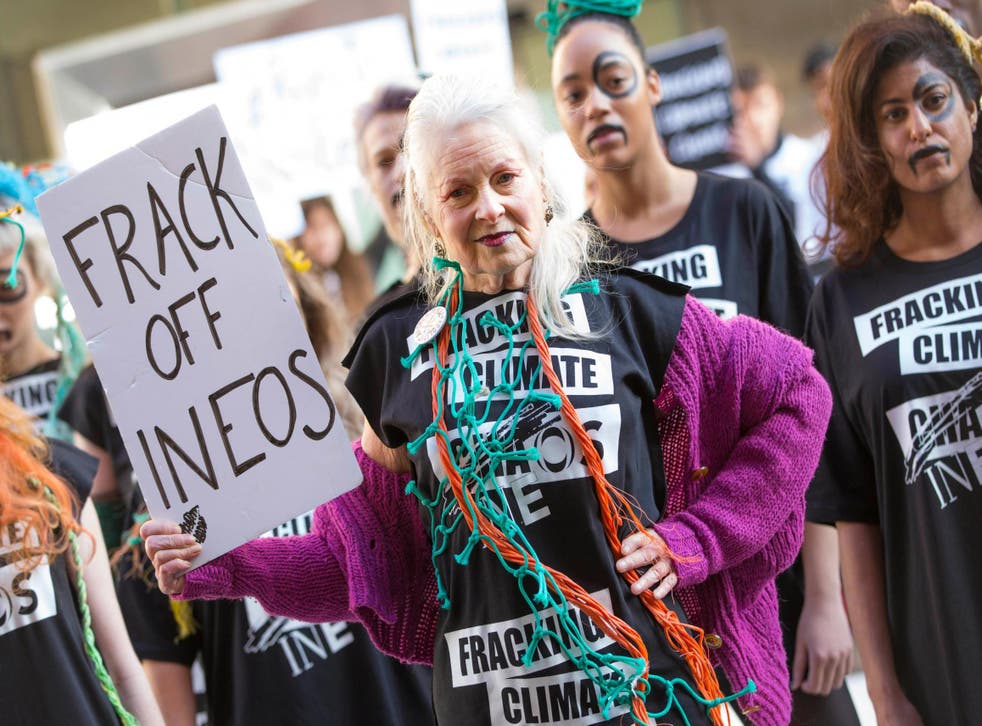 Vivienne Westwood stages anti-fracking protest at London Fashion Week
Protesters held placards with slogans such as "Frack off"
London Fashion Week has gotten off to a political start thanks to Vivienne Westwood, who began the proceedings with an anti-fracking protest.
The British designer is famed for her outlandish designs that combine feminine cuts with a distinctive punk aesthetic.
Staged on the streets of Knightsbridge, the event was a direct attack on Ineos, the British petrochemicals firm which aims to develop shale gas projects in the UK, advocating controversial energy extraction techniques that may pose severe environmental threats.
The pop-up protest quickly trended on Twitter under #IneosVthePeople and took place right outside Ineos' headquarters on Thursday.
Partaking models and activists wore garments emblazoned with slogans such as "Fracking Climate Ineos", with the corporation's name written over the word "chaos".
"Fracking is over," Westwood's son, Joe Corré, said at the event.
"The people in this country are not going to accept it."
The protest was staged to mimic a runway show and featured models walking down a catwalk holding placards with anti-fracking slogans such as "Frack off Ineos".
An injunction preventing anti-fracking campaigners from interfering with Ineos' operations was granted to the company in 2017, something Corré and fellow protesters said they were "not frightened of".
A spokesperson for Ineos clarified that Westwood's protest was not unlawful in light in the injunction.
"Our injunctions prohibit unlawful acts by protesters and in no way impinge on the right to peaceful protest," they said.
"These injunctions simply protect Ineos and our people from hard core activists who game the system and treat the law with contempt."
Westwood has long-been hailed as fashion's poster woman for environmental activism, revealing to The Guardian in 2014 that "climate change, not fashion" was her priority.
The 76-year-old designer explained how she intended to use her public platform to promote her political values moving forward.
Evidently, she has stayed true to her word.
Join our new commenting forum
Join thought-provoking conversations, follow other Independent readers and see their replies