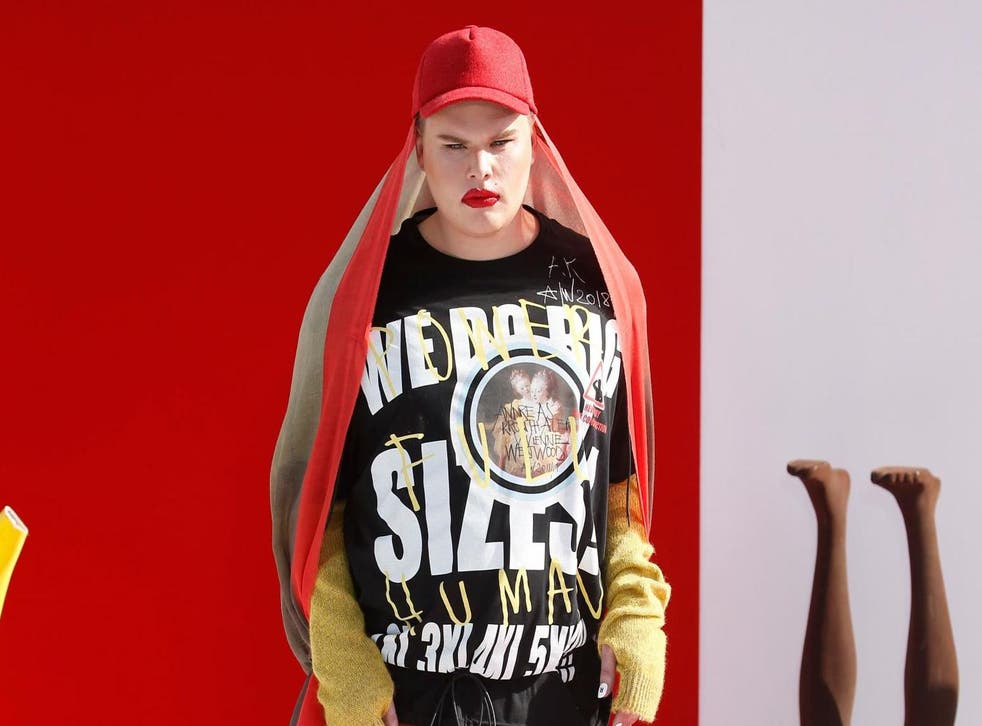 Vivienne Westwood apologises to young designers for plagiarising their work
'We got caught up in a last minute frenzy and did not contact you to ask for your permission'
Vivienne Westwood has issued an apology to designers Louise Gray and Rottingdean Bazaar after confessing to using one of their graphics without permission.
The punk British label showcased the offending T-shirt at Paris Fashion Week, which was emblazoned with the slogan "We do big sizes! 2XL 2XL 4XL 5XL!!!! We do very small sizes!!".
They posted a side-by-side image on Instagram in which the original garment can be seen next to Westwood's very similar version.
"Dear @louisegray__ and @rottingdeanbazaar. We are sorry," the caption reads.
"The use of your graphics on our t-shirt was only ever meant to be a celebration of your work.
"We got caught up in a last minute frenzy and did not contact you to ask for your permission. We are truly sorry about this mistake and want to make it up to you."
The post has already garnered more than 19,000 likes, with fans of the iconic British brand taking to the comments section to express their disappointment at the apparent lack of originality.
"This is horrendously unethical," commented one person.
"You've truly gone down in my estimations. This is a paltry excuse for plagiarism."
However, not everyone took the same critical stance.
Many praised Vivienne Westwood for its honest admission, with some arguing that "imitation is the highest form of flattery".
"I salute to you for acknowledging, apologising, and crediting the original artist," wrote one commenter.
"Now, if only every other big name in the fashion biz would do the same."
"At least there is acknowledgement and an apology, I'd be honoured to have VW use my work," added another.
"Look back at some of the original punk stuff-it's remodelled/reworked pieces. At least they've put their hands up and apologised."
With fashion designers constantly drawing inspiration from other people's work, accusations of plagiarism are rife within the industry.
From high street giants such as Zara and Forever 21 to established fashion houses like Jeremy Scott and Roberto Cavalli, it's not uncommon for labels to face such allegations.
It was only in April 2017 that Gucci's creative director Alessandro Michele was forced to refute claims that he had plagiarised the work of a Central Saint Martins BA student in his autumn/winter collection.
The models in Michele's campaign wore alien-like headwear, bearing a striking resemblance to masks worn by models in student Pierre-Louis Auvray's show, who accused the Italian fashion house of copying his idea in an Instagram post.
"Young creatives struggle enough without big companies shamelessly stealing from them," he wrote.
However, Michele fervently denied he had taken any inspiration from the student's subversive designs, telling the Business of Fashion that any similarities between the two collections were merely coincidental and that "people build a story around nothing".
The Independent has contacted Vivienne Westwood for comment
Join our new commenting forum
Join thought-provoking conversations, follow other Independent readers and see their replies