Fashion
Everything we know about Vogue World, London's answer to the Met Gala
As Anna Wintour brings a 'multi-act celebration of the British performing arts' to London's West End for the first time, Ellie Muir finds out what we can expect from the fashion extravaganza
Wednesday 13 September 2023 13:30 BST
Comments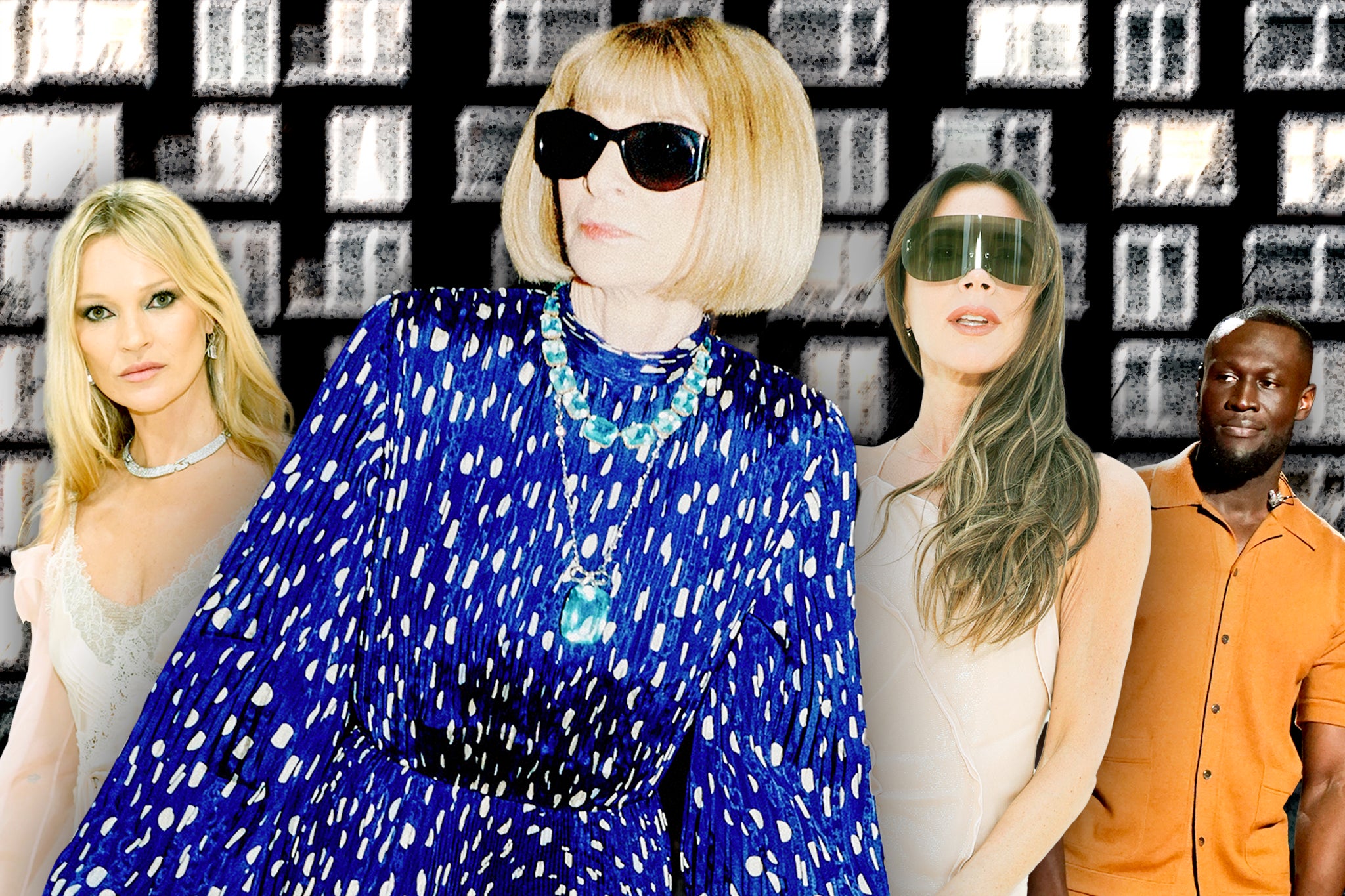 It's been dubbed Britain's answer to New York's Met Gala: London's first ever Vogue World, happening this Thursday, will be a star-studded theatrical extravaganza, fundraising for Britain's cash-strapped performing arts scene. And at the helm, of course, is Vogue's all-powerful Editor-in-Chief Anna Wintour.
Billed as a "multi-act celebration of the British performing arts", the event will be fabulously starry. On the line-up will be British celebrity royalty, including supermodels Kate Moss, Cara Delevingne and Adwoa Aboah, British rapper Stormzy, former Spice Girl Victoria Beckham as well as actors Ian McKellen and Idris Elba.
In 2022, the first ever Vogue World took over New York's meatpacking district with a rough-and-ready fashion show and street food fair, paying homage to the city's street atmosphere and culture. It was quite the eclectic affair. "Old Town Road" singer Lil Nas X performed with the Hadid sisters as backup, 112 models stormed the runway to Madonna's "Vogue" while Serena Williams made a surprise cameo. And it was all wrapped up with a street food party featuring pop-up stalls run by couture houses (think pastrami sandwiches courtesy of Michael Kors, gourmet cookies by Gucci and high tea by Burberry).
Vogue World's pilgrimage to UK soil feels like an inevitable one, given that British and US Vogues are at the heart of Conde Nast's operation. But behind Vogue World is an epic power struggle between the two editors, Wintour and British Vogue's outgoing editor-in-chief, Edward Enninful, as she moves closer into his territory and is even rumoured to be looking to relocate back to London. On the surface, the fundraising goal is the same as the Met Gala – a philanthropic arts cause the fashion crowd can get behind while at the same time beaming the Vogue brand around the world. Thursday's extravaganza will be held at the Theatre Royal Drury Lane in London's West End to raise money for Britain's critically underfunded performing arts scene, which Anna Wintour insists is "under threat".
All net proceeds from ticket sales will be pledged to a range of performing arts organisations – but so far, they all seem to be based in London – including the National Theatre, Royal Opera House and the Royal Ballet. "The arts are under threat in the UK," said Wintour of the fundraising decision. "Vogue World will be a timely reminder of how important they are, how vital a part of our lives, and how much they need our support."
A three-tiered party
The main attraction of the night, like the Met Gala, will be the red carpet running outside of the theatre, where celebrities will fight it out to be the best dressed in the latest Spring Summer 2024 couture. But that won't be all the event has to offer: those who were lucky enough to scoop up the exclusive and now sold out £150 tickets will watch live performances overseen by The Crown director Stephen Daldry, followed by a catwalk show featuring collections from British fashion labels like 16Arlington, Burberry and Vivienne Westwood to kick off London Fashion Week, which starts this Friday.
Although the details of the event are being kept under the closest secrecy, we can hope for a number of spectacular surprises – perhaps cameos from British acting greats on stage at the Theatre Royal, or live performances from stars confirmed to be attending, like Stormzy or opera singer Hongni Wu?
The theme
The Met Gala is famed for its iconic yet often polarising themes, some of which have been cemented into fashion history. There was 2019's Camp: Notes on Fashion, which saw Lady Gaga go through four theatrical outfit changes, or last year's ode to the late controversial Chanel designer Karl Lagerfeld, with both Doja Cat and Jared Leto styling themselves as Lagerfeld's beloved white cat, Choupette.
While the Met Gala was launched as a fundraising evening for New York's Metropolitan Museum of Art's Costume Institute in 1948, the event has grown to be the most exclusive event of the year, with an all-important red carpet arrival followed by a glamorous charity dinner and afterparty.
The theme for Vogue World 2023 is in keeping with its cause. The invitation for the event says the dress code is "Opening Night", with the invitation's design depicting a West End stage covered by blood-red velvet curtains. Meanwhile, the original poster for Vogue World's London edition sees British supermodel Naomi Campbell standing in a dance studio, dressed in all-black, while a group of leotard-clad ballet dancers straddle a wooden barre behind her – another nod to Britain's performing arts scene.
Though Vogue World tickets do not come with a price tag as hefty as the Met Gala's eye-watering $50,000, we hope celebrities tackle the Vogue World theme with the same commitment. Expect lots of West End theatrics, glamorous gowns, theatre binoculars and endless references to London's world-leading theatre culture.
The guest list
The guest list is expected to be packed out with A-listers (the theatre's auditorium seats more than 2000 people). Representing British supermodels will be Kate Moss, Cara Delevingne and Adwoa Aboah. It's likely that Enninful's very close friend and confidante Naomi Campbell will be playing a leading role, given that she appeared in the original marketing campaign for the event. British rapper Stormzy, former Spice Girl Victoria Beckham as well as actors Ian McKellen and Idris Elba will all be involved in the theatrics in some capacity, as we know.
Bridgerton's Simone Ashley, Sienna Miller, Emilia Clarke and Kate Winslet will also be dropping in, while musician FKA Twigs is also expected to participate in some capacity since she was also included in Vogue's announcement.
But all eyes will be on "Vossi Bop" rapper Stormzy and who might turn up on his arm; it's rumoured that he has rekindled his romance with Love Island presenter Maya Jama after fans spotted that the pair were holidaying in the same villa. We have word from Maya's publicist that she is filming abroad, but seeing as the presenter starred on the August cover of British Vogue, will she fly back in time for the big event?
The politics
Vogue World comes at a time when Vogue's senior editorial team is under scrutiny like never before The event has been billed on its invite as a collaboration between Edward Enninful and Anna Wintour, but it is very much seen as Wintour's creation.
Many will be watching closely, given rumours of a "feud" between the two editors ahead of Enninful's departure. The rumour mill began the whir when the company announced in June that Enninful, who became the first Black gay man to take the role of editor-in-chief in 2017, would step back from Editor-in-Chief at British Vogue in January to become a "global creative and cultural advisor".
Alexandra Shulman, who was succeeded by Enninful when she stepped down as editor in 2017, has since said that Enninful was "always playing second fiddle to Anna Wintour" within the company, amid rumours that Enninful had harboured ambitions to become editor of US Vogue, which led to a rumoured rift between him and Wintour
That Wintour is on Enninful's London turf is being seen very much as her taking back "control".She is said to be sizing up who will be Enninful's replacement as British Vogue's notably less fancy sounding "head of editorial content", as the company's senior editorial team prepares for an internal shakeup.
At the front of the race is Chioma Nnadi, editor of vogue.com, and a global network lead at the company – a London girl who could be coming back to UK soil to take up the role when Enninful leaves.
"Chioma is a great choice," one insider told The Times. "She is serious and clever and knows her stuff. She doesn't suffer fools."
Another Conde Nast insider told the newspaper: "Chioma isn't the terrifying fashion editor of old. She's quite shy one-on-one, and very calm. She's one of those people that pauses before she answers a question." One source credited Chioma for being down to earth. Another said: "She Brooklyn, not Manhattan", while another said the journalist is the "nicest person" they had ever dealt with at Vogue.
An announcement is expected this week with whispers that the news could break at Vogue World on Thursday.
However, also in the running alongside Nnadi is Sarah Harris, the European deputy editor and another global network lead, who has worked on the fashion desk for almost two decades and has become an influencer of sorts, having been credited for making silvery-grey hair cool with her unmistakable locks. Others in the running could be Mark Holgate, another Brit in New York, who heads up fashion news on the US edition, or Emily Sheffield, the former editor of The Evening Standard and Vogue deputy from 2005 to 2017, who is also the sister of David Cameron's wife Samantha. However, it seems a decision has not yet been made – the vacancy for Head of Editorial Content on the Conde Nast careers portal still says applications are open.
Vogue fans will be watching what happens next in the chapter of fashion's most iconic title and who will win the battle for its soul. Thursday's gala could be a chance for Vogue to retain its relevancy in the world of live-streamed red-carpet events (Vogue's Met Gala live stream generated 53 million viewers alone last year). And while Wintour is certainly the face of the Met Gala as its host, it is not Vogue's creation, nor is it Conde Nast's. Could Thursday night be an opportunity for Conde Nast to call a red-carpet event its own? Whatever the goal, this week's Vogue World is clear evidence of the brand's desire to evolve and maybe Anna Wintour's desire to take back control.
Join our commenting forum
Join thought-provoking conversations, follow other Independent readers and see their replies