LIFESTYLE FEATURES
The new normal for bridalwear: What to wear to your low-key 30 person wedding
For thousands of couples Covid-19 stole their big white wedding - some pushed them back to 2021 but others decided to downsize. Hayley Spencer looks at how brides are adapting their style for their new day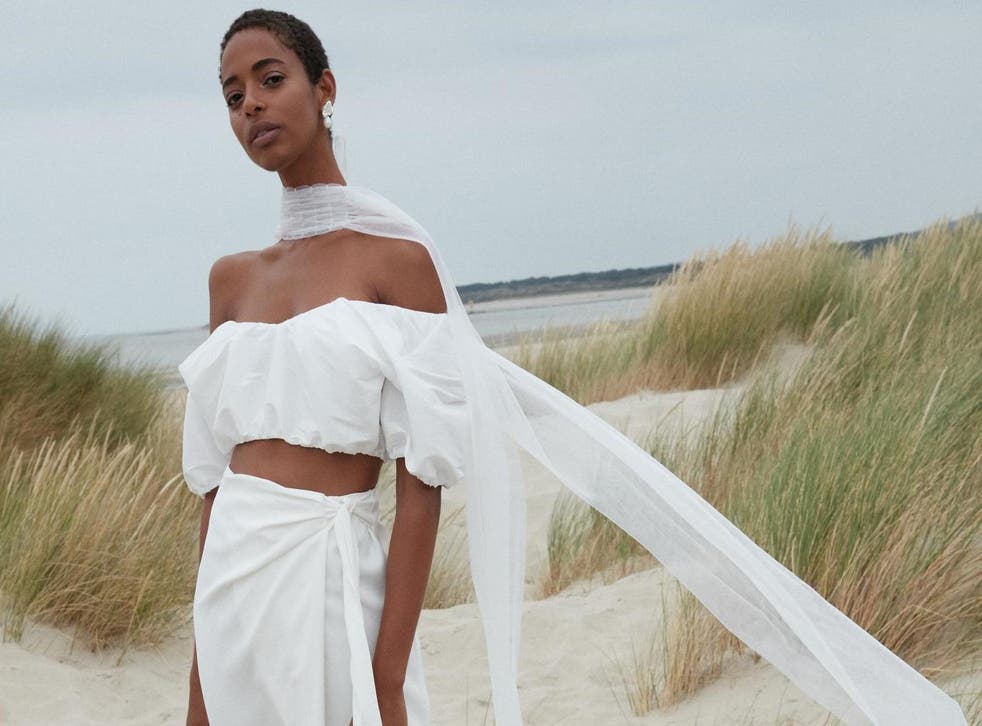 After lockdown led to a summer of cancelled events, the news that weddings could resume as of July, and receptions a month later, was cause for celebration. Though like all of the social occasions creeping back into our calendars, this autumn's weddings will be defined by a new normal.
Government guidelines on social distancing mean that large ceremonies and blowout receptions are a thing of the past for the foreseeable, with a maximum of 30 people allowed at a wedding or civil ceremony. While rules for receptions state that guests should be seated and must adhere to the one metre plus rules if they're from different households.
As a result, those who do plan to go ahead with their wedding are planning a more intimate (in size at least) iteration of their previous plans, and it's likely that priorities for bridal wear will be different, too, for those who hadn't purchased a dress prior to the pandemic and ensuing recession, which really puts the £1,300 average cost of a wedding dress into perspective.
As Alison Lovett of wedding planning service Union Weddings points out, the side-effects of lockdown aren't necessarily negative, having led to a shift in the priorities and outlook of many couples.
"At Union, we are finding that clients who are deciding to go ahead with a wedding now, rather than postponing them for a big party, are doing so as they really just want to be married.
"It makes the weddings especially meaningful, and a chance to reconnect and spend quality time with close friends and family.
"Brides are excited about the opportunity to dress up for a change, but are selecting styles which suit their venue size", says Lovett.
So what will bridal wear look like for the next season of weddings? We spoke to occasion wear designers and industry experts to find out which trends will dominate at post-lockdown weddings.
Simpler silhouettes will reign
While a two-metre-wide skirt or train might be an ideal choice to effect social distancing measures, unfortunately, these cumbersome styles aren't ideal for moving around smaller, low-key venues.
Furthermore, the wow-factor of a big skirt may be limited by the fact that government guidelines stipulate that you should be seated at your reception.
So XL, fairytale styles are likely to be trumped by understated slip dresses, shorter lengths and crease-free fabrics, as well as jumpsuits and separates.
Indeed, occasion wear designer Vanessa Cocchiaro has found that lots of her customers are eschewing full length gowns altogether.
"A lot of brides are wearing mini dresses with veils which I think is so fun and chic", Cocchiaro told The Independent.
The wrap dress, which has made a major comeback in the past year, is also proving a popular choice for brides-to-be, dressed up with a veil or flowers in the hair, according to Cocchiaro.
"Wrap dresses are a great style as they look beautiful on a lot of body types. For low-key weddings it is perfect, because it is stylish and elegant and you add your own personal style to it in a lot of ways to make it look as bride-y as you like", says the designer, who recommends The Lady Dress (£415 at Net-a-Porter) from the white capsule collection in her Paris-based eponymous line.
Italian label Art Dealer by Carolina Cerutti, which has surged in popularity for its flattering wrap dresses, combines the silhouette with a vintage aesthetic. The white silk Naomi dress (currently on sale for £96 at Net-a-Porter) is one of its most shared styles on Instagram. It is also available in midi length and is ideal for weddings held outdoors, featuring full-length sleeves.
For those who favour longer lengths or fine lace detail, Self-Portrait should be the go-to for white dresses with a whimsical feel. It's puff sleeve taffeta midi is £330 and is perfect for a low-key ceremony.
Eco-a-go-go
The pandemic has put the effects of the nation's fashion habits under a microscope, following damning headlines about high street and online brands which kept their staff working in the height of the pandemic.
Even for those who already swerve fast fashion, being forced to live a slower pace of life and having no real need for new clothes has put further rigour behind the conscious fashion movement.
After lockdown, wedding dresses with a circular slant to their production will surely have added appeal.
Just in time for lockdown lifting, cult favourite Cecilie Bahnsen has released a second collection of limited edition dresses made from deadstock fabric.
The Encore collection uses upcycled fabrics from previous seasons to stunning effect. The strapless Louie dress (£1570) is available for pre-order, while puff sleeved Kastanje top and matching Rosie skirt (£621 and £613) in white line plisse are both ideal choices which pair conscious style with comfort and craftsmanship.
The rise of the rental
As well as aligning with the shift in consumer behaviour towards more sustainable fashion, borrowing a dress also effortlessly ticks off the traditional bridal outfit requirements of something old and something borrowed.
While wearing a second-hand dress for your wedding may seem unconventional, it's now far from taboo for modern brides, as figures from global fashion search programme Lyst show.
The online global fashion search platform states that searches for "vintage", "second hand" or "pre-owned" wedding dresses are collectively up 38 per cent year-on-year, averaging close to 19,000 searches a month.
Peer-to-peer rental app ByRotation is witnessing strong support of this trend with The Something Borrowed bridal edit on its app, which launched this month and is already the second most popular section.
Brides who are members of the rental community can borrow dresses for 24 hours to try them on in the comfort of their homes before deciding whether to rent them for their wedding day.
A William Vintage gown owned by lender Molly Toby is one of the most in-demand wedding dresses on ByRotation, supporting Lyst's insight that brides are eager to wear vintage to their post lockdown weddings.
Rentals for bridal wear start from as little as £20 on the app for a feathered Ganni dress, rising to around £375 for the William Vintage dress or a Carolina Herrera gown. It's a great way to save on a major expense given the current economic uncertainty.
Kabra-Davies says that contemporary brands such as Jacquemus, Chloe and Staud have also been in-demand on ByRotation, highlighting a preference for lower-key labels that are more affordable.
It's clear that with fantasies of large-scale, fairytale weddings shattered, brides are rewriting the rule book without compromising on style.
Join our new commenting forum
Join thought-provoking conversations, follow other Independent readers and see their replies