Wedding makeup: 15 beauty tips every bride needs to know, according to the pros
Here's our guide to getting your wedding day makeup just right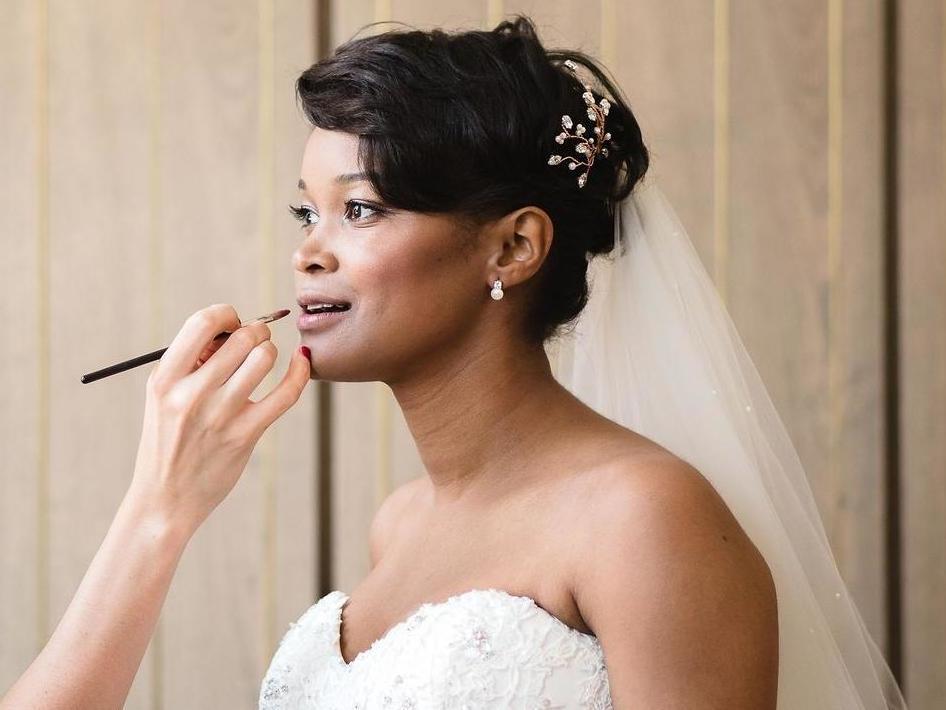 Your wedding day is likely to be the most photographed day of your life.
So while seating arrangements and catering might seem like the most important things to consider, bridal beauty should be high on the list too.
Just like the less glamorous aspects of a wedding, your makeup requires a certain level of organisation, and the earlier you start to think about it, the less stressful it will be on the day.
Whether you're enlisting the help of a professional or going down the DIY route, there's plenty to consider.
To help you avoid any beauty blunders, we've spoken to some of the industry's most knowledgeable experts for all their wedding day makeup do's and don'ts.
New beauty launches for April 2019
Show all 20
Stay hydrated
Makeup is a magical thing but it can only do so much. Therefore, you're going to need to put in some work in the run up to the big day to make sure your skin is looking its very best.
For this, bridal makeup specialists Pamela and Andrea recommend upping your water intake.
"You've probably heard this over and over again but it really works," the duo tell The Independent.
"Drink three litres of water a day for at least two weeks before your wedding and you will notice a vast improvement. Skin will glow from within and you will also see a big difference to the appearance of fine lines and pores."
Start early with skincare
Before you even start to think about makeup, you need to get a good skincare regime in place.
Rachael Cole, senior makeup artist at Nars, recommends investing in a toner that will "break down the dead and dull layers of the skin and reduce breakouts", followed by a luxurious moisturiser.
"Most women in the UK are dehydrated or have dry skin so a good moisturiser is key," she tells The Independent.
"I love the Nars skin Luminous Moisture Cream and I also recommend an oil and heavier night cream if you're very dry."
Ace your base with a primer
A primer might sound like another unnecessary step to add to your routine, but they can work wonders when it comes to making your finished look last.
"Primers in your skincare not only guarantee your makeup lasts longer throughout the day, but ensures it looks bright and radiant from the ceremony to the dance off," Amy Conway, senior pro artist at Bobbie Brown, tells The Independent.
These days there are plenty of options to choose from depending on what you're looking for, from those that smooth pores to ones that give your skin a radiant glow.
Don't forget SPF
Rumour has it that wearing an SPF under your makeup will cause flashback in your wedding photographs but, in the experience of many professional photographers, that just isn't the case.
"This isn't something I've experienced on a wedding day," Chloe Lee, a wedding photographer, tells The Independent.
"You usually only experience flashback when photographed with direct flash fairly close to the face, which isn't something I personally do at a wedding, but it is definitely something to think about when you look at your photographers work.
"If you have any questions on this just ask them if they will be using a lot of direct flash in their photography style."
Wedding photographer Rebecca Douglas agrees, adding: "I know some people say that SPF in make-up can cause flashback but I have never noticed this and to be honest don't want to advise against it as we are having some really hot summers and brides and guests are out in that sun all day.
"I think it would be a health risk to omit SPF when I don't see any issues in the images I capture."
Blend, blend, blend
The type of foundation you choose will depend on your skin type and the overall finish you're hoping to achieve.
"Most brides want a full coverage foundation so look for a satin or glowy finish if you're combination to dry," says Rachael Cole of skin care company Nars.
"The glowier the foundation the more you can tend to wear without it looking 'cakey'. Super oily skins will be fine with a matte finish as it will mix with your own oils to create a more natural finish. If you're dry and oily I would stick to a satin."
And, when it comes to your photographs, Chloe Lee says a well-blended base is absolutely vital.
"The last thing you want is a patchy base because this will show up in photos. So, if you're hiring a professional ensure you have a consultation first and make sure your makeup artists picks a foundation that it is going to match your skin tone and sit perfectly on your skin," she says.
"It also seems like an obvious one but make sure they blend it down onto your collarbone too. Unfortunately, I have seen wedding photos where the brides collarbone area has been a completely different shade to her face and there has been a clear makeup line."
Invest in the right tools
If you're the kind of person that likes to apply their makeup with their fingers it might be time to invest in some tools because, according to Bobbi Brown's Amy Conway, a brush will give you the most flawless finish.
"Brush down the face because that's the way the hair lies, I love the Skin Long-Wear Weightless Foundation SPF 15 for the most airbrushed look," she says.
"Then layer a sheer finish pressed powder on top for that full coverage finish that lasts all day."
Apply your makeup in natural light
Whether you're doing it yourself or hiring a professional, applying your makeup in the right environment is crucial.
"Ideally you should be sitting facing a large window so you have a great source of natural light," insists photographer Chloe Lee.
"This is not only good for makeup artists but is perfect for photos too as natural light is super flattering on all skin tones and generally provides an even source of light meaning you avoid harsh shadows that can be caused by artificial lights."
Avoid heavy contouring
Thanks to the influence of the Kardashians and YouTube vloggers contouring has grown in popularity in recent years. But, according to photographer Chloe Lee, you should give it a miss on your wedding day.
"With top tips also comes things I would avoid and number one for me is heavy contouring," she tells The Independent.
"It seems to be a bit of a trend at the moment, and you will probably read elsewhere online that make up being photographed looks best applied slightly heavier.
"In fashion photography this definitely works, but on your wedding day you don't want to be rocking a few stripes on either side of your cheekbones.
"It's important to remember that guests will be looking at you and probably taking photos with smart phones which won't be forgiving to heavy contouring and powders."
Opt for a waterproof mascara
Weddings are emotional events and, even if you're not the crying type, it's best to be prepared with a waterproof mascara.
"A waterproof mascara is a must on your wedding day, but apply a mascara that isn't as a base first because these give all the fullness, volume, length and curl that a waterproof can't," says Bobbi Brown's Amy Conway.
"Then layer your waterproof mascara on top to act as a raincoat to your mascara and have the best of both worlds."
Consider false lashes
While false lashes aren't a necessity, photographer Chloe Lee says they can really help to accentuate a bride's eyes.
"This doesn't mean you need to wear incredibly long false eyelashes if that's not your style, I find most brides I work with definitely go for a more natural approach, but I would highly recommend a natural looking false eyelash," she tells The Independent.
"As photographers we focus first and foremost on a brides eyes in photos so having a slightly longer or fuller lash will really accentuate your look."
Embrace colour
It can be tempting to play it safe with a neutral palette of rosy pinks and dusky browns on your wedding day, but fans of colour shouldn't be afraid to pack a little more punch into their bridal look.
"Against a white or ivory dress, add a touch more blush than normal to avoid looking washed out in photos," says Bobbi Brown's Amy Conway.
"I love to use blue-ish pink tones in the cheek to instantly brighten the skin and give that gorgeous blush bride look."
Photographer Chloe Lee agrees, adding: "Make sure you pick a great lip colour.
"As with eyes, lips are another feature that should be highlighted to stand out in your photos. Personally, I favour a bold red lip which I think looks amazing in bridal portraits; but a rose pink, or deeper red, if you're a bit more daring, look great photographed."
However, Lee does recommend avoiding gloss as it can often look too shiny, especially in flash photography.
Aim to look yourself
Bridal makeup specialists Pamela and Andrea insist that the most important thing is for a bride to feel comfortable and confident on her wedding day.
However, they do suggest avoiding incorporating any trends into your final look.
"We tend to advise against trends: you run the risk of it appearing dated when looking back at your photos in years to come," the duo tell The Independent.
"So unless you're a real fashionista and looking to capture a trend at the time of your wedding, we would suggest steering clear."
Nars' Rachael Cole agrees, adding that your makeup should be a reflection of your personal style.
"My aim when getting a bride ready is to make her still feel like herself, but the most beautiful she's felt," Cole tells The Independent.
"There's no point in doing a full smokey eye or a flick liner and a red lip if you're a nudes kind of girl. You're wedding day isn't the time to take risks."
Pack a touch-up kit
Bobbi Brown's Amy Conway says she always recommends that brides pack a few touch-up products on their wedding day.
"Whether you give them to your bridesmaids or leave them in your room at your venue, these essentials ensure your makeup looks fresh all day long," she tells The Independent.
In addition to a foundation stick, pressed powder and lipstick, Pamela and Andrea suggest packing some cotton buds and blotting papers.
"Cotton buds are perfect for catching tears and won't smudge your makeup like a tissue, while blotting papers are a quick and easy way to take off any excess shine and keep your makeup looking perfect for longer," they say.
Learn from the pros
To do it yourself? Or book an artist? That is arguably the most pressing wedding makeup question of them all.
"To put it simply, a makeup artist can take away that added bit of stress that you don't need on your big day," Pamela and Andrea tell The Independent.
"We often find when our brides are having their makeup applied it is a peaceful timeout for them and can be a welcome dose of calm. Your makeup artist will be experienced in making you look great and feel confident on and off camera and will also be using tried and tested, long-lasting waterproof products.
"We are not only the bride's personal makeup artists but a helping hand on the day (and sometimes a shoulder to cry on!)"
Nar's Rachael Cole agrees adding that makeup novices might feel less pressure by hiring a professional.
However, an alternative option she suggests is booking in for a few lessons before the big day so you can work on your skill and get to learn more about the products.
Schedule a trial run
Professional makeup artist or not, Pamela and Andrea say that a trial run is an absolute must as it "gives you the opportunity to try out different looks and refine one you like until it's perfect".
"We always ask brides to wear a similar coloured top to their wedding dress for the makeup trial run," the duo tell The Independent.
"If you are wearing a dark top for the trial but not on the day this can really change the overall look.
"We also suggest taking plenty of pictures during the trial so you can see that the works both off and on camera. Also, don't forget to ask your family and friends for a second opinion."
Join our commenting forum
Join thought-provoking conversations, follow other Independent readers and see their replies