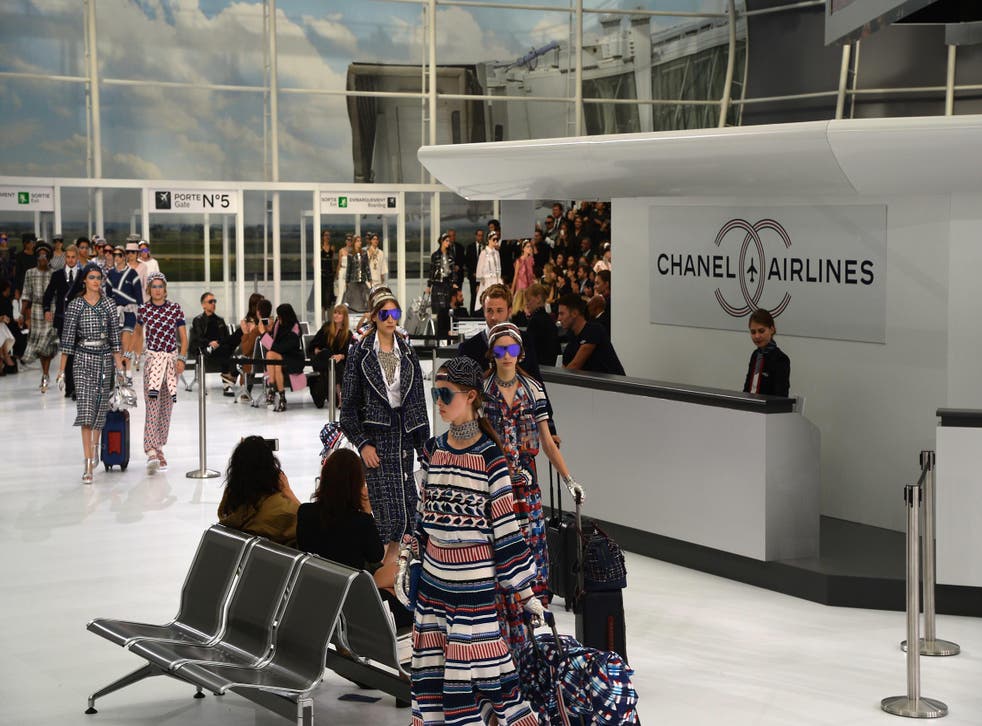 World in Motion: Chanel takes a trip, and Valentino's trips up on 'tribal'
Karl Lagerfeld soars with Chanel Airlines, while Valentino's world vision doesn't seem very worldly
Alexander Fury
Paris
Tuesday 06 October 2015 22:47 Comments
If there's one thing we're constantly told by fashion designers - and their money-hungry CEOs - it's that the woman of today is a woman of the world.
Of course, that's open to interpretation: does it mean she lives in far flung corners of the world, or simply travels there? Or perhaps a bit of both - China, a hugely important luxury market even after the drop of the yuan, are also the world's biggest and best-spending tourists. About 120 million spend about £110 billion annually.
Karl Lagerfeld must like those odds - that is, possibly, part of the reason he staged his latest Chanel show in a giant recreation of an airport departure lounge, a gateway to the world. We were in Terminal 2C of Paris-Cambon airport, waiting for our Chanel Airlines flights: Lagerfeld knows how to pun on the French fashion house's legacy. And, indeed, it's present - there was a duty-free bag of Chanel perfume on every seat.
Video: Chanel spring/summer 2016 during Paris Fashion Week
For weary fashion press - many of whom are gearing up for their own flights as the Paris spring/summer 2016 collections draw to a close - the Chanel show, with its endless gimmickry, always cracks a smile. This was, however, a more sombre offering than you'd expect. You sort of wanted Lagerfeld to go Coco loco (which he does so well) and gussy the whole thing up with conveyor belts of Chanel luggage and free-wheedling trolley-dollies in boucle recreations of flight attendant attire. You wanted it all to be a bit camper. Well, I did.
Instead, this was Lagerfeld in cold, hard futuristic mode. At least, a future cliché, snipping buttons and collars off Chanel's signature suits and streamlining them, like Concorde chassis. That supersonic jet went out of service over a decade ago: frankly, some of Lagerfeld's sci-fi stuff felt a little more retro-futurism than brave new world, in red, white and blue origami-pleat blouses or embroidery that ended up resembling sixties aircraft upholstery. One twist on the tweed came out with a braid that ran boldly, like ticker tape, around the edge: I made out "Rue Cambon" and "Ginza" before the models whizzed past at warp speed, presumably breezing through to the first-class lounge.
That's the point of this stuff: to appeal to both, at the same time. So, of course I'm not going to like Lagerfeld's bubblegum-pink tweed suit, or the eye-popping prints of departure boards in floating silk. They're not for me: they're for customers in Korea (where Chanel staged their Cruise show in May), in Kuala Lumpur, and in the Rue Cambon boutique, where the world mingles to buy Chanel quilted bags season after season. Lagerfeld has a wide-ranging, global view. There's always something for everyone here.
Video: Valentino spring/summer 2016 during Paris Fashion Week
The view of Valentino's Maria Grazia Chiuri and Pierpaolo Piccioli, by contrast, is narrow. Ideologically, and literally. They love slender evening dresses, quivering with work; brief day skirts and embroidered coats; flat sandals. All very similar season after season, all delicately worked in a myriad of manners. This season, they alighted on the vibrant, throbbing, imperfect purity (their terms, not mine) of Africa, to mine mercilessly for their visual effects. It was, perhaps, inevitable that one day they would come a cropper. Because although the decoration was graceful - draping, embroidery, painstaking application of feather and fringe - the treatment of the theme was not. I always wonder when inspiration from other cultures is appropriate and when it dips into appropriation. Valentino's pendulum swung way, way too far to the latter. They went for a world view, but it didn't feel terribly worldly.
In Chiuri and Piccioli's defence, it felt unintentional. A few elements - like the embroideries reminiscent of Maasai beadwork that harnessed lace dresses or decorated flat sandals - have been co-opted by European designers for decades: there was a great swathe of Yves Saint Laurent's sixties work here, for instance. But a collaboration with the artist Alessandro Gaggio, creating high jewellery pieces in white terracotta wound up, unfortunately, resembling bone; elsewhere the willy-nilly mix of "tribal" elements felt facile, shallow, and uninformed.
Credit where credit's due, Valentino went hell for leather - they painted a bunch of it to approximate ceremonial cicatrisation, and carved out bags and shoes with mask motifs. The work was mind-boggling. But so was the blinkered viewpoint that this kind of stuff wouldn't get people's hackles up, especially considering the cost (considerable) and the casting (mostly white). Their use was entirely superficial and stripped of meaning: the only issue being that these are motifs loaded with meaning, both from the cultures they are plucked from, and when embedded into the European culture that Valentino represents. Every single Maasai bead carries meaning - the colours denote bravery, war or peace; their placement helps articulate identity. The curator and author Susan Vogel has written about cicatrisation representing civilisation, a way of differentiating the socialised body from that of nature. Not so different from a Valentino dress. And yet…
Paris Fashion Week spring/summer 2016

Show all 35
And yet this collection left you feeling profoundly, profusely uneasy, as did Junya Watanabe's show on Saturday morning, another that drew on decorative elements associated with Africa, offering a collection of Dutch wax dresses looped with abstracted variants of Maasai-ish necklaces, with models (all white) bearing faux-keloid scarring on their faces. Whatever the intention, it struck a bum note. It felt fundamentally wrong. Valentino's was a better collection, and the clothes more finely wrought, but it likewise sticks in your mind for all the wrong reasons. You were on the edge of your seat: not to leap into a standing ovation, but to get the hell out of there.
I was, at least. A phalanx of retailers jumped to applaud when Chiuri and Piccioli emerged, because these Valentino dresses, at base, were variations on well-worn, well-sold themes of pretty evening dresses jazzed up with a new visual motif. Maybe they ignored the undercurrents and just saw the surfaces, and the dollar (and pound, and indeed yuan) signs leaping off of them? Maybe that's the only world view fashion cares about today?
Register for free to continue reading
Registration is a free and easy way to support our truly independent journalism
By registering, you will also enjoy limited access to Premium articles, exclusive newsletters, commenting, and virtual events with our leading journalists
Already have an account? sign in
Join our new commenting forum
Join thought-provoking conversations, follow other Independent readers and see their replies