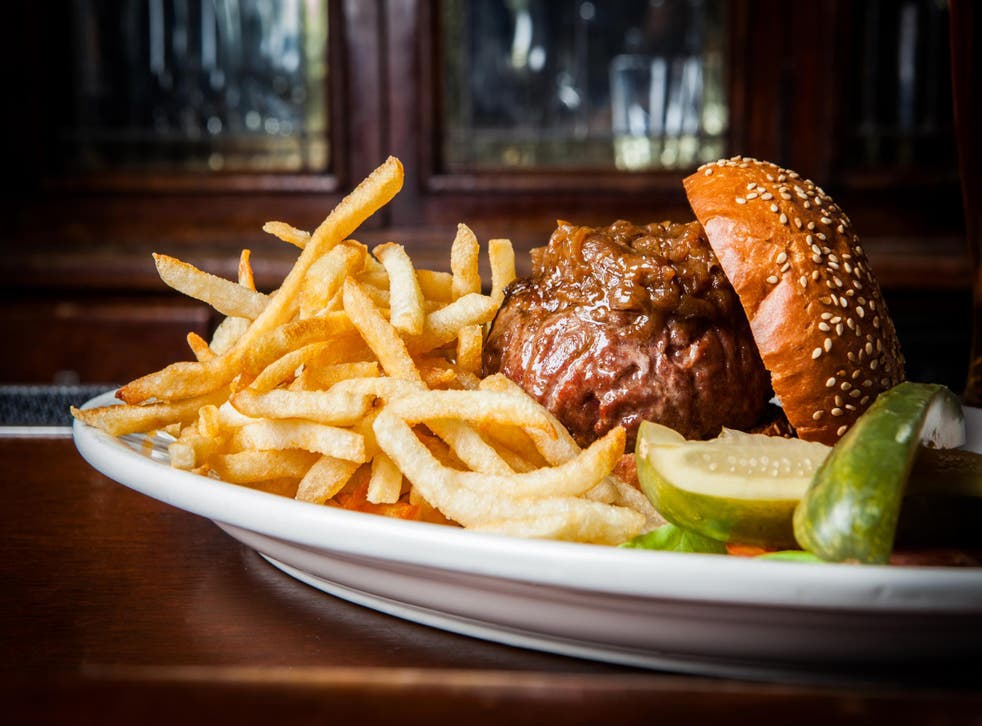 Fast food meals contain fewer calories than restaurant dishes
Hungry Horse, Harvester and JD Wetherspoon were among the biggest offenders
Fast food often gets the blame for serving up high-calorie meals, but new research has revealed that restaurant dishes could be even less healthy.
A study analysing thousands of meals from eateries including Hungry Horse and McDonald's found that they averaged 1,033 calories in restaurants and 751 calories in fast-food chains.
A team of researchers at the University of Liverpool looked at more than 13,500 meals on the menus of 21 sit-down restaurants and six fast-food chains.
Using online company information on calorie content, they identified that just one in 10 meals could be classed as "healthy" – fewer than 600 calories – according to Public Health England guidelines.
The biggest offenders were Hungry Horse and Stone House, which clocked up 1,358 and 1,275 calories in an average main meal respectively.
Other well-known restaurant chains with high calorie content included Harvester, at 1,166 calories, JD Wetherspoon, with 1,119 calories, and Nandos, at 1,019 calories.
In comparison fast food meals at Burger King had an average of 711 calories, followed by Wimpy, at 721 calories, and McDonald's, at 726 calories.
KFC topped the fast food list with an average of 987 calories per meal.
The findings remained the same when the researchers compared similar meals from each outlet.
The exercise it takes to burn off high-calorie foods

Show all 10
For example, burger meals in restaurants contained an average of 414 calories more than burger meals from fast-food chains, while salad meals in restaurants had 142 calories on average more than fast food salads.
A spokesperson for Hungry Horse tells The Independent: "We aim to offer something for everyone on our menus at great value.
"As part of this we have been working hard to increase the range of lower calorie options, including recently launching a dedicated Live Well range with dishes under 600 calories, and we are committed to further changes."
In response to the findings, leading Harley Street nutritionist Rhiannon Lambert tells The Independent that a "moderation approach" should be adopted when it comes to eating out at restaurants.
"It is important to remember that not all calories are equal and they don't always dictate how healthy your meal is," she says.
"However, if eating out is a frequent occurrence it may be beneficial to know the calorie content of your food. Often highly caloric options are also higher in saturated fats, salt and sugar, all of which may not be beneficial for our health.
"I often advise my clients to adopt a moderation approach and make sensible choices when eating out. Often the dressings in salad can be added on the side of your meal so you can decide how much you need."
Support free-thinking journalism and attend Independent events
The findings follow research from the Royal Society for Public Health (RSPH) which found that people whose local high streets are stacked with betting shops, fast-food outlets and tanning salons die younger than those who live in towns with plenty of libraries and pharmacies.
Its ranking of 70 high streets found those residing in the top 10 healthiest areas lived an average of two-and-a-half years longer than those with the 10 unhealthiest high streets.
Join our new commenting forum
Join thought-provoking conversations, follow other Independent readers and see their replies