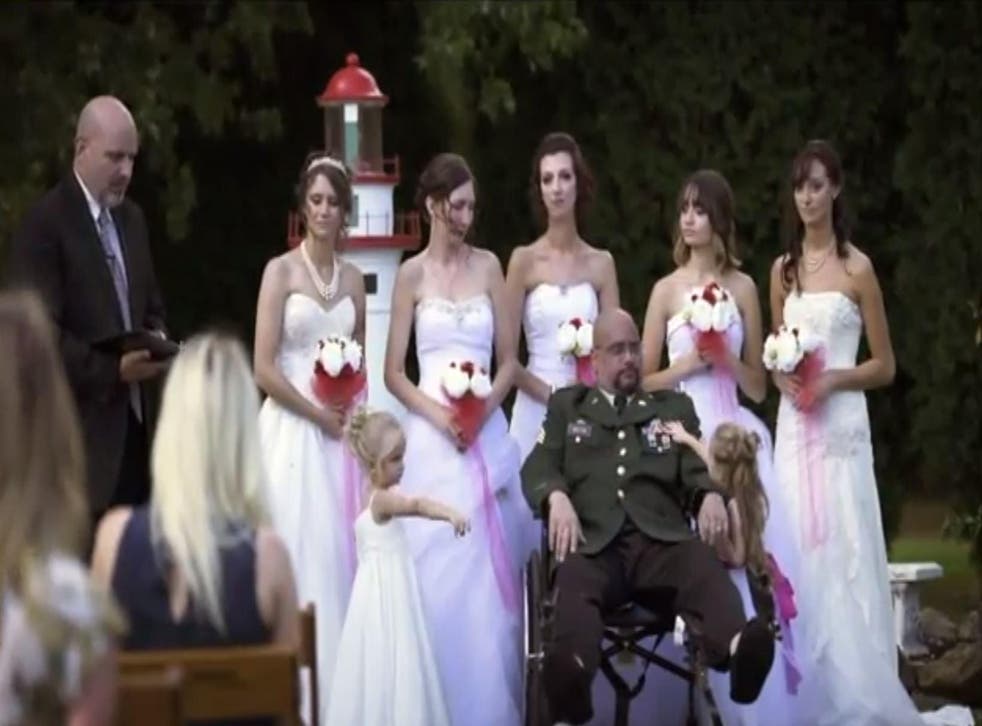 Father fulfils dying wish to walk all seven daughters down the aisle
Each daughter was given a locket engraved with 'a father's love never ends' 
Rachel Hosie
Friday 20 October 2017 12:26 Comments
A father has fulfilled his dying wish to walk all seven of his daughters down the aisle.
US army veteran Willie Shelton, from Ohio, had terminal cancer, but according to his wife Cheryl, there was just one thing he really wanted to do before he died.
"The one constant was always, 'I want to see my girls grow up, and I want to walk them down the aisle,'" Cheryl told Fox News.
And less than two weeks before he passed away, Willie's family surprised him and made his wish come true.
With help from a hospice, the plan came together in a matter of days - and it was all kept a secret from Willie.
One of his daughters, Emily Flinn, was already married, but she'd tied the knot in a simple courthouse ceremony, which meant Willie hadn't been able to give her away properly.
So the family decided Emily would have a proper ceremony to renew her vows, where her father could walk her down the aisle.
What Willie didn't know, however, was that his other six daughters were also going to be wearing wedding dresses and walking down the aisle too.
When each daughter emerged in a white gown, they got to see the gleam in their father's eye as if it was their real wedding day.
"I always assumed that my dad would be there to walk me down the aisle and when the possibility was there that he wasn't going to be able to - this was everything," said Lindsey Shelton.
Willie was even helped out of his wheelchair to stand alongside his daughters.
"This was very touching for him and it was a dream that we could fulfill to the best or the closest we could possibly do," said Cheryl.
On October 16, less than two weeks after the ceremony, Willie died.
However, each daughter will be able to have a little piece of their father with them on their wedding day - the women were each given a little heart-shaped locket containing a picture of them in their wedding dressesand Willie, and engraved with "a father's love never ends" on the back.
"He was the happiest person, the most giving person, and this was our chance to give him something," said Jennifer.
Register for free to continue reading
Registration is a free and easy way to support our truly independent journalism
By registering, you will also enjoy limited access to Premium articles, exclusive newsletters, commenting, and virtual events with our leading journalists
Already have an account? sign in
Join our new commenting forum
Join thought-provoking conversations, follow other Independent readers and see their replies