The Independent's journalism is supported by our readers. When you purchase through links on our site, we may earn commission.
Company creates hilarious t-shirts that satirically mock gender roles
The t-shirts highlight the 'sexism, stereotypes and bias women experience everyday'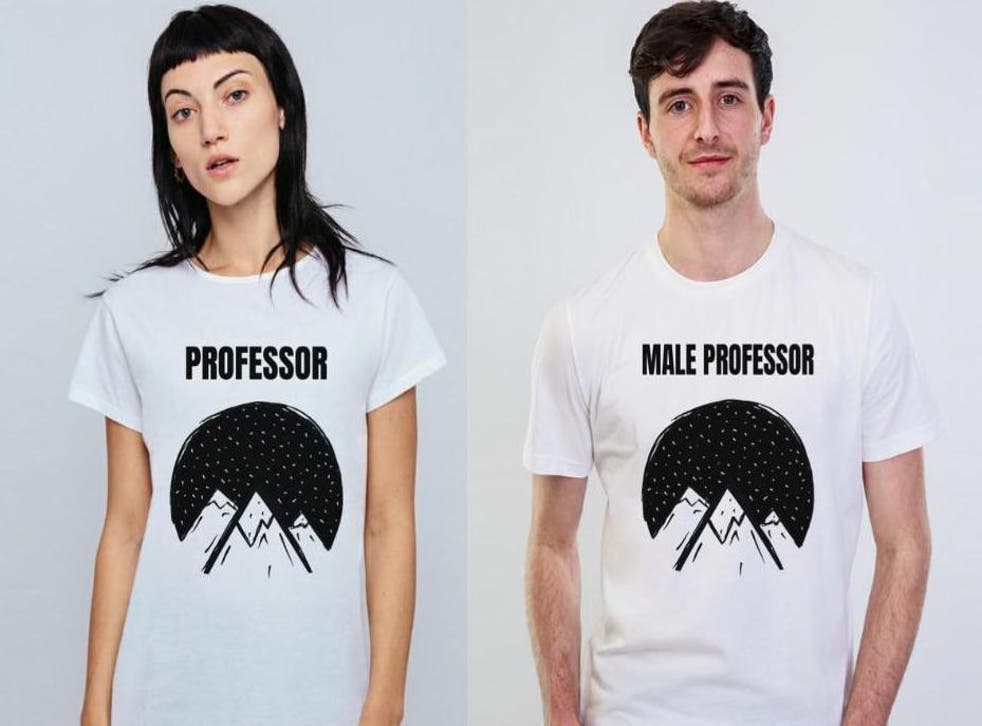 A popular social media account that regularly calls out traditional gender stereotypes has released a range of t-shirts that satirically reimagines the roles typically assigned to men and women.
Man Who Has It All started as a parody Twitter account and has since expanded its social commentary into an online store, where it is selling shirts emblazoned with such things as "Scientist" and "Male Scientist".
The patronising remarks are ones typically dealt with by women, who often see their gender preface their careers.
In addition to offering shirts that emphasise a person is a male engineer, programmer, or guitarist, rather than a female as is commonly done in the media and by society, the store also sells t-shirts that mock other gender bias.
"Crazy cat gentleman," one satirical shirt for men reads, while another says: "I'm too handsome to do maths".
The new gender-balanced, multi-cultural cast of Thomas the Tank Engine

Show all 24
In the women's section, t-shirts are emblazoned with phrases such as: "A mother's place is in politics" and "Don't forget to SMILE boys!"
Another jumper reads: "Women and men are equal but different. Eg men are naturally better at smiling & knowing when to clean the bathroom & we should absolutely celebrate that."
On Facebook, where the site describes itself as "a satirical page that exposes the absurdity of the patriarchy by turning the tables", the t-shirts have been met with amusement and praise.
"Can you please make 'Male Attorney' shirts someday?" one woman asked. "I'm so proud of my husband for achieving his dream of becoming a lawyer despite all of the obstacles men face in the workplace. Would love to buy him a shirt so he can show the world how strong and tenacious he is."
Another said: "My man will love this. He loves to copy me and play science! It's so cute! He always smiles when he does and I love how positive it makes him seem!"
Someone else mocked the gender gap when it comes to clothing, as traditionally items for women cost more than nearly identical products marketed towards men. This line of clothing, however, comes in universal fit and men's.
"I don't understand how the men's styles are the same price as the normal one? Doing specialist fits surely costs more to produce. If they don't like it they can just buy the universal fit," one person wrote.
Man Who Has It All first became popular on Twitter, where they have more than 220,000 followers.
Support free-thinking journalism and attend Independent events
One tweet, which has been liked more than 36,000 times, says: "My friend is a history teacher. She's compiling a list of great historical figures and she needs a male to add to the list. Suggestions?"
Register for free to continue reading
Registration is a free and easy way to support our truly independent journalism
By registering, you will also enjoy limited access to Premium articles, exclusive newsletters, commenting, and virtual events with our leading journalists
Already have an account? sign in
Register for free to continue reading
Registration is a free and easy way to support our truly independent journalism
By registering, you will also enjoy limited access to Premium articles, exclusive newsletters, commenting, and virtual events with our leading journalists
Already have an account? sign in
Join our new commenting forum
Join thought-provoking conversations, follow other Independent readers and see their replies