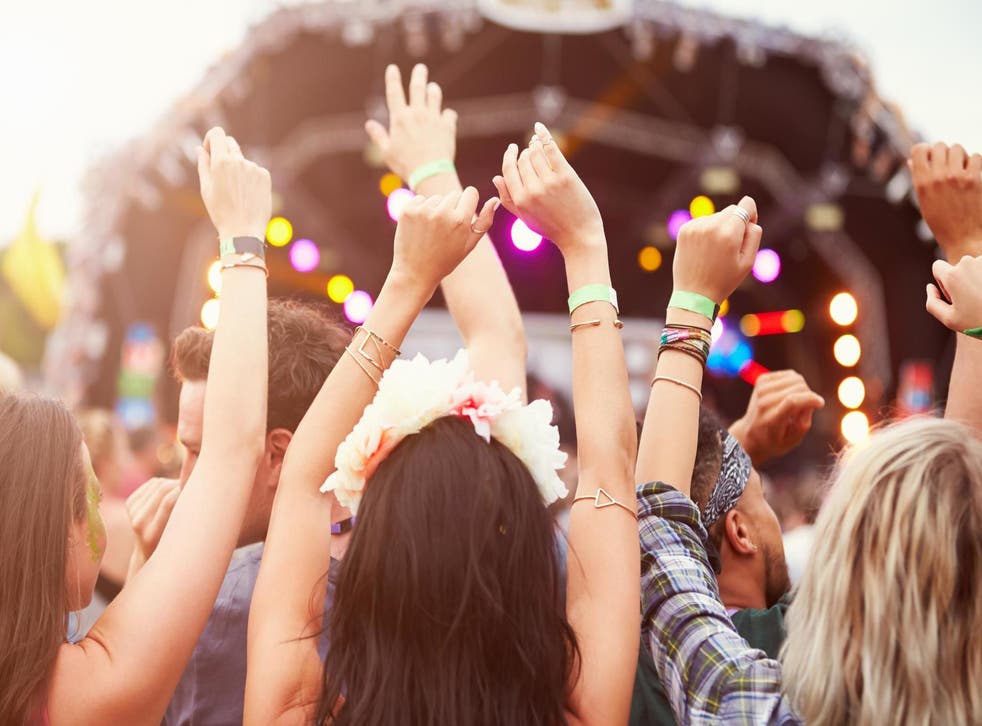 Two-thirds of women concerned about sexual harassment at festivals, study finds
10 per cent said they have been sexually assaulted
Olivia Petter
Monday 20 August 2018 16:57 Comments
Two-thirds of women worry about being sexually harassed at music festivals, a new survey has found.
Carried out by a team of professors at Durham University, the ongoing study, which has so far had more than 250 responses, also revealed that 30 per cent of women have been sexually harassed at festivals while 10 per cent have been sexually assaulted.
Male respondents reported significantly lower levels of harassment, with five per cent saying they had been sexually harassed and one per cent saying they had been sexually assaulted, according to the figures published by The Guardian.
The survey - which is still open for responses here - also reveals that women are more concerned about the threat of physical violence at festivals than men, with 53 per cent of male respondents expressing concerns about sexual harassment in comparison to 69 per cent of women.
So far, two-thirds of the 258 respondents have been women and more than half have been over the age of 30.
Criminal law professor Dr Hannah Bows, who is leading the research along with four colleagues, explains that this is the first time academic research has been conducted into examining levels of crime and safety at festivals.
"Concerns about crime and safety, particularly around sexual violence and harassment, has been emerging over the last few years and a number of festival initiatives have been established to raise awareness and prevent sexual violence and harassment," she tells The Independent, citing the Association of Independent Festivals' 2017 #SaferSpaces campaign which saw several festivals introduce Sexual Assault Referral Centres (SARCs) on site.
"We wanted to provide evidence to inform festival management about the concerns festival goers have in relation to crime and safety and how common different types of victimisation are, including sexual violence and harassment," she adds.
"The study is ongoing but the emerging findings suggest high levels of concern about crime and violence and a significant number are being victimised at festivals."
The findings come after a YouGov survey from earlier this year revealed that nearly half (43 per cent) of female festival goers under the age of 40 have experienced unwanted sexual behaviour at a music festival.
In terms of the types of incidents, 29 per cent of women recalled "forceful dancing" while 23 per cent reported verbal harassment.
The poll of 1,188 festival attendees also revealed that only two per cent of these experiences were reported to the police.
Catcalling: Women write in chalk to stop street harassment
Jen Calleja, co-director of the Good Night Out Campaign, described the findings as "shocking but not surprising" at the time, telling the BBC that the research "helps prove what we already know through anecdotal evidence.
"We know that the vast amount of harassment and sexual assault is not reported and we know this comes down to stigma, fear of not being believed and a minimisation of what harassment is," she added.
"The idea we want to put forward is that harassment is everybody's problem, it's not just the person who is being assaulted," Calleja said.
The research comes after journalist Gina Martin launched a campaign to make upskirting - whereby someone takes an unsolicited photograph up someone's skirt - a criminal offence after she experienced it at a London festival.
The bill came close to being passed in June but was subsequently blocked by a Tory MP. However, Downing Street later announced that the government would introduce the law to ban upskirting with the hope that it would be implemented by the end of the year.
Meanwhile, sexual harassment was also reportedly rife at this year's Coachella festival in Palm Springs, Los Angeles.
According to a report by Teen Vogue, one female writer was groped 22 times in the space of 10 hours, while 54 women interviewed reported incidents of sexual assault or harassment at the festival.
Speaking to The Independent, Tracey Wise of the Safe Gigs for Women initiative explained that harassment at festivals can manifest in myriad forms, varying from cat calling to rape. However, the type of harassment sge hears about most frequently is groping, particularly within crowds.
"We encourage all festival and gig goers to never be a bystander," she says, "if something doesn't like right, what can you do to make it better?
"We are also carrying the message that #consentrocks across festival season. Festivals are great places to meet new people, but always ensure consent is clear and emphatic by all persons involved in taking friendships forward."
Register for free to continue reading
Registration is a free and easy way to support our truly independent journalism
By registering, you will also enjoy limited access to Premium articles, exclusive newsletters, commenting, and virtual events with our leading journalists
Already have an account? sign in
Join our new commenting forum
Join thought-provoking conversations, follow other Independent readers and see their replies