The Independent's journalism is supported by our readers. When you purchase through links on our site, we may earn commission.
Coronavirus: Fly-tipping during reduced rubbish collections could result in fines or jail time, local councils warn
'Fly-tipping is never acceptable,' states Local Government Association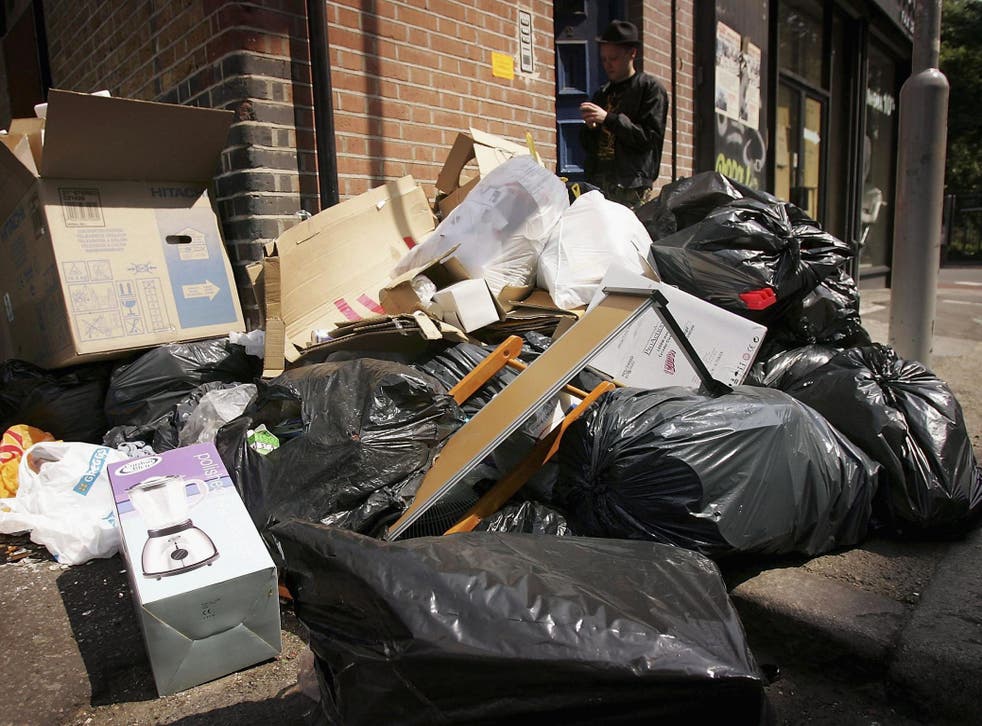 The implementation of a nationwide lockdown on 23 March has affected everyday life in numerous ways, from restricting outdoor activities to changing how consumers carry out their grocery shopping.
The increased number of people who are having to self-isolate at home has impacted a wide array of businesses, as many members of the public are unable to work as they usually would.
In March, it was announced that parts of the UK would have reduced bin collection services as a result of self-isolation measures.
Some councils elected to close recycling centres in order to prevent individuals from coming into close contact with one another, as recycling centres are not considered "essential" businesses by the government.
Following the reduction in bin collection services, some regions in the UK have noted an increase in fly-tipping.
Fly-tipping, the government explains, is the "illegal dumping of liquid or solid waste on land or in water".
West Oxfordshire District Council recently stated that the amount of waste dumped in the area had risen by 300 per cent amid the coronavirus pandemic, with household waste centres being shut.
Meanwhile, Winchester City Council recently reported an increase in fly-tipping in the area, with councillor Neil Cutler stating that fly-tipping "diverts teams away from the frontline of waste collection" and may consequently cause disruptions for emergency service vehicles on the road.
Last month, Haringey Council published a warning on Twitter stating: "If you're caught illegally dumping your rubbish on our streets, you could end up in prison or face a hefty, £50,000 fine."
Coronavirus: London on lockdown

Show all 29
The District Councils' Network released a warning regarding the "wave of waste" that is expected in the coming weeks, stating: "While many will be using the current period as an opportunity to spring clean their home or do some gardening, residents are asked to be mindful of how and where they dispose of their waste."
The government's website outlines that while people can burn waste if it falls into the categories of plant tissue; sawdust, shavings and cuttings from untreated wood; or waste bark and wood, the burning of other forms of waste is a criminal offence.
What are the penalties for fly-tipping?
If a person is found to be fly-tipping, their local authority is advised to carry out an investigation to assess the severity of the situation.
The government states that as much information as possible must be collated about the situation, including the type of land on which the rubbish was dumped, the location, the amount of waste and whether the waste could cause harm to other members of the public, animals or the environment.
If a person carries out fly-tipping in water, their local authority must look into whether the waste is increasing risk of flooding, is "causing amenity issues in an ordinary watercourse or main river" or is polluting a non-controlled body of water.
The government outlines that once the local authority has carried out an investigation into the fly-tipping incident, they may wish to "pursue enforcement action".
"The Environment Agency may investigate if the incident is large-scale, serious, organised illegal dumping or immediately threatens human health or the environment," the guidance states.
Once an investigation has been conducted, assessing elements such as witness statements and CCTV footage, a person may be convicted if found guilty of fly-tipping.
"Convicted parties can be fined an unlimited amount of imprisoned for up to five years," the government warns.
In light of the impact the coronavirus pandemic has had on waste services, a spokesperson for the Local Government Association (LGA) urged members of the public to dispose of waste responsibly.
"Fly-tipping is never acceptable and we urge people and businesses not to burn garden waste - composting or recycling it where possible is better for the environment," said councillor David Renard, environment spokesperson for the LGA.
"Burning household waste is an offence and liable to prosecution."
For further information on what is required for an investigation into fly-tipping, click here.
Register for free to continue reading
Registration is a free and easy way to support our truly independent journalism
By registering, you will also enjoy limited access to Premium articles, exclusive newsletters, commenting, and virtual events with our leading journalists
Already have an account? sign in
Register for free to continue reading
Registration is a free and easy way to support our truly independent journalism
By registering, you will also enjoy limited access to Premium articles, exclusive newsletters, commenting, and virtual events with our leading journalists
Already have an account? sign in
Join our new commenting forum
Join thought-provoking conversations, follow other Independent readers and see their replies