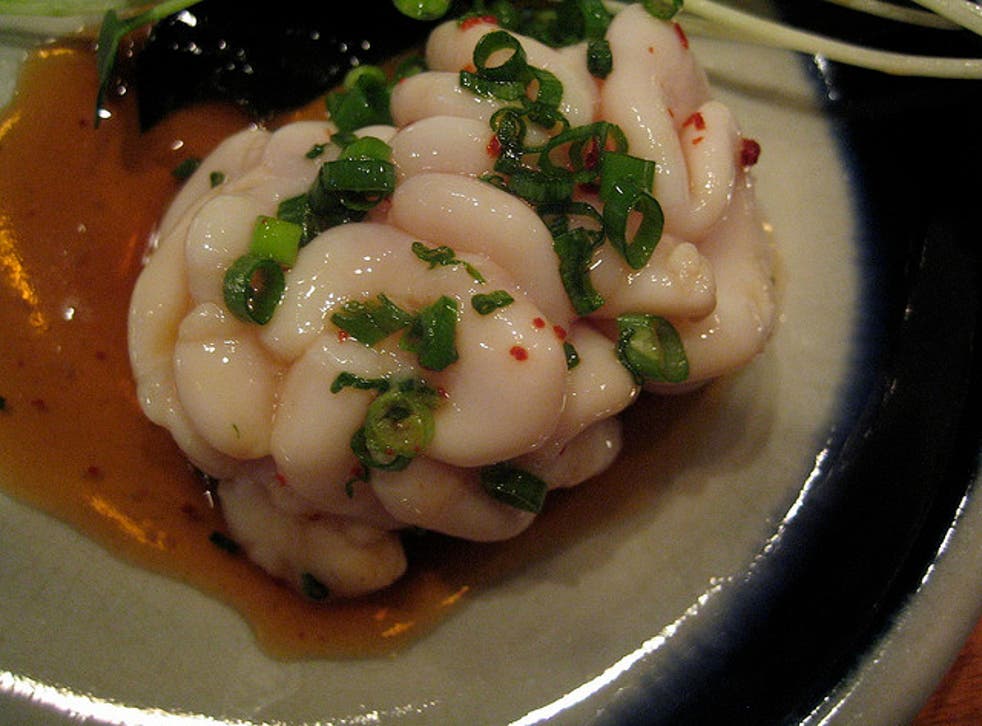 10 unusual and delicious Japanese foods
From curry doughnuts to fish sperm
Robert van Egghen
Thursday 30 April 2015 17:27 Comments
Everyone knows sushi and sashimi but there's a whole lot more to Japanese food than that. From the exquisite to the downright bizarre (but still very tasty), here's our guide to the best Japan has to offer.
Curry Pan (Curry doughnuts)
Everyone loves curry, right? And you'd have to be mad not to like doughnuts. So why not combine the two into a delicious, artery-clogging treat?
Basashi (raw horse meat)
Japan is famous throughout the world for its raw fish. But how about raw horse meat? Served in thin slices, dipped in soy sauce with ginger and onion, basashi is like prosciutto, but better.
Zaru soba (Cold soba noodles)
Let's be honest, cold noodles sounds like something you'd only eat the morning after you got a late-night Chinese takeaway and woke up with a pounding headache and sweet and sour sauce smeared around your face. But in a country with such hot and humid summers, these chilled buckwheat noodles dipped into a sweet broth with green onions and wasabi are very refreshing.
Uni (Sea Urchin)
Genuinely one of the greatest foods in the world, though it might not look like it. A complex medley of flavours – sweet yet bitter, salty yet delicate – if the golden brown of the sea urchin appears on your plate you know it's going to be a good meal.
Omu-rice (Rice omelette)
Omu-rice is an integral part of Yoshoku, or westernised Japanese food. Fried rice wrapped in a fluffy omelette topped with ketchup or demi-glace sauce, it's a great comfort food beloved of stressed-out high school students.
Okonomiyaki
A savoury pancake made with shredded cabbage, okonomiyaki literally means "what you like cooked". Grilled on a special hot plate in the middle of the table, popular fillings include pork and squid. Goes wonderfully with three or four Asahi beers.
Tori Gai (Japanese Cockle)
Large, succulent and sweet, Tori Gai are extremely rare and so rather expensive. But by God are they good. You have to have a special licence to catch them and it's a good thing too, otherwise everybody would be doing it.
Kakigori
A shaved ice dessert, topped with syrup and condensed milk. Kakigori is a snow cone's sexy younger sister. Commonly served at local festivals during the summertime.
Dobin Mushi
A traditional Japanese seafood broth that's as fun as it is tasty. It's steamed and served inside a tea pot with shrimp, chicken, soy sauce, lime, and matsutake mushrooms. Then you pour the broth into a saucer and drink it, before eating the goodies inside.
Shirako (Fish Sperm)
Save the weirdest till last, as the old phrase goes. The sperm sac of a fish is a popular bar snack in Japan, though regarded by many as an acquired taste. It's served hot or cold and the name literally means "white children".
Register for free to continue reading
Registration is a free and easy way to support our truly independent journalism
By registering, you will also enjoy limited access to Premium articles, exclusive newsletters, commenting, and virtual events with our leading journalists
Already have an account? sign in
Join our new commenting forum
Join thought-provoking conversations, follow other Independent readers and see their replies