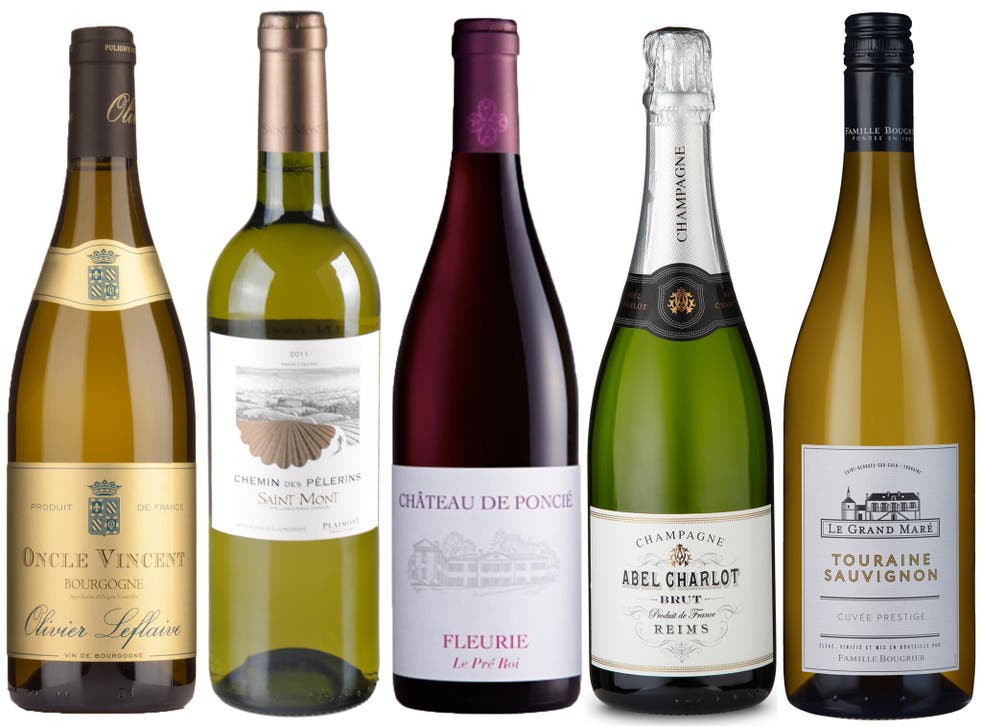 Wines of the week: 10 wines to celebrate Bastille Day with
As the nation celebrates 'la Fête nationale' and the Tour De France winds its way around the country, Terry Kirby continues his Tour Du Vin with the emphasis on lighter wines for summer drinking
To domestic eyes, France is probably the country most synonymous with our understanding and appreciation of wine. We have historic vinous associations with areas such as Bordeaux and Burgundy – the biggest export market for champagne – and our finest restaurants have lists which depend on its wines. Some of us even run vineyards over there and a great many more of us enjoy the wines while on holiday.
While the rigorous French system of labelling and classifying wines, particularly in Bordeaux, can be a puzzle to outsiders, it mostly ensures certain standards, even if it can be stifling to innovation and experimentation. But what is also remarkable and quite wonderful about French wine is the sheer variety of styles and terroirs and the incredible loyalty of the French to their wines, which, wherever you are, are usually the best…
So, in the second part of our French Tour Du Vin, as the Tour De France winds its way around the country and the nation celebrates Bastille Day – la Fête nationale – tomorrow, here are some classic and some not so well-known wines to enjoy, with the emphasis on lighter wines for summer drinking. And having covered French roses twice in the last few weeks – here and here – today we are looking at sparkling, whites and lighter reds…
When it comes to champagne, everyone knows the big houses – the Moets, Tattingers etc – but there are a host of lesser names that can deliver excellent value for money and great quality. For instance, try the award winning Abel Charlot Brut NV (£17.00 marksandspencer.com), made with the classic varieties but with some added texture and complexity from use of some aged "reserve wines". It's a brilliant cork to pop as an aperitif, or with smoked salmon or seafood starters. If you want something for a really special occasion, then the relatively low profile but prestige marque of Ruinart claims to be the oldest champagne house and, in its distinctive bulbous bottle, the Ruinart Blanc de Blancs Brut NV (RRP £59.00 widely available) is suitably refined as well as being elegantly and precisely made.
But champagne is not the only source of great sparkling wines in France – the nationwide Crémant appellation allows individual regions to make champagne method sparklers according to the local grapes, but adhering to an overall standard. Crémant – alongside fantastic rieslings and pinot noirs – is a speciality of tucked away Alsace, in the northeast of France (see my column last year for more recommendations), and produces lovely wines such as the Cremant D'Alsace Dopff Au Moulin Cuvee Julien NV (£13.40 thewinesociety.com; £18.99, haywines.co.uk), made from pinot blanc and the local auxerrois grape and given a little complexity from lees aging. It's also perfectly priced between cheapo prosecco and the cheaper champagnes. A great all-purpose summer sparkler.
In the middle of the country, an arc of wonderful, classic white wines stretches across France, following the River Loire from the light whites of Muscadet in the west to the pristine sauvignons of Sancerre and Pouilly Fume and thence to the incomparable Chablis and south to white Burgundy proper.
It's impossible to do all these wines justice here, but the Touraine area on the Loire to the west of Sancerre produces excellent, grassy, citrus-inflected sauvignon blancs that don't attract the premium prices of its neighbours, such as the La Grand Maré Touraine Sauvignon Cuvee Prestige 2018 (£12.99 laithwaites.co.uk) – an excellent summery white which has slightly more intensity and heft than some other Touraines, and is excellent with all manner of fish dishes. Moving down to Burgundy, the commune of Puligny-Montrachet is one of the legendary names and Olivier Leflaive has made Oncle Vincent Bourgogne Blanc 2015 (£20.00 thewinesociety.com) in homage to the founder of the family Domaine, which is a P-M in all but name. Made with old chardonnay vines planted in adjacent vineyards and barrel fermented and aged to deliver greater complexity, it's rich, buttery, layered, textured, with a mineral spine and floral aromas; perfect with pork and chicken, as well as richer fish dishes.
Further south, the red wines of the Beaujolais Villages, all made with the gamay grape, are brilliant summer drinking – medium bodied, juicy, succulent, filled with crunchy black and red fruits and a clean mineral finish, usually best served lightly chilled, although the depth and complexity of the wines can vary from village to village and according to vintage. The Chateau du Poncie Fleurie Le Pre Roi (£16.50 huntsworthwine.co.uk) is on the weightier side and packed with gorgeous fruit flavours, backed with hints of tar and chocolate. Drink with charcuterie and white meat and vegetable dishes. Elsewhere in Burgundy, pinot noir reigns supreme and for a great example of the, softer, lighter, raspberry-inflected style, try the Joseph Drouhin Rully 2015 (£16.99 waitrosecellar.com). Again, perfect summer drinking, if lightly chilled.
Skipping lightly over the behemoth that is Bordeaux reds – since most are not the kind of wines we seek during warmer weather – we now take our own Tour du Vin to the south and southwest of France. The huge region has a massive variety of wines of all styles and enterprising winegrower co-operative ventures such as Les Vignobles Foncalieu in the Languedoc – who produce terrific, great value wines under the Pays d'Oc classification such as the Le Versant Viognier 2017 (£9.99 henningswine.co.uk) packed with aromatic peach and apricot flavours, with a dry, honeyed finish. In Gascony, the Plaimont co-operative reigns supreme and specialises in using the many local grapes, such as arrufiac, gros manseng, petit courbu in the Chemin Des Pelerins Blanc, Cotes de Saint Mont, 2015 (£7.85 slurp.co.uk; £8.80 tanners-wines.co.uk) – a wonderfully refreshing and surprisingly complex blend of quince, nectarine and citrus flavours.
One of the joys of France wines is the unexpected oddities and rarities that occur, such as the Maison 54 Pet Nat 2018 (£20.00 boroughwines.co.uk) a very on-trend Pétillant Naturel sparkling wine, an intriguing mixture of chenin blanc and sauvignon blanc, bottled during fermentation at lower pressure, resulting in a low alcohol, lightly spritzy wine, with delicate, zest elderflower and citrus flavours – perfect for picnics or as an aperitif on a hot day. All this, and a beer bottle cap, somehow embodies the spirit of La Belle France.
Join our new commenting forum
Join thought-provoking conversations, follow other Independent readers and see their replies