Wines of the week: 12 bags, boxes, pouches and magnums for Christmas parties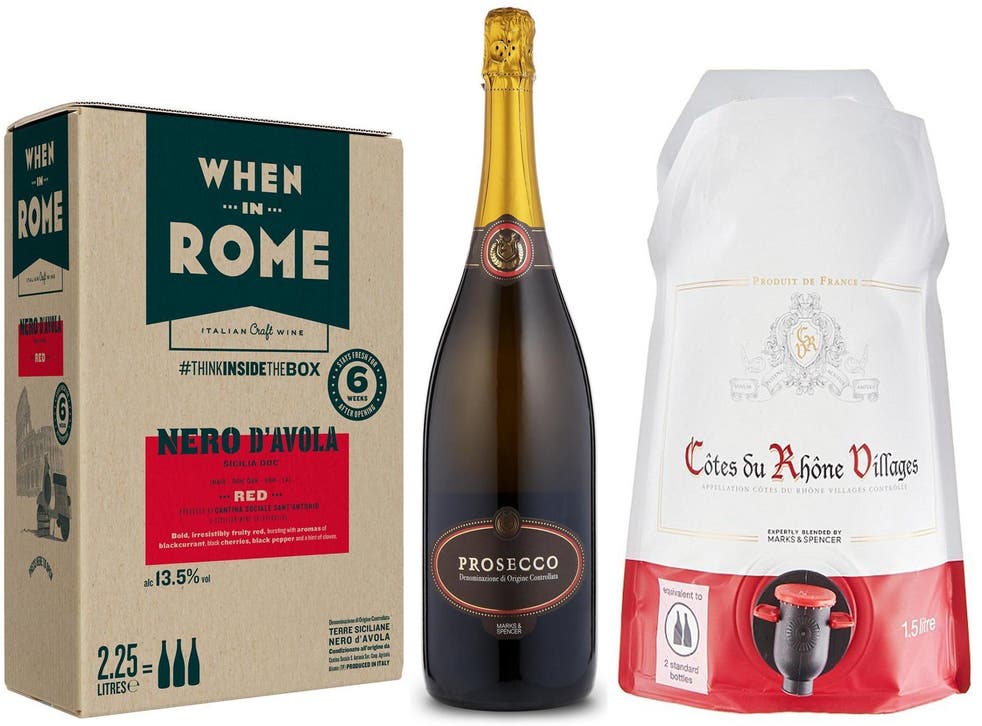 Welcome to December and the Advent season, when we can officially party like it is, well, almost Christmas. I know this, because I have two invitations for Sunday night drinks in the next couple of weeks, with the clear implication of "sod the Monday hangover, it's Christmas"... Not much of that the rest of the year.
Whatever day of the week you are holding them, the big news in providing wine for your parties, is that bags and boxes are no longer the preserve of indifferent cheap wines, but a reliable and cost-efficient way of serving good wine to your guests (a secret the canny French have long known: scan the bottom shelves of a decent supermarket there). They are also brilliant for the festive season, for unexpected guests or just to pour the odd glass with some Christmas leftovers without broaching a whole bottle. But do stick to your principles, and avoid the cheaper stuff, which can be truly horrible, and look for decent names or wines you have tried in the bottle and liked.
One such example is the Beefsteak Club Bag in a Box Malbec (£20.99 for 225cl ocado.com; waitrose.com), which I've recommended in the bottle before as a good, everyday option, Malbec being incredibly versatile and food-friendly. Waitrose has a good selection of boxes, including the reliable French fave Les Dauphins Cotes Du Rhone Villages Wine Box (£22.99 for 225cl waitrose.com) and the juicy When in Rome Nero d'Avola (£22.99 for 225cl waitrose.com), both excellent, medium-bodied, user-friendly, party wines. I'd probably keep the latter in a cool place, like a cellar or garage, which brings out the best of the crunchy black fruits and chocolate flavours of Sicily's grape. When it comes to whites, the When in Rome brand also has an excellent, crisp, Falanghina (£25.99 for 225cl waitrose.com), which would suit me for an all-purpose party white that delivers on flavour as well.
Over at Marks and Spencers, they have pouches of the creamier and fruitier Macon Villages 2017 (£18.00 for 1.5l Marks and Spencers), which probably needs food to bring out the best of it and an approachable, easy-drinking Cotes Du Rhone Villages Red (£17.00 Marks and Spencers). Their pouches are not available online unfortunately, but are in most large stores.
Wine bags in boxes also rack up environmental points, since the packaging is often easily recyclable and there are number of small places around the country selling relatively obscure and natural wine in boxes. If you live in East London, you may be lucky enough to be close to deli and off-licence WeinoBIB in Dalston, which stocks a wide range of boxes from all over Europe, including some great natural and orange wines. They will also refill your own bottles. If you pop in, tell Kirsty I sent you…
One range available online is that of renowned "nose to tail eating"-chef Fergus Henderson, of St John Restaurants, who sells 3L bag in boxes of red, white and rosé sourced from a couple of small estates in the Languedoc-Roussillon region of the south of France which embody all the qualities of good, everyday table wine from that area. The St John Rouge, Rosé and White (each £36.00 for 3l, stjohnrestaurant.com) is highly recommended for quality and value for money, as well as having a pig on a box of wine. Another range of very individual natural wines, Vinnaturo, which I've recommended before, is no longer available online, but you can find some retailers around the country on their website here. They are well worth seeking out.
Of course, one wine which is needed to get the party started but cannot be bagged is sparkling. But never mind, there are now a range of prosecco's in magnum size which are a great way to kick off proceedings. For something really cheap, cheerful, but incredibly good value try the apple-flavoured Ca'di Pietra, Prosecco Magnum 1.5L (£13.99 aldi.co.uk) or go for more upscale, if more prosaically named, for the fresh and zingy Prosecco Magnum 1.5 (£20.00 marks and spencer.com).
Still with magnums, rosé is not my personal thing at this time of the year, but it's an excellent party wine and perfect with all kinds of snacks and canapes. A couple of weeks ago I wrote about wines recognised by the International Wine Challenge and one of those I didn't have space for, was the magnum of Baron Gassier Côtes de Provence Sainte Victoire Elégancé Rosé (£24.00 for 1.5L sainsbury's.co.uk), which this year received both an IWC Gold Award and was named as the IWC Great Value Champion Rosé. It's a very typical Provencal blend of syrah, cinsault and grenache, with citrus, herbal and tropical fruit flavours. For a good white suitable for both party quaffing but weighty enough to serve at the dinner table, try the crisply mineral Definition Albarino Magnum (£22.99 majestic.co.uk) from northwest Spain, packed with clean, green apple and pear flavours and a sense of Atlantic sea air.
Since magnums are just two bottles in one, part of the enjoyment is to relish the look from your guests when you unveil the large bottle. But why stop at a magnum when you have a few people round? Earn more cachet by going for a double magnum or even a jeroboam, equivalent to six standard 75cl bottles. There are fewer of these around, but you can find an excellent, food-friendly, mature Bordeaux in the shape of the Chateau Senailhac, Bordeaux Superieur, 2004 (£49.99 for 300cl or £79.99 for 500cl; dbmwines.co.uk), a very typical, full-bodied, claret blend, from a chateau that punches above its weight. It will be in stock at Davis, Bell, McCraith from 12 December, so no link yet.
So, that's party wines, er, in the bag, as well as being boxed and double bottled … Next week: my Twelve Wines of Christmas.
Join our new commenting forum
Join thought-provoking conversations, follow other Independent readers and see their replies