50 Kalo restaurant review: Forget pizza toppings, it's all about the dough
If, like Ed Cumming, you were raised on the Hut, Domino's or Express variety of Italy's noblest tradition – you've got the wrong idea. But this restaurant is showing us all the light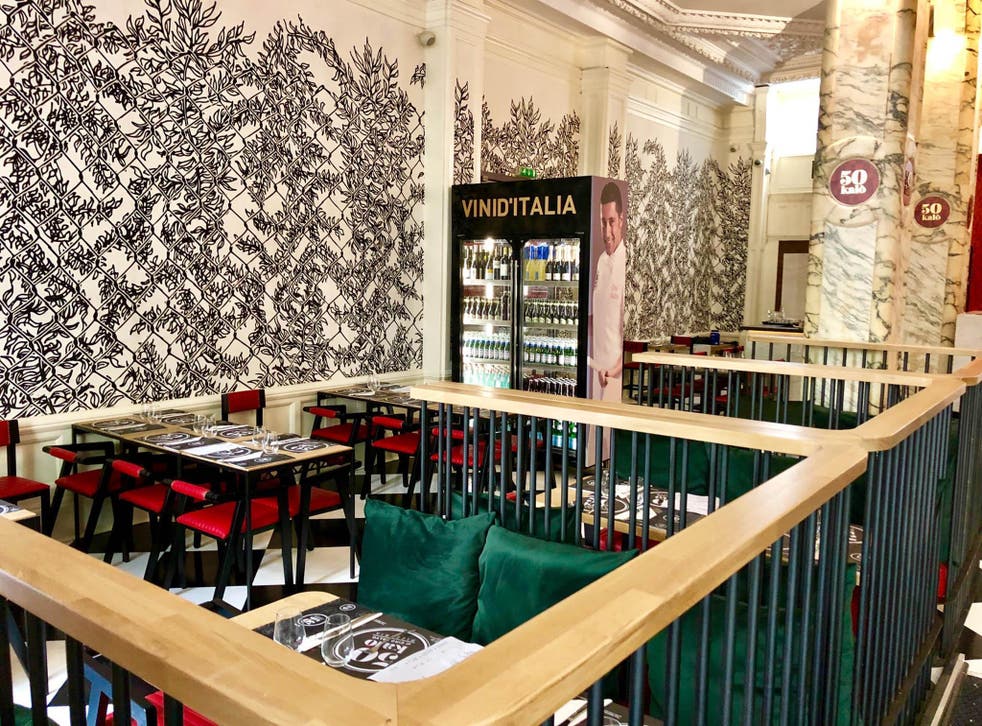 I had no idea about Neapolitan pizza until I went to Las Vegas. James and Thom Elliot, the Pizza Pilgrims, invited me to go with them to the world Pizza Expo.
Over three days in a vast convention centre in the desert they gave me a patient crash course in dough, tomato, mozzarella and the other basics of Italy's noblest tradition. They are excellent company and care a lot.
Since this immersion I have been to Naples twice to keenly seek out new places. Like a moth to a flame, in an analogy where the moth is "a boring man" and the flame is "talking about a food he doesn't really understand".
Still, if you were raised by the Hut or Domino's or Express you really get the wrong idea. For the first 1000 pizzas of my life I thought it was about toppings. Instead it turns out to be about the art of dough. It's easy to see why chefs in Tokyo have taken it up so enthusiastically. Neapolitan pizza is reminiscent of those Japanese ceramics, where the simplest of ingredients are refined beyond all reason over decades of practice.
50 Kalo, or 50 Kalo de Ciro Salvo, to give it its full title, is a Neapolitan pizza restaurant just off Trafalgar Square; Ciro Salvo is the chef. It opened last July to almost no fanfare, and hasn't been reviewed by many of the usual outlets, which is slightly surprising. Normally a new Neapolitan pizza restaurant, the London outpost of a famous Naples establishment, no less, would be greedily leapt on. Maybe it's too convenient. It's true there is something suspicious about somewhere so close to the National Gallery that isn't just selling Union Jack T-shirts and lighters that say "COOL".
The room is oddly large, with ornate double-height ceilings, marbled pillars and the kitchen wedged into the middle, with seats and tables crammed around the sides into the available spaces. It feels a bit like a temple, with the pizza oven the holy of holies. The clientele don't seem to mind. On the three occasions I've been, every chair has been filled, almost exclusively by Italians: looking Italian, with their weird jeans, speaking Italian mainly with their hands, and eating pizza like Italians. It's the most abroad I've felt in Britain recently, except for north Wales.
They know what they are doing. The pizza is exceptional. On the first visit I dallied with toppings, like a fool. Their flavours were weak and the crust was overwhelmed. Post-cheese purists will always argue for marinara but it's too sophisticated for me. I think the rule is: anyone who was excited by the advent of the Stuffed Crust cannot, in their heart of hearts, and that's where the problems will arise, advocate a pizza without cheese.
I've now had two margaritas at 50 Kalo. Both came to the table steaming hot. In the molten centre, covered by fior di latte that had just poached in the tomato sauce, the crust was pasta-thin, not really a base at all, just another layer in a shallow molten cauldron of complimentary flavours. As it spread out towards the crust it grew in thickness, finally able to support itself. The crust itself was a masterpiece of leopard-spotting, springy and light and somehow chewy and airy at the same time.
The last time I went, a couple at the next table did a central-casting audition for the role of "sexy rowing Italians". Both spent the whole meal on their phones. He refreshed the football updates. No idea what she was doing. Texting his brother? He had a marinara, she had a margherita. Both started in the centre with a knife and fork and left the entire outer rim uneaten. This is probably the only crust strategy that prevents you looking like one. They were going to break up, but what a fitting final meal.
Should you go? Yes
Would I go again? Yes
50 Kalo di Ciro Salvo, 7 Northumberland Ave, Westminster, London WC2N 5BY; 50kalò.it
Register for free to continue reading
Registration is a free and easy way to support our truly independent journalism
By registering, you will also enjoy limited access to Premium articles, exclusive newsletters, commenting, and virtual events with our leading journalists
Already have an account? sign in
Register for free to continue reading
Registration is a free and easy way to support our truly independent journalism
By registering, you will also enjoy limited access to Premium articles, exclusive newsletters, commenting, and virtual events with our leading journalists
Already have an account? sign in
Join our new commenting forum
Join thought-provoking conversations, follow other Independent readers and see their replies