The Independent's journalism is supported by our readers. When you purchase through links on our site, we may earn commission.
Wines of the week
8 roses for spring and summer
Whether you prefer the very pale and very dry Provencal style, or the fuller-flavoured offerings from Spain, Italy and Portugal, Terry Kirby has the perfect rose for the bank holiday and beyond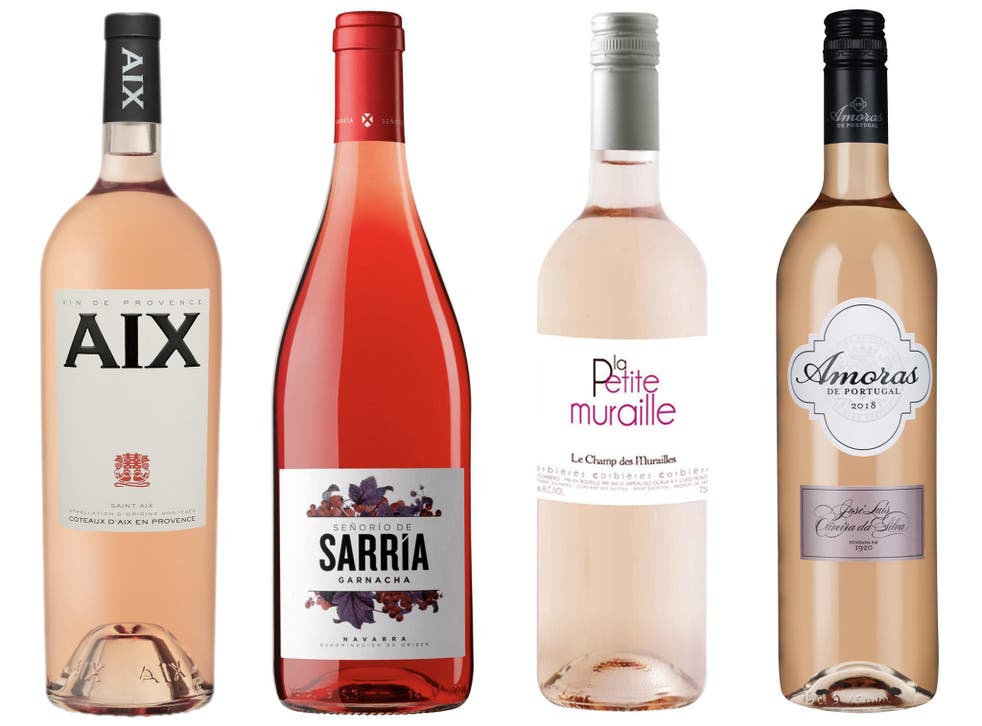 The bank holidays come around quickly at this time of year, don't they? And despite the fact that many of us are working from home or have been furloughed, they should provide a little variation to life: a much-needed break from Zoom conference calls or educating the kids, and time to take longer over preparing some food or, perhaps, having a barbecue if the lovely weather this week holds up.
And, blimey, it is almost June and just a few weeks to midsummer, so by the law of averages, we are going to have a few warm days in the near future. And that means it's time for some ice-cold rose wines for, hopefully, warmer weather drinking in the coming weeks and months. And also below are details of two excellent wine companies that are fighting back against the virus in their own ways.
Roses now divide broadly into two categories: the very pale and very dry, with tangerine and other citrus fruit flavours, some herbal tinges and occasionally slightly spicy Provencal style (whether they actually come from Provence or not); and the fuller-flavoured, more generous, slightly less dry style, where bounteous red fruits like strawberry and raspberry dominate both the colour and the palate – this tends to be the style mostly found in Spain, Italy and parts of the New World.
So, the latter first: from Puglia in southern Italy, the San Marzano Rose di Primitivo Salento Tramari 2019 (£10.65, wineman.co.uk; £9.99, minimum order six bottles, strictlywine.co.uk) is full-bodied, aromatic and smooth, made from the local primitivo (or zinfandel in the United States) grape and has fragrant strawberry and wild cherry notes, with some herbal tinges. One for the sardines on the grill.
Two well-priced, juicy roses from Navarra in Spain and made from the garnacha/grenache grape are next: the so-pink-it's-almost-red Senorio de Sarria Garnacha 2019 (£6.95, thewinesociety.com) has fullish, lush flavours of summer berries and the right side of dry. The Wine Society, which closed down completely during the early part of the lockdown, is now back to almost normal service and has launched a "nominate a hero" scheme to encourage people to select someone who has helped them or their family during the past few weeks, with a case of wine from its Exhibition range given each day to one of those nominated; details are here.
Laithwaites is another excellent online delivery company that has managed to keep trading, and its Vina Nava Rosada 2019 (£8.49, laithwaites.co.uk) has a refreshing vibrancy about it that balances the fruit flavours; both these garnachas are appealing, everyday wines to be drunk very cold.
Portuguese rose has suffered from association with the weirdly popular, just-a-bit too-sweet-and-bland Mateus Rose of the past, but the brilliant Amoras Rosada 2018 (£9.49, laithwaites.co.uk) is a bit of a revelation and goes a long way to redeeming the reputation of the country's roses. Made in the Lisbon area from a blend of local grapes, mainly castelao and camarate, together with a portion of cabernet sauvignon, it is much closer in colour and style to the Provencal roses, with a light orange/pink colour and a very dry character, with red berries and citrus dominant, together with a touch of spice. Lovely for prawn-based seafood dishes or with, as I drank it on a warm evening in the garden, a lighter braise of sweet peppers and chicken thighs in a chilli-spiked tomato sauce.
In France, the influence of the Provencal style has now spread, so that even in Languedoc, in Corbieres, the La Petite Muraille Corbieres 2018 (£9.95, davywine.co.uk; £11.95, hhandc.co.uk) is a very pale pink, made from grenache, cinsault and grenache gris with refreshingly crisp red berry fruits. Again, spicy seafood dishes, warm evenings and condensation on the bottle essential.
A magnum of rose is a lovely and generous bottle to uncork if your household is a big enough one – or you are feeling particularly thirsty (and my, it's not difficult to work your way through a bottle of rose on a warm night under normal circumstances…) – and Jascots (more on the company below) has a couple of excellent ones. Firstly the Mon Rose de Montrose Pays d'Oc 2019 (£20.20 for 150cl, minimum order three bottles; jascots.co.uk) is another crisp, very dry Provence-style blend of grenache with cabernet and syrah, made by a family with a pedigree in winemaking going back 300 years on an estate in the Cotes du Thongue in the Languedoc.
It also has a good price on magnums of the now-renowned Provence wine that really kick-started the trend for elegant bottles and brought a more upmarket style to what had hitherto been simply "Provence pink": The Whispering Angel 2018 (£33 for 150cl, normally £36.85, minimum order three bottles; jascots.co.uk). This is a grenache, carignan, cinsault and vermentino blend and does have a really elegant, more refined mouthfeel; definitely one for the lobster or crab. Jascots, normally a supplier to the high-end restaurant and catering trade but now facing difficult lockdown circumstances with a closed-down customer base, is offering and delivering its excellent range of wines to the public at competitive prices, so it is worth supporting.
Meanwhile, the standard 75cl bottle size of Whispering Angel is also widely available in the high street at Sainsbury's, Waitrose and Majestic, priced around £18-£22.
Another Provencal magnum, with perhaps a slightly fuller, fruitier flavour than some of the others is the Aix Rose 2019 (£29.99 for 150cl or £22.48 if bought as part of mixed six-bottle purchase; majestic.co.uk) which also ticks all the right boxes. It has very dry, refreshing flavours of red fruits and a hint of watermelon, made from grenache, syrah and cinsault on an ancient estate in the heart of Provence.
And, if we can't actually be in France, (or Italy, Spain or Portugal) this spring and summer, we can all least be transported there from our dinner tables and gardens, whatever the weather.
Register for free to continue reading
Registration is a free and easy way to support our truly independent journalism
By registering, you will also enjoy limited access to Premium articles, exclusive newsletters, commenting, and virtual events with our leading journalists
Already have an account? sign in
Register for free to continue reading
Registration is a free and easy way to support our truly independent journalism
By registering, you will also enjoy limited access to Premium articles, exclusive newsletters, commenting, and virtual events with our leading journalists
Already have an account? sign in
Join our new commenting forum
Join thought-provoking conversations, follow other Independent readers and see their replies