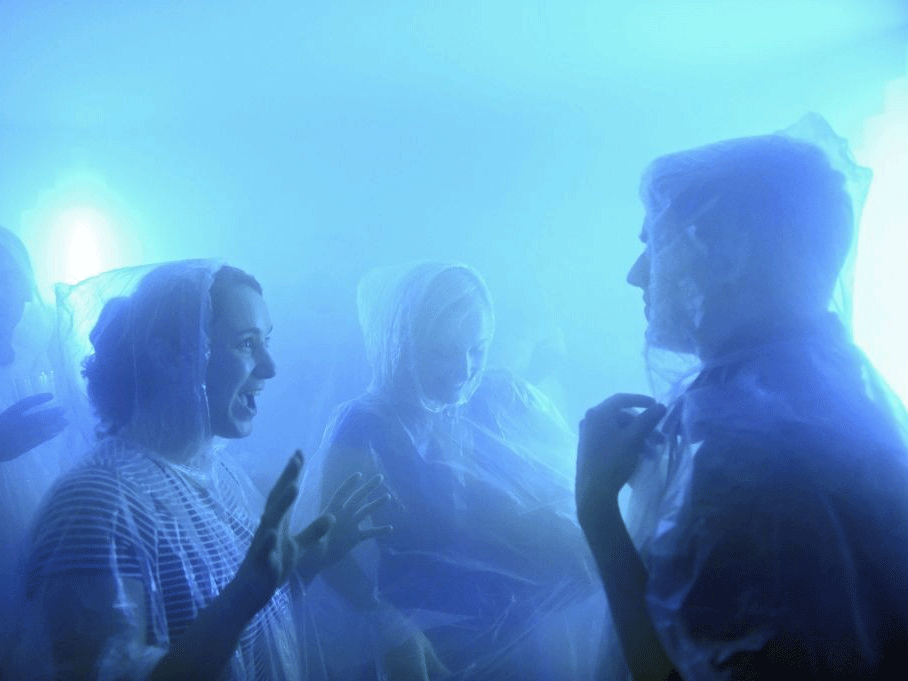 London's monk-themed 'cloud bar' Alcoholic Architecture lets visitors inhale cocktail vapour
Visitors can only spend 50 minutes inside the bar, in case they get too drunk
Doug Bolton
Thursday 13 August 2015 18:07 Comments
After the success of London's cat, cereal, and owl cafes, a "walk-in cloud bar", where customers can inhale a monk-themed cocktail, has opened in the capital.
Alcoholic Architecture is a pop-up bar in Borough Market that contains a cloud of "breathable cocktail" and offers a drinks list entirely made up of spirits and beers created by monks, such as Chartreuse, Trappist beer and Buckfast tonic wine.
The cloud is made up of a 1:3 ratio of alcohol and mixer, and is pumped into the air via heavy-duty humidifiers.
Worryingly, the bar's owners, artistic food studio Bompas and Parr, claim that the alcoholic atmosphere is absorbed into customers' bodies through their lungs and eyeballs.
It's apparently strong enough that visitors will only have to drink 60 per cent of their usual intake to feel the same effect.
For £10 a go (£12.50 after 6PM), customers get "experiences" of 50 minutes in which to make the most of the bar's drinks, alcohol cloud, and church-themed design.
The limited time slots are to make sure that visitors don't get too drunk - one of the bar's designers, Sam Bompas, said that the alcohol "goes straight to the bloodstream, bypassing the liver."
It's not the first time that the bar has appeared in London - in 2009, another Alcoholic Architecture pop-up filled with gin and tonic vapour opened in Soho for a limited time.
It's a trendy place, but you don't need to pay too much attention to your outfit - visitors wear plastic ponchos over their clothes while inside the bar.
Speaking to the Associated Press, Dr. William Shanahan, a consultant psychiatrist at Nightingale Hospital, which specializes in addictions and mental disorders, wasn't on board with the idea.
"The alcohol avoids first pass metabolism in the liver and goes directly to the brain, which makes it much more intoxicating and the intoxication is very rapid," he said.
"This has the potential to cause serious side effects as well as brain damage in the developing young brain."
Dr. Niall Campbell, an alcohol addiction specialist at the Priory Hospital in Roehampton, was even more blunt.
"The last thing this country needs is another way of ingesting alcohol."
Register for free to continue reading
Registration is a free and easy way to support our truly independent journalism
By registering, you will also enjoy limited access to Premium articles, exclusive newsletters, commenting, and virtual events with our leading journalists
Already have an account? sign in
Join our new commenting forum
Join thought-provoking conversations, follow other Independent readers and see their replies