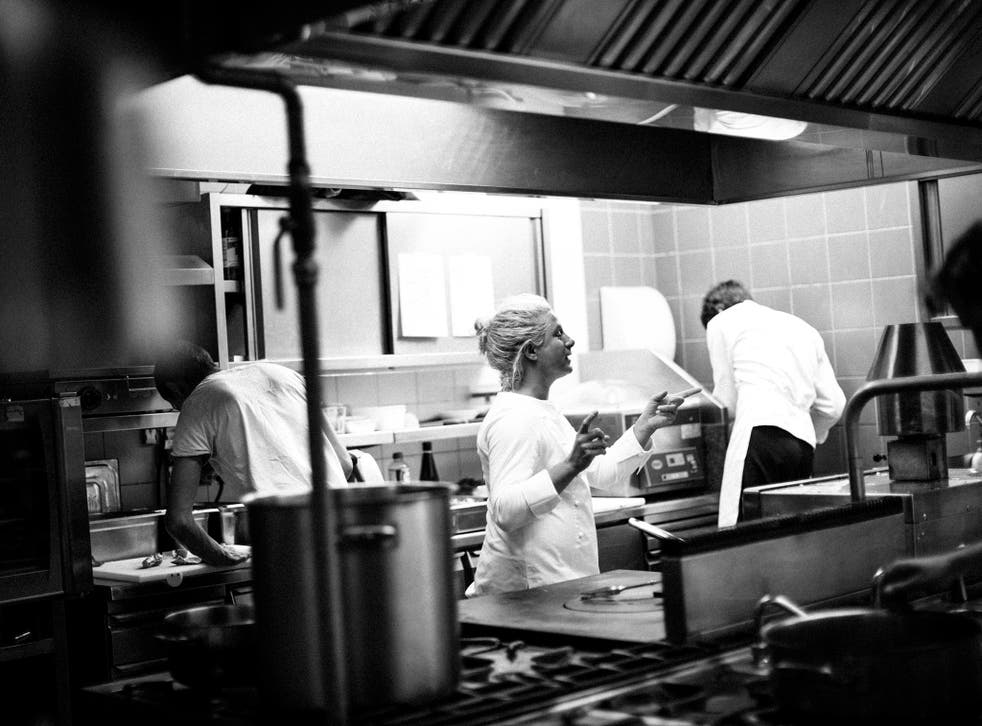 Ana Ros proves traditional methods of sourcing and cooking go beyond trends
Farm to table is no new thing. And for chefs in the picturesque Slovenian Soca Valley, working with the suppliers, foragers and artisans close by is the only way to survive. Sorrel Moseley-Williams talks to Ana Ros ahead of her debut book that tells local producers' stories
When Ana Ros is ensconced at her summer house tucked away in the Julian Alps in Slovenia, she's usually on holiday, but this year the Slovenian chef – who appeared in season two of Netflix's Chef's Table – is using down time away from the burners to pen her first book.
Ros, whose fine-dining restaurant Hiša Franko made its debut in The World's 50 Best in June, ranking 48th, is one of just four female chefs on 2018's list and was named best female chef by the same body last year. She's taking her literary commitment (working title, Sun and Rain) in her stride.
Others might lose their cool with a looming delivery date for upmarket publisher Phaidon but she's on a level with the cucumbers growing in her garden. "I've got 11 chapters to complete, I already lost two that didn't save properly with five weeks until deadline. But when I write, I really put my heart into it," she says.
Passion isn't just evident in her writing, it's in whatever the self-taught chef sets her mind to – as a teenager Ros skied for the former Yugoslavia – and sitting next to her on the flight to Venice following the 50 best awards, she whips up a chapter while flying at 10,000 metres.
Then there is Hiša Franko and its guest house located near Kobarid in northwest Slovenia, her two children, menu changes and pairings to consider with sommelier husband Valter Kramar, her daily run, tending to Hiša Franko's blooming gardens, feeding her marble trout and overseeing second restaurant Hiša Polonka, which opened about eight months ago and is about five minutes away by car.
Literary inspiration is easy in picture-postcard Soca Valley although creating a sustainable restaurant in this remote location hasn't been without its challenges. Fertile green hills morph into lofty mountains and weather fronts come and go with haste, hence the book's title; here, sustainability and zero-kilometre sourcing is part of Slovenian lifestyle.
Vineyards give way to vegetable patches and smallholdings; white mulberries, figs and peaches, olives, wine, homemade charcuterie and cheeses are swapped within communities.
Besides this deep-rooted agricultural tradition, foraging for seasonal riches is also the norm. The saying goes that "Italians do it better" but their Slovenian neighbours do it equally as well, albeit with less volume. "Slovenia is so small, you need to pay attention to details and see our food's origin to understand it," says Ros. And that's exactly what Sun and Rain aims to showcase.
Hiša Franko's approach goes beyond the farm-to-table movement that's gained a huge following across Europe and the UK in recent years, as growing produce and working with foragers was pure necessity in the Soca Valley.
"Farm to table is so fashionable right now," Ros says. "We didn't have any suppliers in this faraway place and needed to create a system as it was the only way we could get food: it's taken us 15 years to build our philosophy. We needed foraging-to-table, garden-to-table and farm-to-table approaches. It isn't just a trend: it's our life story."
That, and her suppliers' chronicles, will be told in Sun and Rain, including that of Miha Rustija, a handsome twentysomething physiotherapist and forager. "We work with around 10 foragers including Valter's uncle, though he only brings raspberries. One guy brings morels and another chanterelles, while Miha brings 16 other mushrooms as well as plants."
Referred to by locals as "the doctor's daughter and son" despite their ages and achievements, Ros and Rustija joke and plan as they wander a forest trail in the village of Dreznica, plucking the tiniest and sweetest of wild strawberries. "We need 1,200 this week," says Ros – as well as mint and edible flowers, all destined for Hiša Franko's kitchen. Rustija's particular skill is researching plants that aren't traditionally used in cooking. "That means we can add new plants to our menu," she adds.
This village also holds an array of food stories, but its photogenic (and delicious) bearded Dreznica goats, cared for by the shepherd Matjaz, will surely make the final cut. "They're so cute!" says Ros, as she goes in for a cuddle with one of the horned animals. Working with Dreznica's butcher Emil Skocir has been paramount in securing zero-kilometre kid, goat and rabbit meat.
"He showcases how Hiša Franko has influenced the work and life of a local community. These goats are Slovenia's only autochthonous breed, but authorities tried to get rid of them in the 1950s: the community hid them in a cave. This tasty animal has survived, not just for economical reasons but also emotional ones.
"When I started cooking, I used Dreznica kids at Easter but they only had a few to share. But I asked for more as I preferred to cook with local kid rather than New Zealand lamb, so with a lot of dedication we saw the community build a butcher together; that is Emil and 75 per cent of his animals are used by Hiša Franko. The meat doesn't travel, it has a beautiful flavour and while it isn't the cheapest, it is zero kilometre and the tradition is surviving."
Wine is also key at the restaurant, which Kramar – Slovenia's first qualified sommelier – oversees. En route to Kobarid from Venice, the nearest airport, a perfect pitstop is Kmetija Stekar, an organic wine producer and guesthouse in Goriska Brda.
Run by husband-and-wife team Janko and Tamara Steka, it overlooks a green sea of rebula, jakot and malvasija vineyards stretching down into the valley.
Ros adds: "Valter has had a nose for Slovenian wines since he was a teenager, and Stekar is one of the most important wineries. I've learned so much visiting producers and understanding why we should drink organic wine made in synergy with nature."
'Sun and Rain' will be published in autumn 2019 by Phaidon; hisafranko.com
Join our new commenting forum
Join thought-provoking conversations, follow other Independent readers and see their replies