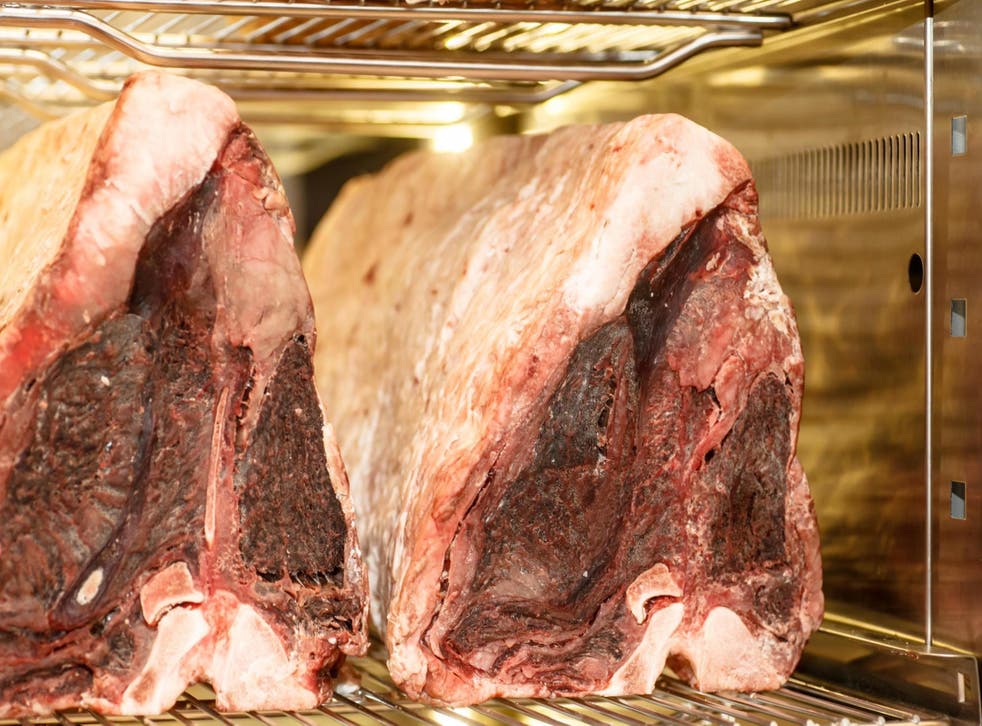 LA restaurant offering steak aged for more than a year
But it's very expensive
Chelsea Ritschel
New York
Tuesday 22 January 2019 19:53 Comments
A new steakhouse in Los Angeles, California is offering cuts of meat that have been aged for more than a year - but they come with a $150 price tag.
APL Restaurant opened in May but has just now added a new menu item - nearly two-inch thick bone-in New York strips that chef and owner Adam Perry Lang has been dry-ageing.
According to the LA Times, Lang's steaks went through the dry-aging process - the storing of beef in refrigerated temperatures to "allow the natural enzymatic and biochemical processes that result in improved tenderness and the development of the unique flavor" - for 380 days.
The difference between this dry-aged beef and that found in a regular steakhouse, according to the newspaper, is about 230 days - as 150 is typically the longest amount of time steak is dry-aged for.
And the result is steak that reportedly smells like "foie gras" when raw - and tastes of "truffles" when cooked.
How to make it sizzle: Modern chefs are elevating steak to an art form

Show all 3
Lang's technique and length of ageing, according to the chef, is similar to that of "a grape turning into a raisin."
"Things are concentrating, it's becoming more dense, but you may say: 'It doesn't really taste like a grape,'" he explained.
According to a report on dry-ageing beef prepared for the National Cattlemen's Beef Association's Centre for Research & Knowledge Management by two professors at Texas A&M University, previous studies have found dry-aged beef to be overall more tender, juicy, and flavourful.
And the qualities of the beef are dependent on the length of ageing, with longer time often associated with better overall ratings.
The limited number of $150-cuts of meat are currently available at APL - and part of Lang's broader goal of offering "LA a wide range of everything that beef can be."
As for what will happen to beef aged beyond 380 days, Lang plans to find out.
In addition to various aged steaks, Lang also lists a $950 "felony knife" on the restaurant's menu - a reminder not to steal his hand-made steak knives.
Support free-thinking journalism and attend Independent events
The price is $950 because it's "bare minimun for a felony in the State of California," he previously explained.
Register for free to continue reading
Registration is a free and easy way to support our truly independent journalism
By registering, you will also enjoy limited access to Premium articles, exclusive newsletters, commenting, and virtual events with our leading journalists
Already have an account? sign in
Join our new commenting forum
Join thought-provoking conversations, follow other Independent readers and see their replies