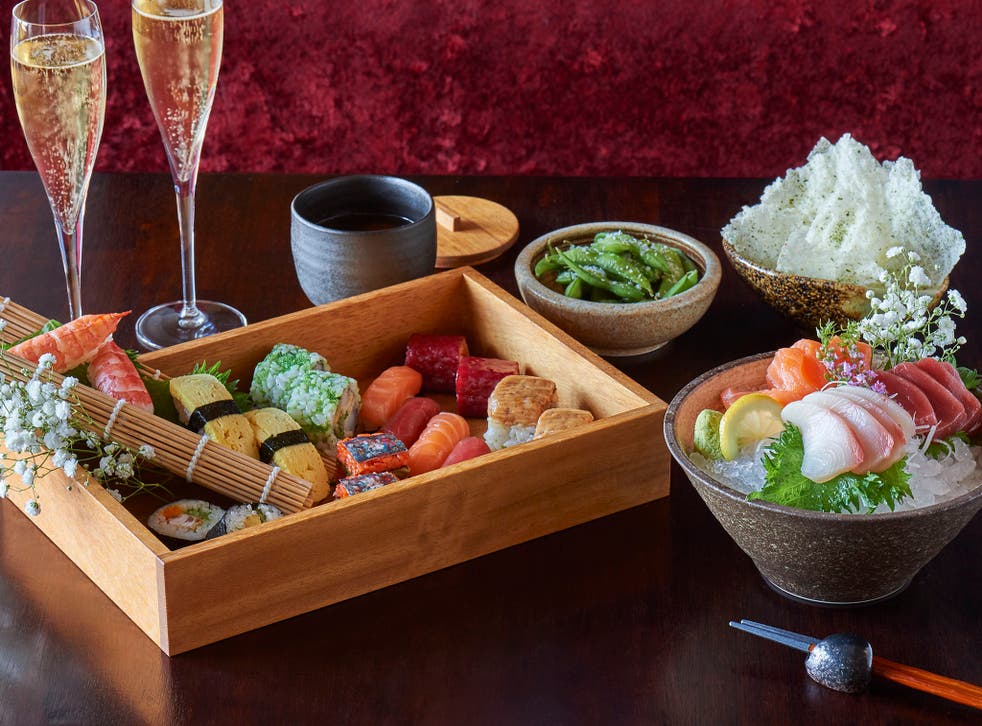 Brunch on Saturday: Aqua Kyoto, London, review: There's no cuisine that can't do brunch
Are the days of eggs benedict and smashed avo over? Emma Henderson finds something that certainly knocks it off the top spot 
Brunching out...
Is there any restaurant not doing brunch in central London? I doubt it. No matter what the cuisine, there's a brunch to go with it.
You may think this confusing, but remember, brunch is AND amalgamation of breakfast and lunch. And lunch knows no boundaries, so a sushi brunch is then not so questionable. Just add bottomless bellinis or champagne and there, you've made a bloody good brunch, which is exactly what Aqua Kyoto on Regent Street has done.
Adding another bow to their innovative string is the split menu (printed on a rather kitsch fan shaped menu), which you choose something from either the "indulgence" or "purity" side for their mains. Essentially for those who are hungover and want to eat pancakes or those pretending that they're being healthy.
When I visit, I'm neither, just greedy. But unfortunately, I fail to convince my friend to pick from the purity menu so that I can try that too. Shame, as I really wanted to try some of the tuna taco, but wasn't going to budge on my choices.
But this is not where the brunch starts. Before we get there, there's starters. And it's not just one dish. I make the mistake of not reading "each guest will receive all of the below" and in my head choose the miso soup. But that's part of the starters. Along with salted edamame, miso soup, rice crackers and a sushi platter, with the choice of adding sashimi for £10, which (with my greediness kicking in again) we do.
This in itself is a brunch. The sushi platter is perhaps one of the most beautiful things to ever grace a table top. The sushi masters are in the diners' full view, carefully crafting each platter and the freshly made rolls glisten as if they're edible jewels with the stand out being the spicy tuna and avocado topped with edible rice paper and the salmon roll topped with miso bisque is rather decadent. And the salmon is surprisingly the best of the trio of sashimi. Now, we could finish our bellinis and call it a day right there. But next comes the mains. Two each...
The nine best restaurants in the world (2017)

Show all 9
I choose the Japanese pancake, honey cured bacon, tonkatsu sauce and katsuobushi – the last ingredient I have to ask about. It's dried, fermented and smoked tuna. When it arrives, the thin flakes look as if they've got a life of their own. "They look like they're moving, but I think it's from the heat," explains the waiter, probably after seeing our mystified faces. The pancake is thick and a little dry and becomes pappy in my mouth, while the fermented fish flavour and maple syrup are just a little too strong for the generously sized pancake. But my second dish is certainly the standout: aubergine karaage (a Japanese cooking technique) coriander miso, smashed (no, not avocado) ohba (Japanese herb) and furikake (Japanese seasoning sprinkled on vegetables). It's like a slightly sweet – and lighter – version of Indian pakora vegetables.
We also try the Japanese fried rice, which is finished by cooking a sizzling hot bowl at the table, as well as the rock shrimp tempura with chilli garlic sauce and seaweed, which comes in as the second best main.
We're almost forced into dessert. It's hidden behind a sliding part of the fan menu (which I again missed) – and we're sold on the fact it's included in the (rather respectable £49 or £65 for bottomless Veuve Cliquot champagne), price of the brunch. I go for the mochi ice cream – which you might recognise from emoji fame. They're little balls of ice cream coated in a layer of sticky rice including mango and green tea, served on a skewer. And we also try the taiyaki waffles, in three flavours, which come in the shape of fish and are pleasingly small.
It's indulgent (and not just because I chose that side of the menu), but it's a special occasion brunch – not your average Saturday morning catch up with friends. But if you're over the days of smashed avo and eggs benny, (as we all are) you won't be disappointed.
Aqua Kyoto, 5th Floor, 240 Regent Street (Entrance 30 Argyll St), London, W1B 3BR; 020 7478 0540; open daily from noon; aquakyoto.co.uk
Brunching in...
Kedgeree – buttered rice with haddock and peas
Serves 4
350g basmati rice
4 smoked haddock fillets (about 500g), fresh or frozen
400ml whole milk
4 eggs
75g butter or ghee
1 large onion, finely chopped
1 tsp ground coriander
1 tsp ground cumin
½ tsp ground turmeric
200g (1 heaped cup) frozen peas
Salt and freshly ground black pepper
Handful of parsley or coriander leaves
Lemon halves to serve
This Anglo-Indian buttered rice and peas with flaked haddock is a throwback to the days of the British Raj. Introduced to the widely eaten rice and lentil khichdi, the British embraced it for breakfast, incorporating their beloved smoked fish into it and eventually doing away with the lentils entirely.
Kedgeree is my go-to brunch crowd-pleaser, as I almost always have bags of frozen smoked haddock fillets at home. It's easy to cook this in giant quantities and serve on a large platter that the whole family, visiting relatives and friends can tuck into. Whizz up some cold lassi and crack out your pickle collection to do this dish full justice.
First cook the rice according to the packet instructions. Place the haddock fillets in a sauté pan, pour over the milk and bring to the boil. When it starts bubbling, lower to a simmer and poach the haddock fillets until the flesh flakes easily – this will take about eight minutes for fresh fish and 10 minutes for frozen. Drain and set aside, reserving the milk.
Meanwhile, boil the eggs to your liking – six minutes for soft-boiled or eight to ten minutes for hard-boiled. We often go for hard-boiled eggs because of fussy little terrors in the family, but runny-yolked ones are nicer if you ask me. Drench the boiled eggs in cold water, then peel and set aside.
Put the butter or ghee into a large wok and place over a high heat. When it's hot, toss in the onion and sauté for five minutes. Add the ground spices and frozen peas and sauté for another minute. Then stir in the rice with half the reserved milk, mixing well until the rice is coated with the onion mixture. Gently fold the haddock in, letting it flake but not crumble.
Stir in salt and pepper to taste and spoon onto a platter or into bowls. Halve or quarter the peeled eggs and place on top of the rice. Serve sprinkled with parsley or coriander and lemon halves on the side.
Masala: Indian Cooking for Modern Living by Mallika Basu (Bloomsbury, £26) is out now
Join our new commenting forum
Join thought-provoking conversations, follow other Independent readers and see their replies