How to make steamed asparagus with herb and pickle mayonnaise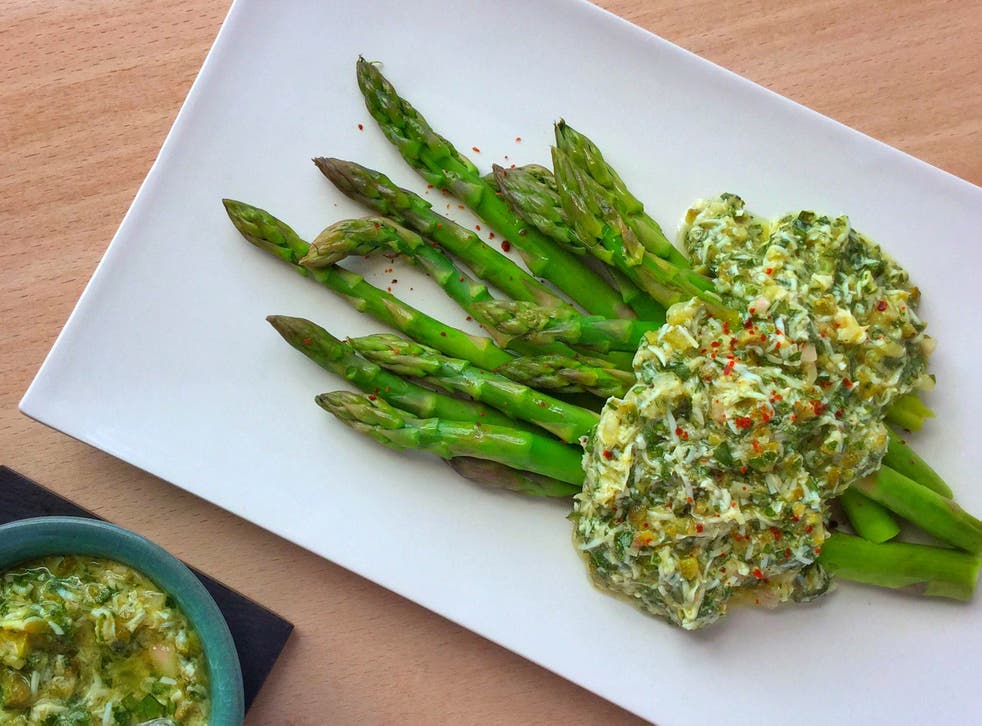 This tangy mayonnaise is based on a French sauce called gribiche, typically served with cold cuts of meat, chicken or fish.
The mayonnaise base is made with cooked egg yolks (good for anyone who won't or can't eat raw eggs), with the finely chopped egg whites being added to the sauce at the end.
Chopped pickles are added along with fresh and dried herbs and the sauce is finished off with lemon zest.
Asparagus needs little or no cooking when in season, but as the season is now coming to an end, steam it very briefly until tender, but still a little crisp – about 4 to 6 minutes depending on the thickness.
Prepare more sauce than needed for this recipe; it goes with so many dishes and keeps well in the fridge for 2 to 3 days.
Steamed asparagus with herb and pickle mayonnaise
Serves 2 as a starter
For the sauce
2 eggs, hard boiled
salt
freshly ground black pepper
1 generous teaspoon Dijon mustard
zest and juice of 1 lemon
120ml olive oil
a handful of fresh flat leaf parsley, finely chopped
a handful of fresh basil leaves, finely chopped
1 teaspoon dried tarragon
1 heaped tablespoon chopped gherkins
1 tablespoon apple cider vinegar
1 tablespoon capers packed in salt
1 banana shallot, very finely diced
For the asparagus:
1 large bunch asparagus, woody ends trimmed
rapeseed oil
salt
freshly ground black pepper
To garnish:
lemon zest
smoked sweet paprika
To make the sauce, peel the eggs and cut in half. Remove the yolks and finely chop or grate the egg whites, put into a bowl and leave to one side.
Press the egg yolks through a fine mesh sieve into a large bowl, this will produce a fine powder. If you don't have a sieve, you can mash the yolks well with a fork. Season with salt and pepper and add the mustard, lemon zest and juice. Whisk until the mixture comes together to form a smooth paste. Add the oil, a little at a time and whisk well in. Keep going until all the oil is whisked in and you have a thick mayonnaise.
Add the fresh and dried herbs, chopped gherkins and apple cider vinegar. Remove as much of the salt from the capers as you can, give them a rough chop and add to the sauce also along with the diced shallot. Finally add the chopped/grated egg white and mix well together. Cover and refrigerate until needed.
Put the trimmed asparagus spears in the top of a steamer and steam for 4 to 6 minutes, depending on their thickness, until tender. Alternatively, put into a shallow bowl with a tablespoon of water and cook in the microwave on high for a couple of minutes until done. Remove to a bowl with a slotted spoon and drizzle with a little oil then sprinkle over some salt and freshly ground black pepper. Gently toss to coat. Divide the asparagus between 2 plates and top each pile with a generous spoonful of herb and pickle mayonnaise. Grate over a little extra lemon zest and dust with some smoked sweet paprika.
Follow Beverley Hicks @littlechelseakitchen
Register for free to continue reading
Registration is a free and easy way to support our truly independent journalism
By registering, you will also enjoy limited access to Premium articles, exclusive newsletters, commenting, and virtual events with our leading journalists
Already have an account? sign in
Register for free to continue reading
Registration is a free and easy way to support our truly independent journalism
By registering, you will also enjoy limited access to Premium articles, exclusive newsletters, commenting, and virtual events with our leading journalists
Already have an account? sign in
Join our new commenting forum
Join thought-provoking conversations, follow other Independent readers and see their replies