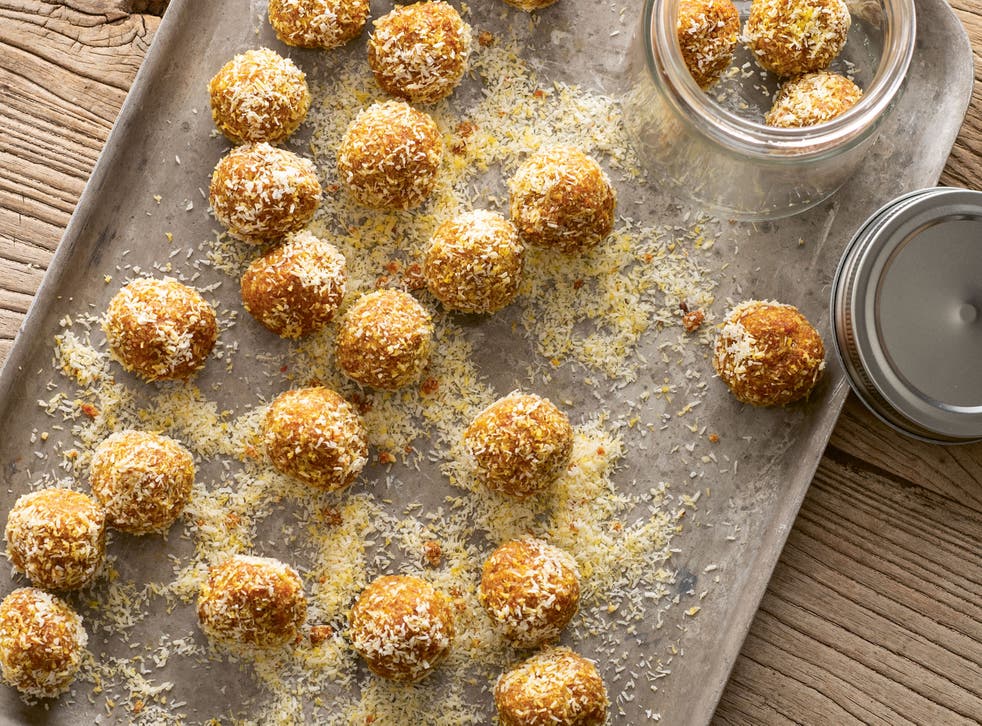 The food to feed your baby to avoid food allergies
As if feeding children during a pandemic wasn't enough, handling allergies can be a minefield. Enter: the definitive guide to raising healthy, adventurous eaters
Combining expert guidance with exciting, fresh recipes that the whole family can enjoy, Pam Brook's We Can All Eat That is designed to demystify your baby's first foods.
A must for parents of children aged four months to two years, the book covers when your baby is ready for solid foods, what to feed them first and when and why to start introducing common food allergens. It's also got expert-approved guidance on nutrition and a glossary of common food allergies and their reactions.
Brook believes it's not enough for food to be healthy, it has to taste delicious too. With 95 delicious recipes for every meal of the day, the real quandary will be whether to share them with your baby, or scoff it all yourself.
Here's three quick and easy recipes to keep your young children full, healthy and allergy-free.
Bubble and squeak
Kitchen recycling? Bottom-of-the-refrigerator breakfast or dinner? Whatever you choose to call it, bubble and squeak is not only delicious but makes great sense. Use leftovers and some of those vegetables that are still fresh but don't quite make the salad grade. Roasted or steamed leftover veg are easy to digest and add extra flavour. We love our bubble and squeak served with soft scrambled eggs (make sure they're thoroughly cooked through for children aged under two) and often cook a little diced ham (omit for babies) through it.
Serves 6-8
Prep time: 5 minutes
Cooking time: 8 minutes
Ingredients
8 medium cooked potatoes, mashed roughly with a fork (or use any leftover cooked root vegetable, eg carrot, pumpkin/squash, swede/ rutabaga)
An equal volume of shredded greens, such as kale, English spinach, cabbage or chard
Sea salt (omit for babies)
Freshly ground black pepper (just a tiny amount for babies)
1tbsp plain (all-purpose) flour (substitute with gluten-free flour if family members are gluten-intolerant or coeliac)
40g (1½oz) ghee, butter or nut oil
Method
Mix the potatoes and greens together in a large bowl and season lightly with salt and pepper. Mix through the flour.
Place a medium-large frying pan over medium-high heat and add a good dollop of ghee, butter or nut oil. When the pan is hot add the vegetables. Press the mixture down firmly with a spoon, reduce the heat slightly and cook for a further two minutes without touching – you want a nice crust to form underneath. Carefully fold the bubble and squeak over in large sections so the crusty bottom comes to the top. Cook for a further two minutes, then serve.
Store in a sealed container in the fridge for up to 24 hours.
For younger babies thin the mixture with a tablespoon of water or milk of any kind before puréeing until smooth. Allow to cool before serving.
For older babies add a tablespoon of water or milk and mash to a lumpy texture. Allow to cool before serving.
For toddlers chop into pieces and allow to cool before serving.
Coconut macadamia energy balls
A quick and easy no-bake treat recipe for busy lives. They can be frozen and also dropped into smoothies as a protein-rich, naturally sweet bomb.
Makes 12 balls (or more if smaller)
Prep time: 10 minutes, plus chilling
310g (11oz/2 cups) almonds, skin on
80g (2¾oz/½ cup) macadamia nuts
125g (4½oz/1 cup) sultanas (golden raisins)
185g (6½oz/½ cup) goji berries
1tsp natural vanilla extract
1tsp ground cinnamon (use a tiny amount for young babies)
3tbsp melted coconut oil
45g (1½oz/½ cup) desiccated coconut, for rolling
Method
Combine the nuts, sultanas, goji berries, vanilla and cinnamon in a food processor until smooth, adding the coconut oil to bring it all together.
Transfer the mixture to a bowl and roll it into balls about 3 cm (1¼ in) in diameter, using your hands or a melon baller. Spread the desiccated coconut in a shallow bowl, then roll the balls in the coconut until evenly coated. Chill in the refrigerator for a few hours.
Store in an airtight container in the refrigerator for up to three days, or freeze for up to three months.
Good for younger babies, seven months plus, who are ready to tear into squishy finger-food pieces.
Rice paper rolls with prawns, mint and omelette
These popular rolls are super healthy and, once you've got the knack of rice-paper rolling, you'll discover they can hold many different fillings. Feel free to use shredded chicken, pork or beef instead of prawns, or make it vegan with thinly sliced cucumber, tofu and avocado. The hardest thing here is the wrapping and rolling – it can make for hilarious family fun but don't add too much filling, and remember patience is everything!
Not suitable for younger babies.
Makes 8 rolls
Prep time: 15 minutes
Cooking time: 5 minutes
Ingredients
1tsp butter or sunflower oil
2 eggs, beaten
125ml (4fl oz/½ cup) warm water
8 large rice paper sheets
8 cooked king prawns (jumbo shrimp), peeled and deveined, sliced in half or cut into thin slices
140g (5oz/1 cup) rice vermicelli noodles, soaked in boiling water until al dente, drained
2 handfuls of shredded iceberg lettuce
1 carrot, grated
1tbsp chopped Vietnamese mint
Peanut sauce (for adults) or peanut sauce for baby (page 211), to serve
Coconut lime dressing (page 214) (omit for babies)
Heat the butter or oil in a frying pan over low heat. Add the beaten egg and spread it over the pan in a thin layer. Cook very gently, just heating the egg through until opaque and cooked. Remove from the heat and set aside to cool. Cut the egg into thin slices.
Add the warm water to a wide shallow bowl. Dip a rice paper wrapper into the water for about five seconds, until just translucent but not too soft. Transfer it to a plate where it will soften further.
To assemble a roll, put two prawn halves on the lower third of the rice paper, leaving about two cm (¾ in) gap at the bottom of the wrapper. Top with small amounts of the rice vermicelli, omelette, lettuce, carrot and mint in a neat pile – be careful because if there's too much filling your rice paper roll will self-destruct on rolling!
Fold the bottom of the wrapper over the filling, then hold it in place with one finger and fold both sides in. Gently but snugly, keep rolling up the rest of the wrapper, then press the seam closed (you might want to wet your fingers when rolling the wrappers, so they don't stick). Repeat this process with the remaining wrappers and filling.
Cover with a damp cloth to keep them moist.
Serve with peanut sauce and coconut-lime dressing, or your favourite dipping sauce.
Store the prepared rice paper rolls in an airtight container in the refrigerator for up to 24 hours. Ideally, leave space between rolls and layer them between sheets of baking paper to prevent them sticking together.
For older babies this is perfect finger food. Make sure the ingredients are finely chopped to avoid any choking hazard. For toddlers serve as for adults but go easy on the spicy sauces until they are ready for stronger flavours.
We Can All Eat That by Pam Brook (Hardie Grant, £20). Photography ©Alan Benson.
Register for free to continue reading
Registration is a free and easy way to support our truly independent journalism
By registering, you will also enjoy limited access to Premium articles, exclusive newsletters, commenting, and virtual events with our leading journalists
Already have an account? sign in
Register for free to continue reading
Registration is a free and easy way to support our truly independent journalism
By registering, you will also enjoy limited access to Premium articles, exclusive newsletters, commenting, and virtual events with our leading journalists
Already have an account? sign in
Join our new commenting forum
Join thought-provoking conversations, follow other Independent readers and see their replies