Baby foods contain 'inappropriately high levels of sugar', World Health Organisation warns
'Good nutrition in infancy and early childhood remains key to ensuring optimal child growth and development'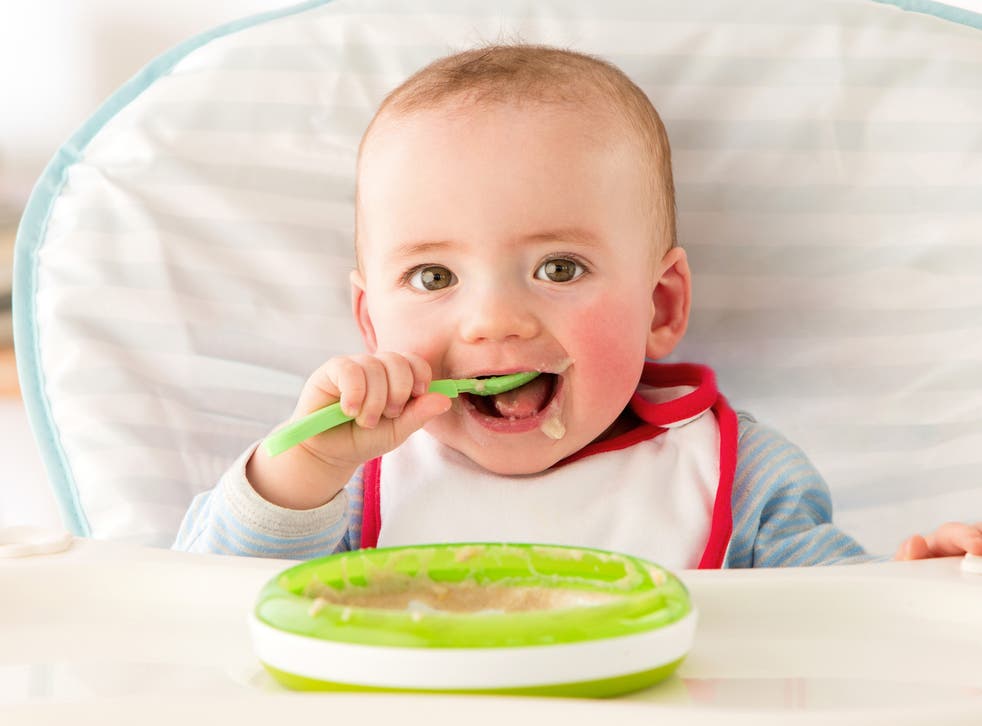 Many baby foods contain "inappropriately high levels of sugar" and are being marketed incorrectly, the World Health Organisation (WHO) has warned.
The European regional office of the international health agency carried out two studies to investigate the nutritional content and marketing of baby food products.
As part of its research, the WHO gathered data from almost 8,000 food and drink products marketed for infants and young children in stores between November 2017 and January 2018.
The products came from 516 shops across four cities: Vienna in Austria; Sofia in Bulgaria; Budapest in Hungary; and Haifa in Israel.
In three out of the four cities, at least half of the products attributed more than 30 per cent of their calorie content to total sugars, with a third of the products listing sugar, concentrated fruit juice or another form of sweetening agent as an ingredient.
The WHO has issued a warning that added sweet flavours and sugars could increase a child's fondness for sweet foods later in life.
"Food for infants and young children are expected to comply with various established nutrition and compositional recommendations," said Dr João Breda, head of the WHO European Office for Prevention and Control of Non-Communicable Diseases.
"Nonetheless, there are concerns that many products may still be too high in sugars."
The WHO added that while natural sugars from fruits and vegetables are beneficial for babies and young children, "the very high level of free sugars in puréed commercial products is also cause for concern".
Archie Harrison: First photos of royal baby revealed

Show all 20
In addition to highlighting the high levels of sugar in baby food products, the WHO also pointed out that many of said products are marketed irresponsibly.
According to the health agency's recommendations, babies should ideally be exclusively breastfed up until the age of six months.
Breastfeeding can protect infants from a variety of illnesses, while also bolstering the connection between mother and child, Unicef UK states.
However, despite this guidance, between 28 and 60 per cent of food and drink baby products being sold in the four aforementioned cities were marketed as being suitable for infants under six months old.
The WHO stated that while this is allowed in accordance with European Union law, it does not not comply with the WHO International Code of Marketing of Breastmilk Substitutes or the WHO Guidance.
Support free-thinking journalism and attend Independent events
"Good nutrition in infancy and early childhood remains key to ensuring optimal child growth and development, and to better health outcomes later in life – including the prevention of overweight, obesity and diet-related noncommunicable diseases (NCDs) – thereby making United Nations Sustainable Development Goal 3 to ensure healthy lives and promote well-being for all at all ages much more achievable," stated Dr Zsuzsanna Jakab, WHO Regional Director for Europe.
Last month, the Royal College of Paediatrics and Child Health (RCPCH) called for tougher regulations to be enforced on the sugar content of food products marketed for infants.
"Baby foods can be labelled 'no added sugar' if the sugar comes from fruit - but all sugars have the same effects on the teeth and on metabolism," said Professor Mary Fewtrell, nutritional lead at RCPCH.
"It's important to recognise that babies have an innate preference for sweet tastes but the key is not to reinforce that preference and to expose them to a variety of different flavours and food textures."
Register for free to continue reading
Registration is a free and easy way to support our truly independent journalism
By registering, you will also enjoy limited access to Premium articles, exclusive newsletters, commenting, and virtual events with our leading journalists
Already have an account? sign in
Register for free to continue reading
Registration is a free and easy way to support our truly independent journalism
By registering, you will also enjoy limited access to Premium articles, exclusive newsletters, commenting, and virtual events with our leading journalists
Already have an account? sign in
Join our new commenting forum
Join thought-provoking conversations, follow other Independent readers and see their replies