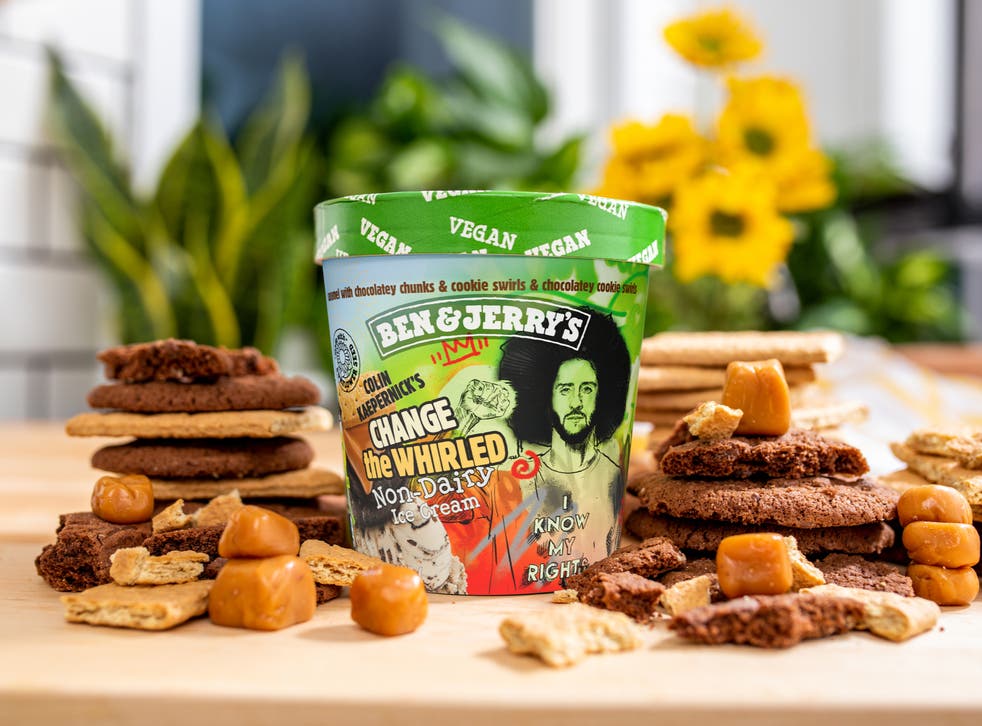 Ben & Jerry's launches new vegan flavour in honour of Colin Kaepernick
The caramel flavoured ice cream contains fudge chips, graham cracker swirls and chocolate cookie swirls
Ice cream maker Ben & Jerry's is bringing a new vegan flavour to the UK inspired by American football player Colin Kaepernick, called "Change the Whirled", and it can be delivered right to your door.
Change the Whirled is a dairy-free sunflower butter base, caramel flavoured ice cream. It contains fudge chips, graham cracker swirls and chocolate cookie swirls.
The ice cream also uses Fairtrade ingredients and is packaged in recyclable and plant-based materials.
The release honours US football player turned civil-rights-activist Colin Kaepernick, who famously took a stand against systemic oppression and police violence against black and brown people. Most visibly by taking a knee during the pre-match national anthem.
Ben & Jerry's says it's an aspiring social justice company, so it created this ice cream in honour of Kaepernick who continues to use his platform and power to fight for equality.
The brand also made the ice cream completely non-dairy so Kaepernick, who is a vegan, can enjoy it.
Kaepernick's portion of the proceeds raised from the sale of Change the Whirled go toward supporting Know Your Rights Camp. 
Know Your Rights Camp was founded by the racial justice campaigner in 2016 and aims to teach 10 key points - that black and brown people have the right to be: free, healthy, brilliant, safe, loved, courageous, alive, trusted, educated and to know their rights.
Speaking about the collaboration, Kaepernick said: "I'm honoured to partner with Ben & Jerry's on Change the Whirled."
"Their commitment to challenging the anti-Black roots of policing in the United States demonstrates a material concern for the wellbeing of Black and Brown communities."
The ice cream was successfully launched in the US last year and now the new flavour joins the brand's other non-dairy options available here in the UK, including Chocolate Fudge Brownie and Peanut Butter & Cookies.
Change the Whirled will be available from next week, at the end of April, at Ben & Jerry's Soho Scoop Shop or nationwide via selected Domino's Pizza restaurants.
Join our new commenting forum
Join thought-provoking conversations, follow other Independent readers and see their replies