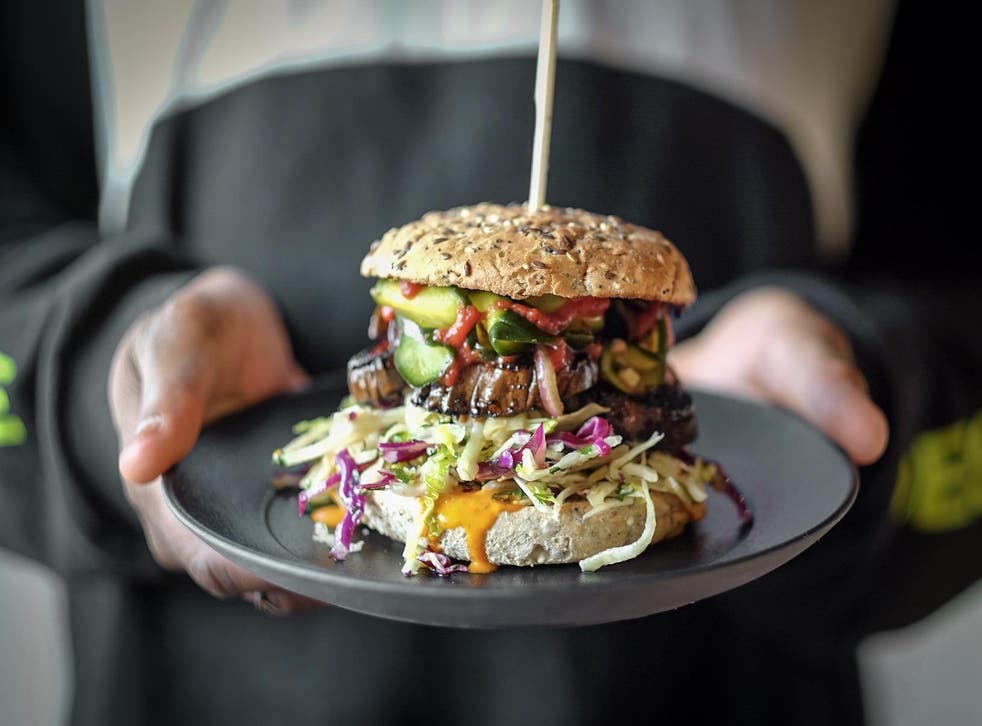 Where to get the best vegan burgers in the UK
Forget about giant slippery mushrooms between two buns, these burgers will even charm the greatest meat-lover
Daisy Fletcher
Tuesday 20 August 2019 07:44 Comments
Until recently, burger joints could get away with murder when it came to non-meat options. A giant slippery mushroom slathered in ketchup between two buns, or even worse, a nondescript sweetcorn mush reminiscent of deep-fried baby food.
But with around half a million people in the UK now identifying as vegan, rabbit food patties just don't cut the mustard anymore.
Here are some of the best places to get a vegan burger in the UK, if you want to go meat free.
Vurger Co
It's all in the name at Vurger, where the burgers are vegan, and made out of vegetables, seeds, nuts and grains. They get pretty whacky, with the best-selling Tabasco Auburger made from aubergines, chickpeas, red onion and vegan cheese. Try the superb mac'n'cheese on the side too.
Then for those that really want to push the boat out, wash down your patty with a famous Vurger shake, and trust me, you'll feel like a healthy million dollars.
Cut + Grind
Cut + Grind are famous for their meat burgers, grinding the mince up to four times a day to keep it fresh. Winner of the National Burger Awards last year, they even offer burger-making masterclasses at their restaurant in Kings Cross.
But unlike many conventional burger restaurants, they've made a splash on the vegan scene too. The miso-glazed aubergine, with sesame slaw, sweet pickles and homemade ketchup rivals any traditional patty, and hits the spot with the chargrilled broccoli. Maybe throw in an Oreo milkshake too for good measure.
Mindful Burger at Yeotown Kitchen
If being vegan isn't doing enough for your soul, how about trying Yeotown Kitchen, London's first mindfulness café, for your next meat-free hit.
Their Bounce Back Cheeseburger boasts beluga lentils, caramelised onions, vegan cheddar, quinoa, walnuts and cumin catsup. And don't forget the roasted sweet potato fries and vegan aioli on the side.
If that isn't too much of a mouthful, guests are invited to sip green juice and settle into a meditation pod for a quick mindfulness session afterwards. Or if you're feeling a bit more indulgent I'd opt for some banana and coconut ice cream for pudding.
Patty & Bun
In the past vegans would have steered well clear of Patty & Bun. Heaven for carnivores, their menu has always been pretty beefy, with an impressive deep fried cheese fritter as the veggie alternative.
But last month they changed their tune and introduced the phenomenal Whoopi Goldburger. It's a tempeh and mushroom fritter, topped with pickled cucumbers, diced onion, double smoked vegan cheese, mustard, ketchup and lettuce, in a tasty Bonsoy bun.
Redemption Bar
If you want a real health kick of a burger, try Redemption Bar.
Founded by two female entrepreneurs who wanted to create the healthiest restaurant in London, their motto is 'spoil yourself without spoiling yourself'.
Based in Shoreditch and Notting Hill, Redemption serves up all vegan, sugar-free and wheat-free food.
Their Buff Burger is a protein packed fibre-boosting shiitake mushroom, black bean and ruby beet burger in a gluten-free bun with tomato, lettuce and caramelised red onion marmalade.
There's also a probiotic superslaw made of kohlrabi and coconut kefir dressing if you want to get really wholesome.
Biff's Jack Shack
Hell-bent on serving the filthiest vegan food in town, the Shack was founded last year when Biff was trying to cut out meat, but couldn't find enough junk food to hit the spot.
Biff's offers London's first crispy fried jackfruit burgers, and wings with a sugarcane 'bone' if you're up for some artful meat imitation.
Their most famous burger is the Samuel Hell Jackson. Made with the signature jackfruit patty, it comes with homemade maple chipotle hot sauce, lime slaw, vegan burger cheese and jalapeños, all sandwiched in a toasted seeded vegan brioche bun.
Mildred's
The bleeding burger craze has taken LA by storm, even though the name could make even the most bloodthirsty carnivore feel squeamish.
Now it has arrived in London, with vegetarian chain Mildred's adding the Moving Mountains B12 burger to its menu.
Totally plant-based, potatoes, peas, wheat and soy are used to create the patty. But despite these ingredients it looks like a rare beef burger, oozing beetroot juice for that Halloween fake blood effect.
Mooshies
Mooshies began as a vegan supper club, started by husband and wife John and Nelly. Their plant-based burgers proved so popular that they soon moved to an old curry house on Brick Lane to bring their patties to the masses.
The Pulled Mooshie is made of barbequed jackfruit, while the Fillet-Om-Phish does vegan seafood with battered aubergine, nori seaweed, vegan cheese, Mooshies tartar sauce and lettuce.
Go for some guacamole and plantain chips while you're waiting, and a matcha brownie if you've still got room at the end.
Vx
Founded as the first 100 per cent vegan shop in London, Vx's mission is simple: promoting a cruelty-free vegan lifestyle without sacrificing taste.
No quinoa in sight, their menu serves up supersize cheesy chips, vegan doner kebabs and soya BBQ ribs. But the Vx Burger is the pièce de résistance, a wheat burger patty with vayonnaise, tomatoes, gherkins and ketchup.
And with oreo donuts to top it all off, Vx is the hungover vegan's paradise.
Though it originally opened in London, this vegan piece of paradise recently opened in Bristol too.
Register for free to continue reading
Registration is a free and easy way to support our truly independent journalism
By registering, you will also enjoy limited access to Premium articles, exclusive newsletters, commenting, and virtual events with our leading journalists
Already have an account? sign in
Register for free to continue reading
Registration is a free and easy way to support our truly independent journalism
By registering, you will also enjoy limited access to Premium articles, exclusive newsletters, commenting, and virtual events with our leading journalists
Already have an account? sign in
Join our new commenting forum
Join thought-provoking conversations, follow other Independent readers and see their replies