Vegan pancake recipes - the best milk-free Pancake Day alternatives
Dairy-free delights on Pancake Day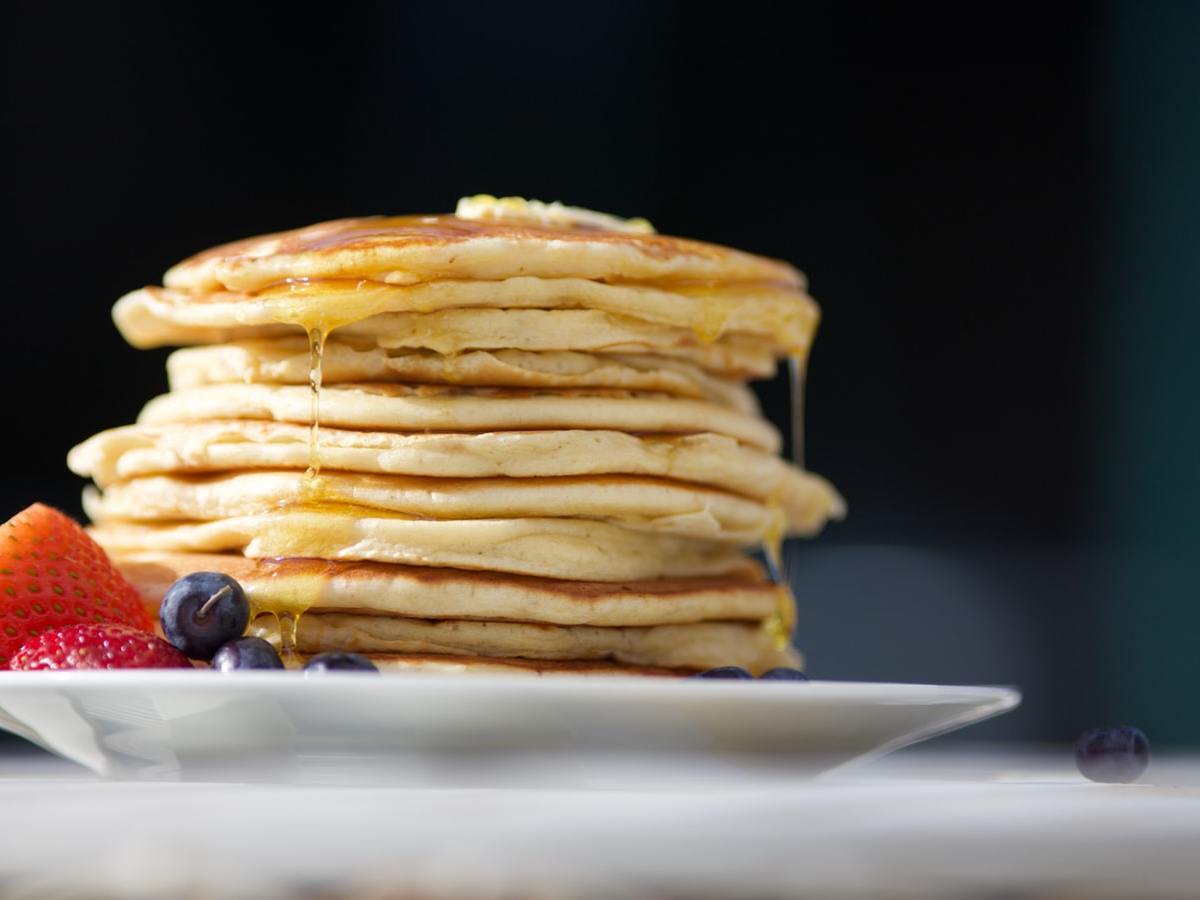 While plenty of excitement surrounds Pancake Day, it can be a trying time for anyone who adheres to a specific diet.
For those who follow plant-based diets – refraining from consuming animal byproducts like eggs and milk – it may be difficult to enjoy the festivities alongside friends who are not similarly committed to veganism.
Over the past few years, increasing interest in veganism has resulted in more shops offering plant-based products to customers, thus enabling them to create recipes that cater for their needs.
Here are a selection of the best vegan recipes around, so that all can enjoy the trappings of Shrove Tuesday:
Serves 4
Ingredients
1 teaspoon baking powder
1 teaspoon chia seeds
1 tablespoon maple syrup
400ml almond milk
300g plain flour (I use gluten-free)
50g bircher muesli (or porridge oats)
30g coconut oil, plus more for frying
Pinch sea salt flakes
To serve: coconut yogurt (or any plain yogurt you like), handful of roughly chopped pecans, handful of coconut chips
Method
Mix all of the pancake ingredients together to form a smooth batter.
Now make the pancakes. Warm a tablespoon of coconut oil in a pan over a medium heat, once the pan is hot and the oil has melted, spoon in a large tablespoon of pancake batter, using a wooden spoon to spread out the mix.
Cook on one side for 4 minutes before turning and cooking the other side for 2-3 minutes until cooked through. Remove and repeat until all of the batter is finished.
Serve the pancakes warm with a dollop of coconut yogurt and a sprinkle of chopped pecans and coconut chips.
Serves 2
Ingredients
100g oats
1 tsp baking powder
Pinch of salt
½ tsp ground cinnamon
1 ripe banana
150ml almond milk
1 tsp vanilla extract
Coconut oil or butter, for cooking
Maple syrup, for serving (optional)
200g strawberries
Grated zest and juice of ½ lemon
1 tbsp runny maple syrup
Method
Grind the oats down to a flour in the food processor then tip into a bowl and mix with the baking powder, salt and cinnamon.
Place the banana, milk and vanilla in the food processor and blend until smooth. Pour the wet mixture into the dry mixture and stir until fully combined. Let this sit in the fridge while you make the strawberry compote.
Roughly chop the strawberries and place them in a small pan with the lemon zest and juice and honey and let it simmer for 10 minutes. 
About 5 minutes before the strawberries are done, heat 1 tablespoon of coconut oil or butter in a frying pan. Grab a few tablespoons of the batter and fry in the pan for a few minutes, then flip over and cook for a further minute until cooked through. Repeat with the rest of the mixture.
Serve the pancake with a dollop of compote and extra honey or maple syrup, if needed. 
Serves 1
Ingredients
140g almond butter
½ tsp vanilla powder
130g oat flour
350ml almond milk
40g cacao powder
8 tbsp maple syrup
40g ground almonds
105g raw chocolate
Coconut oil for frying
Method
Add the almond butter, vanilla, oat flour, almond milk, maple syrup and ground almonds to a food processor and blitz until you have a smooth pancake batter.
Split the mixture into two, leaving half in the food processor. Add the cacao powder to this Heat a frying pan over a medium to high heat and then add the coconut oil.
Add enough mix to make your desired size pancake to the middle of the pan. Place a few pieces of chocolate on top of the mixture. When you can see bubbles on the surface of the pancake, use a spatula to flip it over and cook for another minute or two on the other side until golden.
Move the pancake to a plate and repeat until you have finished with both, the plain mixture and the chocolate mix. 
We love these topped with a warm chocolate sauce and lots of berries.
Makes six pancakes
Ingredients
1 cup whole wheat flour*
1 tablespoon baking powder
1/4 teaspoon salt
1 cup almond milk or dairy-free milk of choice
2 tablespoons olive oil or melted coconut oil
2 tablespoons maple syrup or sugar of choice
1 teaspoon pure vanilla extract
More oil to grease your pan/skillet, if necessary
Method
In a mixing bowl, whisk together the flour, baking powder and salt. In a 2-cup liquid measuring cup or another mixing bowl, whisk together the milk, oil, maple syrup and vanilla extract until thoroughly blended. (If your coconut oil solidifies on contact with the cold milk, gently warm it in the microwave just until it liquifies again.)
Pour the liquid mixture into the dry mixture. Stir until combined, so only a few lumps remain (don't over-mix or your pancakes will be tough!). If you'd like to mix in any totally optional add-ins (like chocolate chips or blueberries), gently fold them in now. Let the batter rest for 5 minutes so your pancakes will be nice and fluffy.
Meanwhile, if you'll be using an electric skillet, heat it to 350 degrees Fahrenheit. Otherwise, heat a heavy cast iron skillet or nonstick griddle over medium-low heat. You're ready to start cooking your pancakes once the surface of the pan is hot enough that a drop of water sizzles on contact.
If necessary, lightly oil the cooking surface with additional oil or cooking spray (I don't oil the surface of my non-stick griddle and my pancakes turned out great).
Using a ¼-cup measure, scoop the batter onto the warm skillet. Cook for 2 to 3 minutes until small bubbles form on the surface of the pancakes (you'll know it's ready to flip when about ½-inch of the perimeter is matte instead of glossy), and flip. Cook on the opposite sides for 1 to 2 minutes, or until golden brown.
Repeat the process with the remaining batter, adding more oil as needed. You may need to adjust the heat up or down at this point. Serve the pancakes immediately or keep warm in a 200 degree Fahrenheit oven.
Makes 12 pancakes
Ingredients
220g of plain flour
680ml of almond milk, maybe more to loosen
1/2 tsp salt
5 tbsp of vegetable oil, (or other neutral-flavoured oil) plus extra to cook the pancakes.
Method
Add the flour and salt to a mixing bowl and make a well in the centre. Gradually pour in the almond milk, whisking as you go until you get a smooth batter
Add the oil and whisk until smooth and combined
Heat a tiny dash of oil in a non-stick pan. Once hot, add a fine coating of the batter to the bottom and tilt the pan so it spreads out into a nice circle
Relax for a few minutes while the batter firms up – when the wobbly softness goes, pop a spatula under an edge to see how its coming along underneath. Once golden on the underside, flip it!
To learn more about the history of Pancake Day, click here.
Join our commenting forum
Join thought-provoking conversations, follow other Independent readers and see their replies