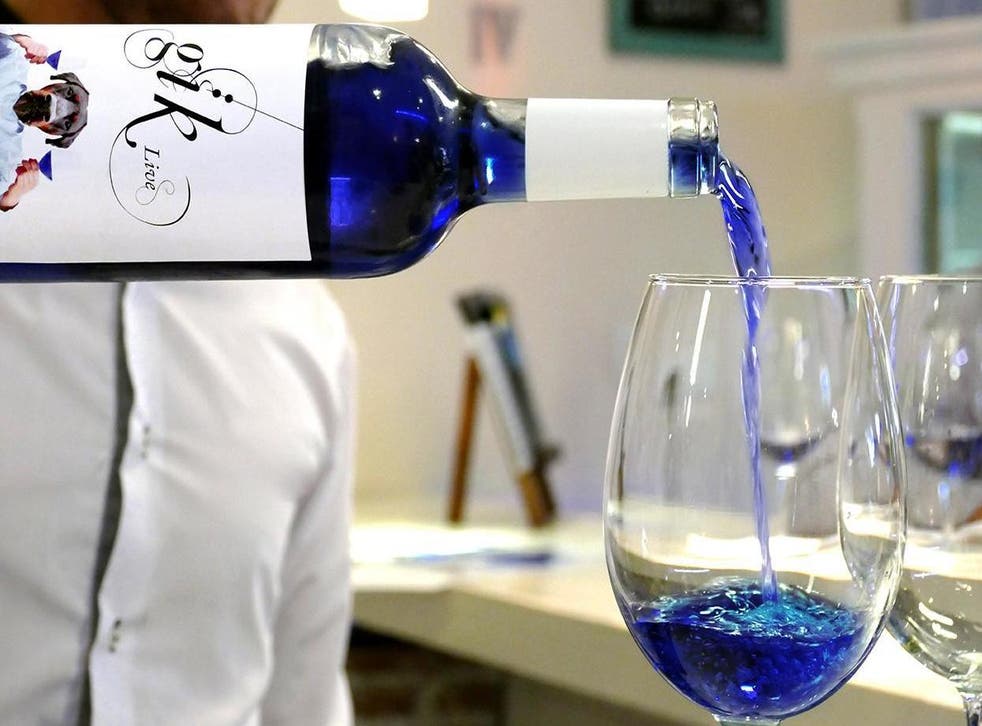 Blue wine is a thing – and people are confused
If it's not fit for Instagram, it's not fit for a millennial 
Olivia Petter
Monday 11 September 2017 15:32 Comments
Remember when you became an adult and felt relieved that you could finally stop pretending to enjoy the sugar-laden and inexplicably fizzy alcopops that dominated your youth?
Well, apparently some people had a hard time letting go.
A new breed of blue wine is about to arrive in the US, and savvy alcopoppers will note that this caricature of a drink looks remarkably like WKD.
Spanish-based winemakers launched Gik Live in an attempt to defy the traditional constraints of alcohol production.
It's already sold in 25 countries – including the UK
None of the brand's founders had any experience in the wine industry prior to launching the unique looking drink (weird, right?).
"Forget traditions and forget that we are speaking about the liquid which represents the blood of Christ at church," the alcohol anarchists write on their website.
Despite its artificial appearance, the wine's strange hue is actually natural, created from anthocyanin, a pigment in grape skins, and a dye called indigotine which is extracted from plants.
The founders worked with chemical engineers at the University of Basque Country to create the unique shade.
"Gik is not a blue wine, it's a revolution," the brand's Instagram bio reads.
In fact, the brand is so revolutionary that they exist exclusively within the digital sphere, explaining on their website that the internet is their "real office". Groundbreaking.
The wine is composed of a mixture of red and white grapes, obtained from wineries in France and Spain. Zero calorie sweeteners are then added to produce the distinct dessert-wine flavour that the founders recommend enjoying alongside guacamole and/or sushi.
After all, what says classy meal better than spicy tuna, avocado and a glass of what can only be described as glorified mouthwash?
Alas, some people are clearly very excited about the new addition to their wine rack.
"Excited to get this in the US!" wrote one commenter on the brand's Instagram.
"Just pre ordered mine! I have been waiting so long for this," added another.
However, The Washington Post carried out a taste test of the wine and those lucky tasters were less than impressed, with some comparing the innovative beverage to "Capri Sun," whilst others simply called it "gross."
WKD may still hold a place in some people's hearts – but perhaps those people should keep their alcopop habits to themselves and leave the real alcohol to the grown-ups.
Register for free to continue reading
Registration is a free and easy way to support our truly independent journalism
By registering, you will also enjoy limited access to Premium articles, exclusive newsletters, commenting, and virtual events with our leading journalists
Already have an account? sign in
Join our new commenting forum
Join thought-provoking conversations, follow other Independent readers and see their replies