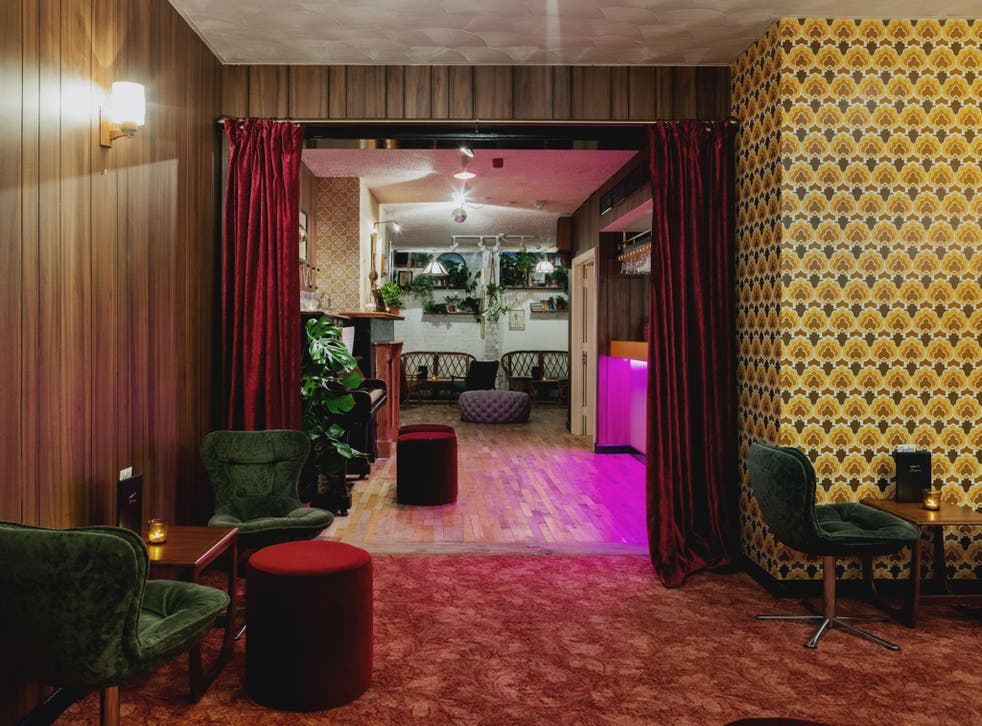 Brunch on Saturday: Bobby Fitzpatrick review and potato pancake with smashed avocado
Rachel Hosie steps back in time to a retro Seventies styled cafe in Hampstead for pizza, pancakes and cocktails, and we offer up a savoury potato pancake recipe
Brunching out...
Upon entering Bobby Fitzpatrick, I had a strange feeling that I'd just walked into my great aunt's flat.
The Seventies-themed restaurant is unlike anything else – well, unlike anything else in civilised West Hampstead, anyway.
But it's not just Seventies memorabilia that makes you feel like you've stepped into a time-warped suburban flat – the restaurant has been designed to look as much like a real house as possible, complete with domestic kitchen area where diners can sit at a counter.
The restaurant specialises in cocktails and pizza, but it also now serves brunch – of the bottomless variety, of course. While the pizzas did indeed appeal, given it was brunch, neither my friend nor I could resist the pancakes.
Pleasingly, there's a choice of savoury (made from potato) and sweet, along with various different topping combinations. Whichever you go for though, the good news is that the pancakes are pleasingly fluffy without being dry.
I had a savoury stack topped with corn, avocado and tomato salsa. Except it wasn't just a topping, the pancakes were layered up with the avocado mix too (which was actually guacamole rather than just straight up avocado).
It was a big stack, but I have no regrets about ordering a side of chicken goujons (I accept it may not be the traditional accompaniment to pancakes, but why not?). They were so tasty that I highly recommend you do the same. The coating was crispy without being greasy and the meat was tender inside, made even more perfect with the barbecue dip.
If you'd rather indulge your sweet tooth, fear not – Bobby Fitzpatrick offers an equally huge sweet pancake stack. My friend Olivia opted for banana, bacon and caramelised nuts. It's rich, but the saltiness of the bacon stops it all becoming too sickly.
Cocktail-wise, diners have three to choose from, and the good news is you can try them all.
They're all very different too, so there's bound to be at least one to your tastes. The Planter's Punch was tropical and strong, the white wine spritzer refreshingly light, and the sprinkle-topped slushy banana daiquiri so sweet it could've been a pudding (it was my favourite). The staff are extremely attentive at asking if you want a refill too.
Pancakes, chicken and slushy banana cocktails – it might not be a conventional brunch, but it's delicious.
Bobby Fitzpatrick;, 273 West End Lane, London NW6 1QS; 020 7433 1989; bobbyf.co.uk; open daily
Brunching in...
Potato pancake with smashed avocado and smoked salmon
Prep: 20 mins
​Cook: 10 mins
​Serves 2-4 (makes 2 large pancakes, or 4 smaller)
200g fluffy potatoes (such as Maris Piper), diced, boiled, drained and mashed (or used leftover mashed potato)
2 spring onions, finely chopped
1 tsp baking powder
75g plain flour
100-150ml whole milk
1 lemon, zest only (reserve lemon for juice)
½ tbsp olive oil to cook
1 avocado, loosely mashed
150g smoked salmon
handful watercress (optional), to serve (or rocket, if preferred)
1 egg, poached (optional)
Mash the potato while the boiled potatoes are still hot, then allow to cool before adding in the spring onion and seasoning. Lightly whisk the flour and baking powder with the milk (100ml at first) and zest and add to the mash, whisking in.
Check the seasoning and consistency (add a little extra milk if the mix is too stiff, but it should still be thick). Heat the olive oil in a large non-stick frying pan. When hot, pour in the batter, using a spatula to spread the mix out. When the pancake has puffed up and browned beneath (about 2 minutes), carefully flip over to cook on the other side.
To serve, place a pancake on each plate, top with the smashed avocado (seasoned with salt and pepper and lemon juice), a handful of watercress and the smoked salmon. If you are adding a poached egg, place this on top of the salmon. Squeeze extra lemon juice and drizzle a little olive oil over the top.
Recipe from lovepotatoes.co.uk/recipes
Join our new commenting forum
Join thought-provoking conversations, follow other Independent readers and see their replies