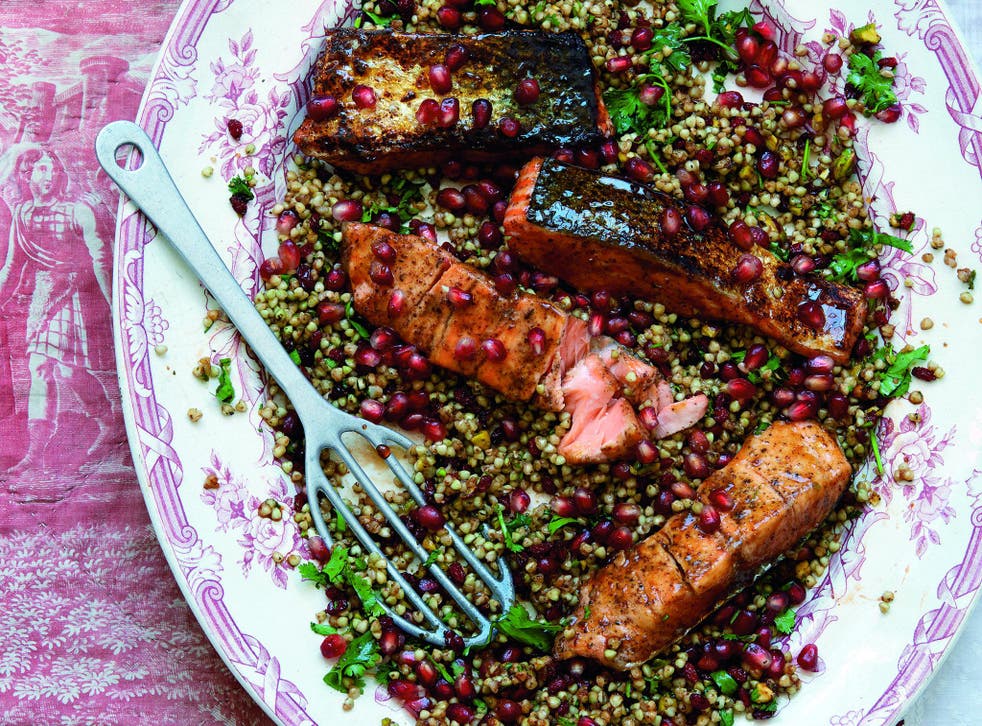 Fress recipes: From Pomegranate salmon to chicken and pistaschio meatballs
Inspired by the melting pot of Middle Eastern and East European flavours, Emma Spitzer's recipes focus on the link between travel and food, using bold flavours and a strong Jewish identity
Emma Spitzer
Thursday 29 June 2017 20:17 Comments
After cooking since the age of eight and becoming a MasterChef finalist, Emma Spitzer's first book mergers the best of Middle-Eastern with Eastern Europe - which incorporates her Polish and Russian heritage. And titled with the Yiddish word meaning "to eat copiously", it reflects her style of using plenty of ingredients. Her ethos is to get as much flavour as possible from a simple and unfussy recipe that won't require hours in the kitchen. Many of the recipes are from her mother which have carried with them a strong Jewish identity, as well as being inspired by her own travels of Israel, Egypt, Jordan and North Africa.
Sticky pomegranate salmon
This salmon recipe is so easy and is equally good served hot with plain boiled rice and green beans, or at room temperature with my buckwheat and barberry salad (see below). It takes very little time to prepare, and dotted with some little pomegranate gems, it looks delightful on the plate.
You can also serve this to kids; the sweetness of the pomegranate is an instant winner.
2 teaspoons soft dark brown sugar
1 teaspoon ground sumac
1 teaspoon cornflour
½ teaspoon sea salt
4 skin-on salmon fillets
freshly ground black pepper
1 tablespoon vegetable or groundnut oil
1 tablespoon pomegranate molasses
Buckwheat and barberry salad with spiced pomegranate Dressing (see below)
Seeds from ½ pomegranate, to garnish
Preheat the oven to 200°C/180°C fan/Gas Mark 6.
Mix the sugar, sumac, cornflour and salt together, then rub over the flesh side of the salmon fillets and add a twist of black pepper over the top. Heat an ovenproof frying pan over a high heat and add the oil. When it is very hot, add the salmon fillets, flesh-side down, and reduce the heat to medium.
Sear for 2 minutes, then turn the fillets over and cook on the skin side for a further minute. Using a pastry brush, spread the pomegranate molasses evenly over each fillet.
Transfer the pan to the oven and cook for a further 8–10 minutes. If you don't have an ovenproof frying pan, transfer the salmon to a baking tray lined with foil before placing in the oven. Serve the salmon at room temperature on a bed of buckwheat and barberry salad and garnished with pomegranate seeds.
Buckwheat and barberry salad with spiced pomegranate dressing
Serves 6 as a main or 8 as a side
200g buckwheat
​150ml hot vegetable or chicken stock
50g unsalted pistachio nuts, roughly chopped
2 tablespoons dried barberries
1 teaspoon dried mint
1 tablespoon olive oil
2 large handfuls of coriander, finely chopped
For the pomegranate dressing
1 tablespoon date syrup
1 tablespoon pomegranate molasses
juice of 1 lemon
1 teaspoon ground cumin
1 teaspoon ground sumac
½ teaspoon grated fresh root ginger
½ teaspoon Harissa (see below)
sea salt and freshly ground black pepper
Place the buckwheat in a sieve and rinse really well in cold water. Add to a medium saucepan and cover with the hot stock. Bring to the boil, then cover with a lid and simmer gently for 10–12 minutes until the buckwheat is soft but still retains a little bite.
Drain and spread out on a tray or a plate to cool slightly (this avoids it ending up as one big sticky mass). Whisk the ingredients for the dressing together in a bowl and set aside. Transfer the buckwheat to a large bowl, then stir in the pistachios, barberries and mint, pour over the dressing and mix through with a fork.
Food and drink news

Show all 35
Finish with the olive oil and coriander, reserving a tablespoon of the latter for garnish. Serve at room temperature, scattered with the reserved coriander.
Harissa
This powerful Tunisian chilli paste is one of the greatest condiments you can have in your fridge. I have experimented with many variations, but this recipe is the one I am happiest with. The sun-dried tomatoes are not a traditional addition to harissa, but I love the flavour they bring as a foil for the strong heat of the chilli.
Serve with some olive oil drizzled over the top as a dip for crusty bread, or mix into yogurt, mayonnaise or ketchup to spice them up for use as condiments. Harissa adds a serious depth of flavour to sauces and works really well in marinades too.
Makes around a 200ml jar
10 dried red chillies
2 red peppers
1 tablespoon cumin seeds
1 tablespoon coriander seeds
1 teaspoon caraway seeds
2 garlic cloves, peeled and halved
1 teaspoon smoked paprika
1 teaspoon sea salt
2 long red chillies, deseeded and roughly chopped
3 sun-dried tomatoes in oil, drained
1 tablespoon red wine vinegar
​115ml rapeseed oil
Soak the dried chillies in hot water for 30 minutes. Drain, then trim off the stalks, deseed and chop roughly – it is advisable to wear gloves for this prep, to protect yourself from the burning effects of the chilli.
Preheat the grill to high. Place the peppers under the grill for around 10–15 minutes, turning once, until the skins have blackened. Transfer to a resealable plastic food bag and seal (or to a bowl) and immediately cover with clingfilm, then leave for around 20 minutes until cool enough to handle and the skins have loosened.
Remove the skins with the back of a knife and discard the stalks and seeds, then roughly chop the flesh. Heat a dry frying pan over a medium heat, add the cumin, coriander and caraway seeds and toast for 3 minutes, shaking the pan constantly to ensure that they don't burn. Transfer to a pestle and mortar or spice grinder or powder blender and grind to a coarse powder.
Add the garlic cloves with the ground spices, paprika and salt to a food processor and pulse until finely chopped. Add the fresh chillies, dried chillies and sun-dried tomatoes and pulse a few times to combine. Lastly, add the vinegar and oil and blend until you have a coarse paste. Add to a small (around 200ml) sterilized preserving jar, seal and store in the fridge for up to a month.
Chicken and pistaschio meatballs with coriander tahini
Serves 6, makes 25 meatballs
These chicken meatballs really pack a flavour punch. Quick, simple to prepare and healthy, they need nothing more than some plain rice or a fresh salad to accompany them, making for an easy lunch or dinner.
For the meatballs
½ onion
100g unsalted pistachio nuts
50g medium matzo meal
handful of tarragon leaves
2 handfuls of coriander, leaves and stalks 
2 handfuls of flat leaf parsley, leaves and stalks
1 tablespoon fresh lime juice
2 teaspoons ground cumin
2 teaspoons ground coriander
1 teaspoon chilli flakes
1 teaspoon sea salt
½ teaspoon freshly ground black pepper
​500g minced chicken
1 egg, beaten
2 tablespoons olive oil
For the coriander tahini
2 large handfuls of coriander leaves
1 garlic clove, crushed
75g tahini
Juice of 1 lemon
Pinch of sea salt
To serve
Steamed rice
Seeds from ½ pomegranate
Handful of mint leaves, finely chopped
Add all the meatball ingredients except the chicken, egg and oil to a food processor and pulse until the mixture comes together; you want a coarse, grainy consistency. Transfer to a large bowl and add the chicken and the egg, working the mixture together with your hands just until it is combined; you don't want to overwork it. Cover and place in the fridge for 30 minutes.
Meanwhile, clean out the food processor, then add all the ingredients for the coriander tahini to it and blend. With the motor running, slowly add some water until you have a loose dressing with the consistency of double cream. Transfer to bowl, cover and refrigerate until needed. Preheat the oven to 220°C/200°C fan/Gas Mark 7.
Wet your hands and roll the chicken mixture into ping-pong-sized balls. Grease a baking dish large enough to hold the meatballs in a single layer with 1 tablespoon of the olive oil. Brush the remaining tablespoon of oil over the top of the meatballs and bake for 15 minutes. Serve the meatballs on a bed of steamed rice garnished with the pomegranate seeds and the chopped mint, then drizzle the coriander tahini liberally over the top.
Turmeric battered cauliflower with chilli and saffron yoghurt
Crispy and lightly spiced, this dish makes a lovely sharing plate for a starter, or a pre-dinner nibble. You want the cauliflower florets to be bite-sized, but not too small that they can't take on the batter.
1 cauliflower, cut into florets
vegetable or rapeseed oil, for deep-frying
For the yogurt
small pinch of saffron threads
3 tablespoons hot water
​200g Greek yogurt
juice of ½ lemon
¼ teaspoon Aleppo pepper
1 garlic clove, crushed
pinch of sea salt
For the batter
1 tablespoon nigella seeds
1 tablespoon ground turmeric
​165g self-raising flour
​210ml chilled sparkling water
1 teaspoon table salt
For the garnish
handful of picked coriander leaves, roughly chopped
1 tablespoon pomegranate molasses
Blanch the cauliflower in a large saucepan of salted boiling water for 2 minutes, then drain in a colander and refresh under cold running water to stop any further cooking. For the yogurt, infuse the saffron in the measured hot water for 20 minutes, then strain out the saffron and discard. Mix the saffron water into the yogurt and add the remaining yogurt ingredients.
Cover and refrigerate until ready to serve. Heat the oil for deep-frying in a deep-fat fryer or medium saucepan (ensure that the oil is a minimum of 5cm deep, but don't fill the pan more than halfway) and place over a medium heat to heat up to around 170°C.
Meanwhile, whisk all the ingredients for the batter together in a bowl until you have a thick consistency. Test the temperature of the oil by dropping in a little of the batter – if it sizzles, the oil is ready. Dip the cauliflower florets in the batter to coat, shaking off the excess, and fry, in small batches, for 4 minutes.
Remove with a slotted spoon to a plate lined with kitchen paper. Transfer to a serving plate and garnish with the coriander and pomegranate molasses, with the yogurt on the side for dipping.
Fress: Bold flavours from a Jewish Kitchen by Emma Spitzer is published by Mitchell Beazley, £25
Register for free to continue reading
Registration is a free and easy way to support our truly independent journalism
By registering, you will also enjoy limited access to Premium articles, exclusive newsletters, commenting, and virtual events with our leading journalists
Already have an account? sign in
Join our new commenting forum
Join thought-provoking conversations, follow other Independent readers and see their replies