Boris Johnson calls veganism a crime against cheese-lovers
Boris Johnson calls veganism a 'crime against cheese-lovers'
'I take my hat off to vegans,' says Prime Minister
Boris Johnson has described veganism as a "crime against cheese-lovers" in a new interview.
Speaking on BBC Breakfast, the Prime Minister was asked to address rumours that he had decided to go vegan for the month of January to lose weight.
"No, I am not," Johnson laughed. "I had thought of it but it requires so much concentration."
Johnson added that he is impressed by those who can follow a plant-based diet.
"I take my hat off to vegans who can handle it and manage to avoid all non-vegan products," he said.
Bizarre: Boris Johnson drives 'Brexit' digger through boxes

Show all 8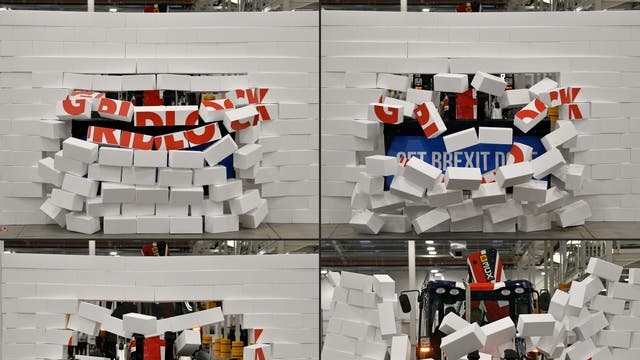 "I mean, you can't eat cheese, can you, if you're a vegan?" Johnson asked.
"That's just a crime against cheese-lovers."
Johnson's comments have tickled the internet, with viewers swiftly sharing their thoughts on social media.
"Boris Johnson says he considered going vegan for January but decided against it because it 'requires so much concentration'.... (Just a reminder that he's the Prime Minister!)," tweeted one person.
Many viewers also took issue with Johnson's pronunciation of "vegan", which he pronounced "vee-ganne".
"The way that Boris Johnson said vegan. Oh my good god I spat my coffee everywhere," teased one person on Twitter.
As of 2019, approximately 1.16 per cent of the UK population (600,000 people) followed a plant-based diet, according to The Vegan Society.
A study conducted in June 2018 by researchers at the University of Oxford concluded that following a vegan diet is the "single biggest way" to reduce your environmental impact.
The team discovered that cutting meat and dairy products from your diet could reduce an individual's carbon footprint by as much as 73 per cent.
"A vegan diet is probably the single biggest way to reduce your impact on planet Earth, not just greenhouse gases, but global acidification, eutrophication, land use and water use," said lead author Joseph Poore.
Join our new commenting forum
Join thought-provoking conversations, follow other Independent readers and see their replies