The Independent's journalism is supported by our readers. When you purchase through links on our site, we may earn commission.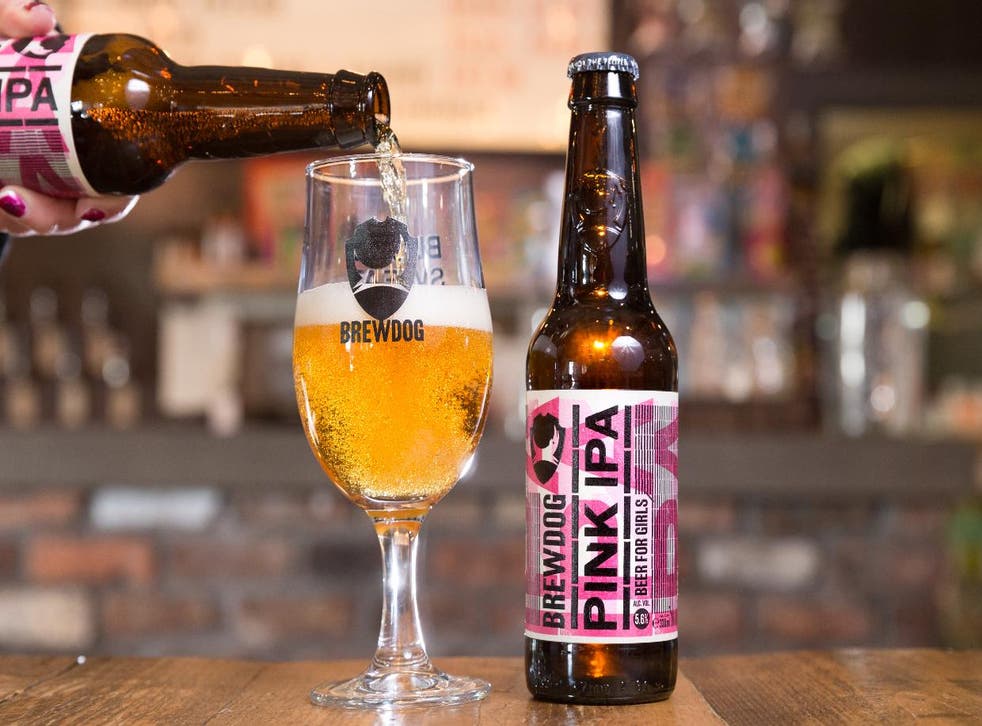 BrewDog creates pink 'beer for women' to address the gender pay gap - but it hasn't gone down well
The brewery claims the campaign is meant to be satirical - but some think the move is a flimsy marketing gimmick
Craft brew giant BrewDog is being criticised online for their attempt at humorous marketing - releasing a new pink "beer for girls" which will be sold to women for a lower price than men.
The Scottish beer company released the new Pink IPA - a newly labelled version of their Punk IPA - as a way to "satirically" address the gender pay gap in the UK.
But for many, the attempt at humour fell flat.
According to the brewery's website, they have "always believed that beer is for everyone, and equality is a fundamental right" - so in response to the 20 per cent gender pay gap in the UK (which they helpfully stated is "not ok") they've released a beer for women with a pink label.
"Ahead of International Women's Day this Thursday, we are launching Pink IPA. A beer for women. A beer for equality," the website states.
BrewDog called their 'Beer for Girls' campaign a "clarion call to close the gender pay gap in the UK and around the world and to expose sexist marketing to women, particularly within the beer industry."
According to BrewDog, the Pink IPA is their "overt parody on the failed, tone-deaf campaigns that some brands have attempted in order to attract women."
However, many think the brand may have missed the mark - despite pledging to sell the pink beer a fifth cheaper in its bars to those who "identify as women", with men paying full price.
On Twitter, one person responded to BrewDog's new campaign with the question: "How does copying sexism subvert it?"
Others acknowledged the brewery's point but were still turned off nonetheless.
Sarah Warman, BrewDog global head of marketing, said of the campaign: "With Pink IPA, we are making a statement the only way we know how - with beer. The love of beer is not gendered. Beer is universal. Beer is for everyone."
But despite adding the hashtag #sarcasm to their tweet, BrewDog's Pink "beer for women" comes across as odd.
Register for free to continue reading
Registration is a free and easy way to support our truly independent journalism
By registering, you will also enjoy limited access to Premium articles, exclusive newsletters, commenting, and virtual events with our leading journalists
Already have an account? sign in
Register for free to continue reading
Registration is a free and easy way to support our truly independent journalism
By registering, you will also enjoy limited access to Premium articles, exclusive newsletters, commenting, and virtual events with our leading journalists
Already have an account? sign in
Join our new commenting forum
Join thought-provoking conversations, follow other Independent readers and see their replies