The Brexit butchers making British charcuterie great again
With uncertainty over how much Bayonne ham and bresaola we're going to be able to find in our shops after 29 March, Jo Lamiri says it's the perfect time to get to know the wonderful British charcuterie produced in the UK
Thursday 10 January 2019 11:56 Comments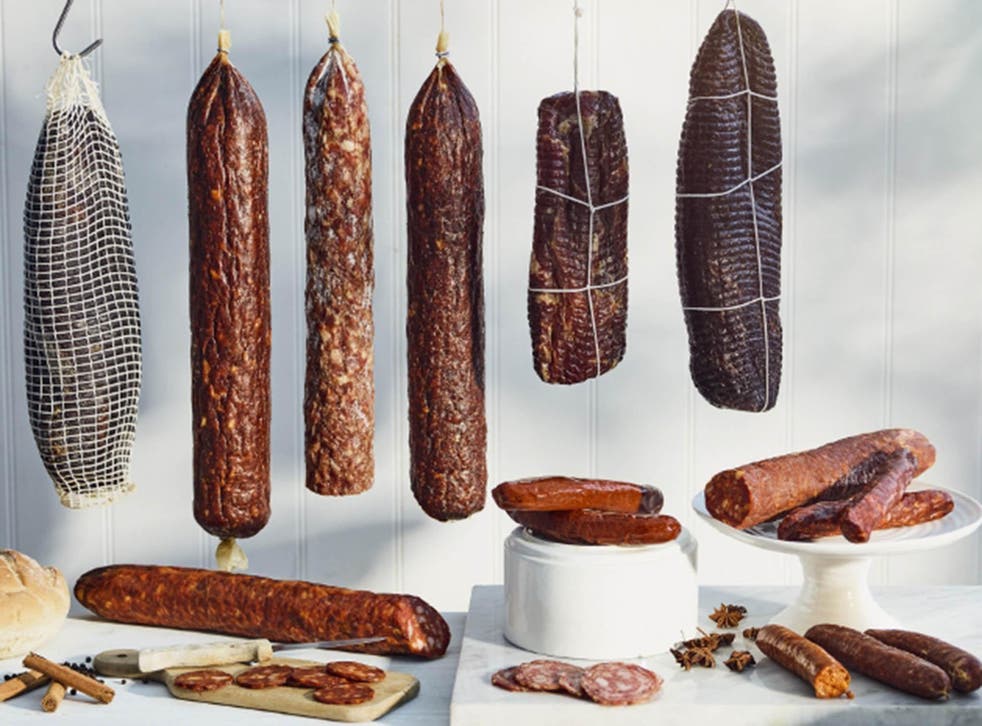 Of course, it's nothing new. For centuries, we've chowed down on bacon rendered crisp in its own fat, hams of all shapes and sizes, cured with spices and herbs.
Historically, the only way to keep pork edible over the long winter months was to cure it with salt then hang it to dry (in the air or near a heat source) to extract as much moisture as possible.
But with the arrival of refrigeration and the rise in popularity of French, Italian and Spanish foods, we have turned away from our homespun delights to embrace those European newbies.
The wheel is now turning full circle, with a burgeoning band of butchers, chefs and individuals who are not simply copying what has gone before – or found across the Channel – but producing inventive and exciting British charcuterie in their own right.
They use a variety of techniques: dry-curing (where salt and flavourings are rubbed dry into the meat) or brine-curing (where meat is immersed in a highly flavoured brine). In both cases, water is drawn out of the meat and replaced with salt, herbs and spices before air-drying for months, or even years.
The European world of charcuterie is deeply conservative, bound by tradition and protected status such as DOP in Italy, placing strict rules on how and where something like Parma ham can be produced.
The joy of it in Britain is that we have the freedom to play by our own rules, which is why you'll find such intriguing and creative examples as venison bresaola and air-dried mutton.
Food writer Henrietta Green has recognised this by creating the British Charcuterie Awards in 2017. She explains: "It is a way of acknowledging the excellence and diversity of the charcuterie out there – both continental and traditional – and promote interest in charcuterie by helping producers to improve, network and cross-pollinate ideas with others, including chefs, farmers and butchers. It's really about excellence and finding out what there is. Last year – the first year of the awards – over 80 producers entered a staggering 450 products.
"A lot of the new-style makers are getting their inspiration from the continental method, where meat is fermented then air-dried, rather than heat-dried. There's a danger in this, though: if we embrace continental charcuterie too strongly, we could end up losing our own traditions."
The best British charcutiers are using native and heritage breeds, which carry more intramuscular fat and less moisture, making them ideal for curing. Their insistence on sustainability is also having a positive effect on farming, with animals given more time to grow (increasing the fat ratio), more space to roam and top-quality feed. It's the antithesis of intensive agriculture.
Five of the best
Last year's champion producer was Tempus Foods in Surrey, run by Tom Whitaker and Dhruv Baker, MasterChef runnerup and winner respectively. They produce two different salamis – subtle Achari Spiced and coppa, guanciale and spiced loin, all from the large black, their pig of choice due to its depth of flavour and optimal ratio of lean to fat.
Tom says: "We have a very simple philosophy: in order to make great charcuterie, you have to start with great pigs." They insist on whole animal butchery, so every part of the pig is used.
Small, family-run Beal's Farm Charcuterie near Lewes, East Sussex, rear an old world Hungarian breed, mangalitza ("hog with a lot of lard"), a woolly-haired pig more akin to a sheep. Described as the "Kobe beef of pork", it yields the most magnificent flavour as well as good amounts of fat and marbling. The Beals' passion for charcuterie came after living in Spain for 10 years and Phil Beal says: "We rear them for a year, feeding on grass for the last few weeks to develop more fat and flavour. We then air-dry the meat for up to 18 months, slowly and evenly." Their coppa, lomo, ham and salami are simply superb; it's no surprise that Beals Farm air-dried ham won Champion Product at last year's British Charcuterie Awards.
Award-winning butcher David Lishman in Yorkshire – currently chair of the Q Guild – is described by Henrietta as "certainly one of the country's best butchers". He combines slow Italian and German curing methods with fermenting practices. David says: "We now make five different types of salami, from pepperoni with red wine to pork, hazelnut and cider, and paprika-based Yorkshire chorizo. We also cure the whole muscles such as an air-dried York ham and coppa from the neck, using predominantly local naturally reared meat, from farmers we know."
Family-owned Capreolus Fine Foods in Dorset is another award-winning artisan charcutier who focuses on quality and provenance, using local meat from traditional and rare breeds. Owner David Richards says: "One of our pig suppliers, for example, is Sam Holloway, whose Oxford sandy and black pigs forage in the woods for acorns and hazelnuts. Capreolus charcuterie is made traditionally: dry-curing or brine-curing before being air-dried for months or even years." Their excellent, extensive range includes guanciale, coppa, air-dried lomo, salami of all types, air-dried beef, smoked mutton – even "Hard Brexit" salami, made with ingredients from outside the EU and "Soft Brexit" spreadable salami made with EU ingredients.
Another well-loved charcutier is Native Breeds in Gloucestershire set up by Ruth and Graham Waddington.
They make uniquely British products from rare and native breeds, especially organic Dexter, Aberdeen Angus and Galloway beef, such as the Gallovidian – salami using Galloway beef, lightly spiced with caraway, pepper and garlic – and Downfield Venison from Scottish red deer venison seasoned with pimento and paprika.
Native Breeds scooped a silver medal for their aromatic air-dried Native Nape at the British Charcuterie Awards 2018: excellent air-dried pork collar, cured with bay, coriander, mace and rosemary, slowly fermented and matured.
Entries for this year's British Charcuterie Awards are open until 28 May 2019, with a new category for Best New Charcuterie. Visit britishcharcuterie.live to find out more and for details of the 2018 British Charcuterie Awards winners
Register for free to continue reading
Registration is a free and easy way to support our truly independent journalism
By registering, you will also enjoy limited access to Premium articles, exclusive newsletters, commenting, and virtual events with our leading journalists
Already have an account? sign in
Join our new commenting forum
Join thought-provoking conversations, follow other Independent readers and see their replies