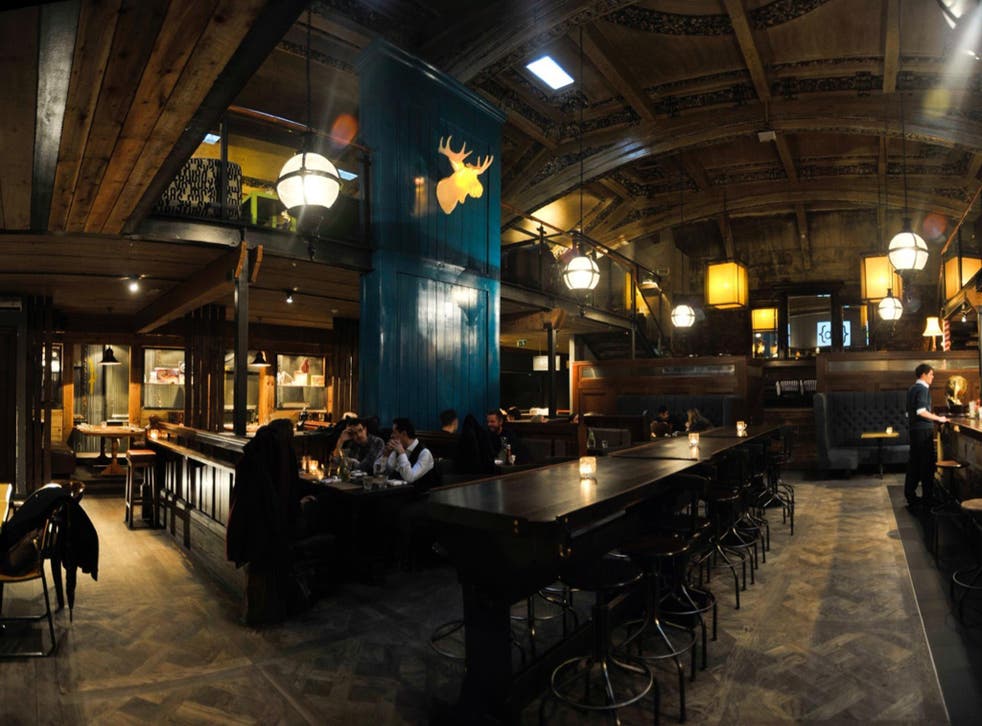 Hillhead Bookclub brunch review: Ignore the pretentions and let the food do the talking
This week Megan Townsend stops for brunch in Glasgow's West End, and frittata meets Indian spice
Brunching out...
Glasgow's brunch scene has become something of a spectacle, with bistros and pubs offering a no-frills experience in comparison to Edinburgh's boujee favourites like eggs benedict, shakshuka and mimosas. Hillhead Bookclub in the city's West End is no exception, with both food and cocktails aimed towards informality.
Based on two levels, the downstairs feels like a traditional American steakhouse, with wooden pews and low lighting creating the perfect casual-yet-structured-enough atmosphere to go with its quirky menu. The upstairs is more lounge like, with board games and mismatched sofas and chairs.
The trendy waiters operate in ripped jeans and slogan T-shirts, with the brightly lit bar at the centre serving cocktails with "hilarious" names like Punch Intended and Practice What You Peach out of gramophones. The menu is full of declarations that Bookclub staff are a "whimsical bunch" who are "good folk"; the food is served on various crockery collected from charity shops – it all just feels slightly desperate.
Even more so when you discover that despite Bookclub's bingo nights, vintage fashion sales and student crowd, it's owned by Scottish hospitality giant G1; one of the biggest pub and bar chains operating in Glasgow.
This doesn't hold back the club-house feel, nor does it prevent the food being uber-tasty and reasonably priced. Bookclub itself declares that it "cosily straddles either side of pretension and carelessness".
The menu reflects this comment: informal rests side by side with formal, with a simple selection of gluten-free pancakes (under the header "Bringin' back the pancake stack") – available in both regular and matcha flavour – topped with comforts such as nutella (£8), bacon and maple syrup (£8) and blueberry jam and coconut yoghurt (£7).
I opt for baked eggs with pulled spiced brisket (£8) for the main, which manages to devilishly combine pulled pork and buffalo ricotta with a side of potato hash (£2) that's spiced to perfection and wonderfully complements the salty flavour of the eggs.
For vegetarians and vegans Bookclub has an array of choices, with every menu item coming in a vegetarian alternative; for a spicy take on the Scottish classic, the grated sweet potato cake (£8) combines black beans and salsa with avocado – topped off with a poached ducks egg.
The wash it down, the cocktail options are as varied as the dishes. "Delightfully" listed under the headings "7 quid", "8 quid" and "Gramophones", the playful feel is betrayed by the very obvious ability and quality of the drinks on offer. We decided against selecting something from the Gramophones menu – instead opting for a Jezebel's Daiquiri (£7), consisting of Chairman's spiced rum, Chambord and raspberry, and an Indecent Proposal (£8), a tropical offering of passion fruit, coconut, 8-year-old Barcardi and Velvet Falernum.
In the end, Bookclub's food and drink did the talking, despite the venue trying to communicate with us in every other way. It was executed perfectly; exciting and full of interesting flavours, and it's nigh impossible to argue with brunch and a cocktail for under £16.
Hillhead Bookclub, 17 Vinicombe St, Glasgow G12 8SJ, hillheadbookclub.com, 0141 576 1700
Brunching in..
Bombay potato frittata with tomato chutney
Prep: 10 mins
Cook: 20 mins
​Serves 4
400g smooth potatoes (such as Desiree), cut into 2cm cubes
1 tbsp groundnut oil
1 tsp each of cumin seeds, mustard seeds, coriander seeds
1 small onion, finely sliced
1 tsp turmeric
¼ tsp each of chilli powder and chilli flakes
2 garlic cloves, finely chopped
2cm piece ginger, finely chopped
2 tomatoes, sliced into 8 wedges each
½ small bunch fresh coriander (10g), stalks and leaves finely chopped, some leaves reserved for serving
6 eggs, lightly beaten and seasoned
For the raita
200ml yoghurt
½ cucumber grated and wrapped in kitchen towel to dry
Handful mint leaves, chopped
For the tomato chutney
1 handful cherry tomatoes
1 small red onion
2 tsp onion seeds
Preheat the oven to 220C/200C fan/gas mark 6. Boil the potatoes in salted water until tender, drain, then return to the pot to steam dry.
Heat oil in a non-stick ovenproof frying pan (approx 24cm). Add the cumin, mustard and coriander seeds and stir until aromatic and the mustard seeds are popping. Add the onion and cook for 5 minutes, before adding the turmeric, chilli powder and flakes, and the ginger and garlic. Season with salt and cook everything for several minutes. Add the tomatoes to the pan and coat well, followed by the potatoes and chopped coriander. Stir to coat everything thoroughly and cook for a couple more minutes.
Add beaten eggs. Cook over a low heat until the frittata is mostly set (about 5 mins, by which point the edges will have come away from the pan but the centre will still be liquid), then transfer to the oven until cooked through (7-10 minutes).
Serve in wedges with generous spoons of raita and chutney and reserved coriander leaves for garnish.
Recipe from lovepotatoes.co.uk
Join our new commenting forum
Join thought-provoking conversations, follow other Independent readers and see their replies