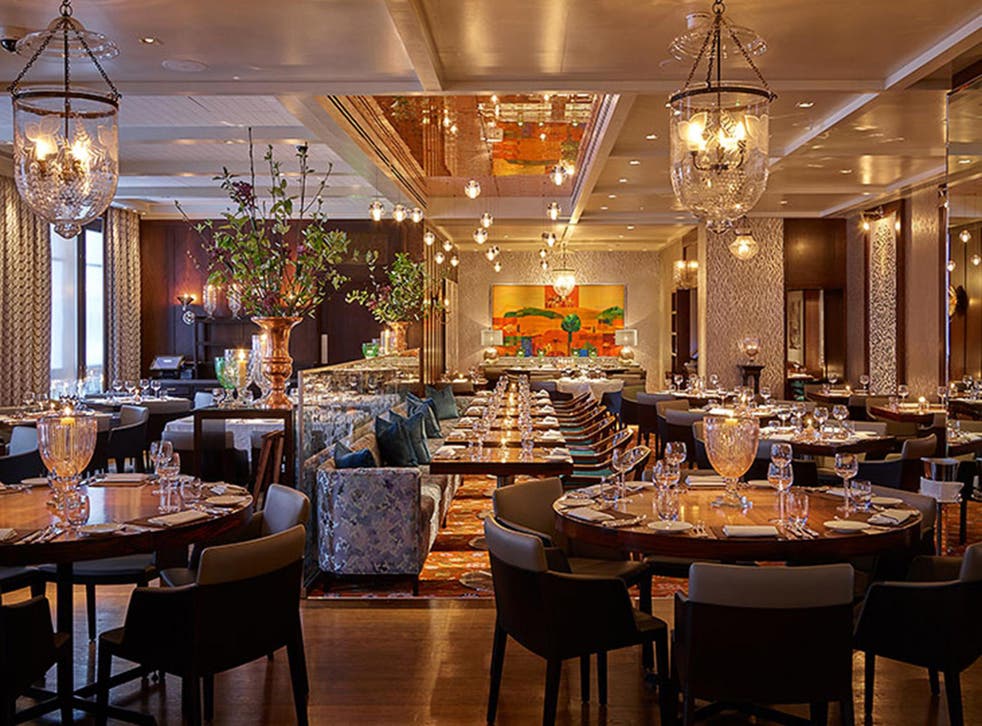 Brunch on Saturday: A visit to Chutney Mary and a recipe for North African baked eggs
This week, Megan Townsend heads to one of London's premier Indian restaurants and we take inspiration from Africa at home
Brunching out...
Chutney Mary has quietly gained a reputation for itself as one of London's best Indian restaurants. Located between Piccadilly Circus and Buckingham Palace, its recently launched brunch menu has gained some intrigue – how could the luxurious vibe of this West End institution be translated into boozy breakfasts?
Well first of all it's surprisingly affordable, for £30 guests can have two courses from the extensive menu – or £34 for three. The restaurant decor is Mayfair in its most elegant form – crystal chandeliers hang above dark mahogany tables and chairs.
The waiting staff are dressed in traditional Indian kurti blouses and share expert knowledge of the menu (and its ingredients). We sit in the middle of the room as a jazz singer croons Ed Sheeran songs. There are abstract works of art and leafy flower arrangements.
The menu is ingenious, cleverly fusing together breakfast classics and little-known Indian ingredients. To start I have Eggs Benedict, which is soft and comforting but with the added kick of green chilli and ginger, the perfect wake-up dish. My guest orders the crispy squid bhajis which come in the bucket-load, juicy and sumptuous, served with a tangy lime chutney.
Salmon kedgeree was an unexpected treat, featuring basmati pulao with a ginger kick. As someone who is cautious around curry dishes in the morning, the Konkan green lamb curry hit all the right spots, with fresh green herbs, coconut and garam masala.
The drinks menu is where things get a little extra. We started off with the refreshing-but-dangerous giant watermelon martini (£18) served in a whole watermelon (with a tap attached of course), before moving onto the Mango mojito, which featured Bacardi Gold rum, mango and mint – the perfect accompaniment to your afternoon curry, while my guest opted for the Rangpur gimlet , featuring Tanqueray gin, Rangpur and kaffir limes.
Despite the lack of Indian feel in the restaurant, stay for the solid cocktail list and new takes on brunch classics.
Chutney Mary, 73 St James's Street, London, SW1A 1PH; 020 7629 6688; chutneymary.com
Brunching in...
North African spiced baked eggs with potatoes
Prep: 10 mins
Cook: 25 mins
Serves 2-4
2 large pre-boiled fluffy potatoes, cubed when cool
1 small pinch of saffron (optional)
2 tbsp of olive oil
1 small red onion, thinly sliced
1 clove of garlic, chopped
1 tsp ground cumin
4 medium tomatoes, roughly chopped
4 eggs
1 small bunch coriander (25g)
Sprinkle of chilli flakes, to serve
2 tbsp of yoghurt
Heat the oil in a small (24cm) frying pan. Preheat the oven to 200C. If using, infuse the saffron in a couple of tablespoons of warm water.
Fry the onions, garlic and cumin over a low heat until the onions are soft for about 10 minutes. Add the pre-boiled potatoes and turn the heat up, mix to incorporate, then add the tomatoes (and saffron water if using). Season well and cook for a further 5 minutes, occasionally stirring (add a splash of water if the mixture is drying up and sticking). Season to taste.
Using a wooden spoon make 4 shallow wells in the mix and break the eggs into them. Place the pan in the oven and bake until the white of the eggs are cooked and the yolk still looks a little runny (for about 5-10 minutes). Let it sit for several minutes, then sprinkle with chopped coriander, yoghurt and chilli flakes.
Recipe from lovepotatoes.co.uk
Join our new commenting forum
Join thought-provoking conversations, follow other Independent readers and see their replies