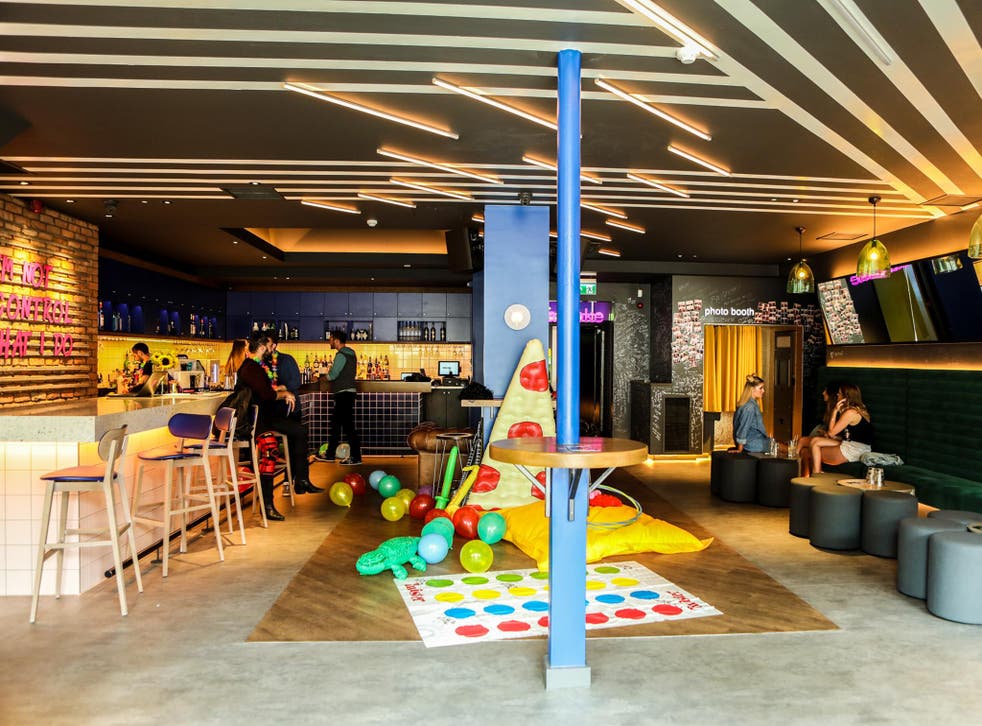 (Bottomless) Brunch on Saturday: with Karaoke thrown in
No smashed avocado in sight but smashing singsong with perfectly OK bagels – or it's grilled, honeyed figs on sourdough toast at home
Brunching out...
Of all the things millennials love most, bottomless brunch and karaoke both rank fairly high... so why not bring the two popular pastimes together?
Enter Lucky Voice – the karaoke bar in Islington, north London, brings crooners two hours of unlimited cocktails, brunch bites and of course – nonstop singing.
As soon as you walk into the Lucky Voice lounge, you're transported into what appears to be a millenial's dream: neon lights, a floor packed with inflatable ducks and unicorns, and, of course, a glitter station, where you can get your face painted before all the brunching begins. Of course, all this is set to the tune of a live DJ, while you pick out your bottomless beverage of choice from a selection of aperol spritz, sex on the beach and elderflower gin fizz.
One thing you should be aware of before you go, is that this karaoke brunch is one very interactive affair. The three-hour experience includes a range of games from limbo to hula hoop championships in which you'll be expected to face off with your fellow brunchgoers.
The brunch menu itself is rather basic, featuring a selection of unlimited bagels, including ham and cheese, smoked salmon, bacon breakfast bagel and a number of vegetarian options, including sun-dried tomatoes and goat's cheese. In short, those in search of their usual smashed avocado hangover fix will not find it here. But if it's a one-of-a-kind experience you're in search of, Lucky Voice is the place to be.
Once everyone has mustered enough liquid courage – and eaten their fill of brunch bagels – it's time for what we all came here for: the singing. Brunchgoers are invited to make their way to Lucky Voice's private karaoke rooms, where they can sing the rest of the afternoon away. Given that each table is given their own booth, best to make your brunch plans a group event – but to each their own.
The idea of belting out Bonnie Tyler lyrics after gorging on a bottomless brunch may not appeal to everyone but Lucky Voice's bottomless brunch is certainly the most unique – and the most fun – twist we've ever seen on the standard brunch. After all, there are only so many avos we millennials can eat before we start craving the next adventure.
Lucky Voice's bottomless brunch costs £35, including a one-hour karaoke session
173-174 Upper St, Islington, London N1 1RG; luckyvoice.com
Brunching in...
Grilled honeyed figs on sourdough toast with goat's milk labneh and lemon thyme by Elly McCausland
For the labneh
500ml of goat's yoghurt
1 tsp salt
For the figs
6 figs, ripe
2 tbsp of honey
½ tsp cinnamon
6 sprigs of lemon thyme
4 slices of sourdough bread
Make the labneh a day in advance. Mix the goat's yoghurt with the salt and pour into a bowl lined with a clean cheesecloth or muslin.
Food and drink news

Show all 35
Pull the muslin up around the yoghurt to form a bag and tie with string. Tie another, longer, piece of string to the bag to enable you to hang the bag up, so you can suspend it over a bowl – a cold room in the house is ideal. If your fridge is big enough, you can also tie the bag to the rack of the fridge and place a bowl underneath to catch the liquid.
Leave for 24 hours – the liquid will drain away leaving firm labneh in the bag with a texture similar to cream cheese. Discard the liquid and decant the labneh into a bowl.
Cut the stalks off the figs and slice in half lengthways. Arrange cut-side up in a baking dish, drizzle with the honey and sprinkle over the cinnamon. Grill the figs for 5-10 minutes, or until tender and caramelised.
Toast the sourdough slices. Divide between two plates, spread with labneh (you might have some labneh left over) and scatter over half the lemon thyme leaves.
Recipe courtesy of Great British Chefs. Visit their site to discover how to win a great prize for sharing your brunch photos
Register for free to continue reading
Registration is a free and easy way to support our truly independent journalism
By registering, you will also enjoy limited access to Premium articles, exclusive newsletters, commenting, and virtual events with our leading journalists
Already have an account? sign in
Register for free to continue reading
Registration is a free and easy way to support our truly independent journalism
By registering, you will also enjoy limited access to Premium articles, exclusive newsletters, commenting, and virtual events with our leading journalists
Already have an account? sign in
Join our new commenting forum
Join thought-provoking conversations, follow other Independent readers and see their replies