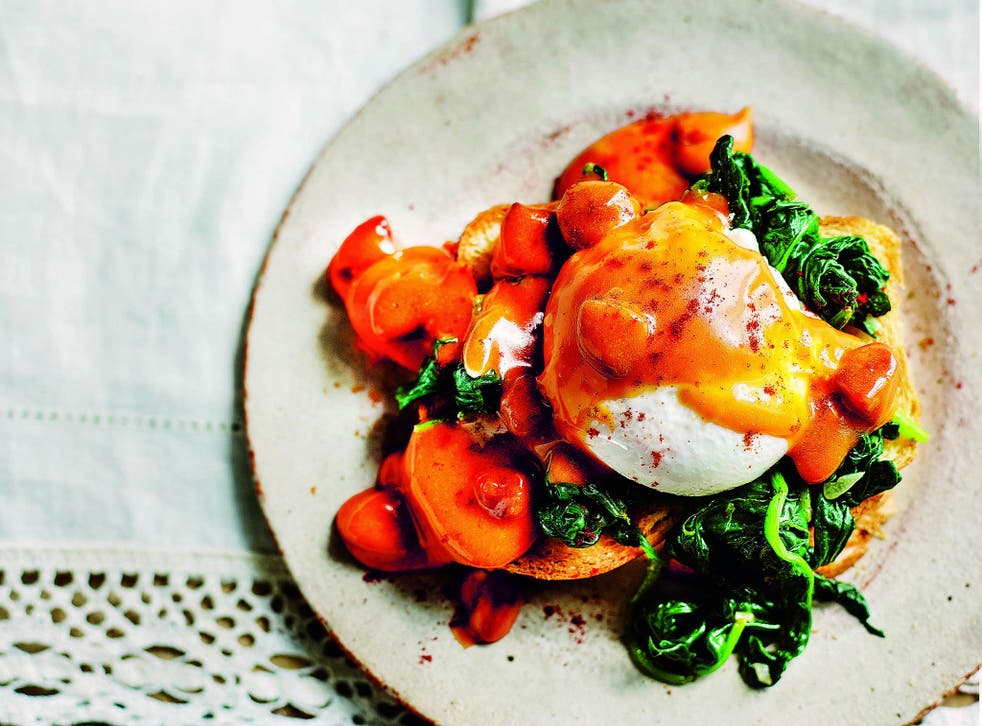 Brunch on Saturday: Spanish eggs with chorizo hollandaise
This week, we recommend a homemade hollandaise sauce with chorizo and dine out at stylish and homely spot in Liverpool
Brunching in...
Eggs Benedict is unbeatable, the perfect brunch. I am not Spanish at all, but when I made the chorizo hollandaise for the first time I swear I thought I had just changed the world forever. I thought to myself: "I have just brought eggs Benedict to a whole other level". I was full of pride. I don't want to sound arrogant but, honestly, my weekend mornings haven't been the same again since.
Huevos con chorizo benedictinos – eggs Benedict with spinach and chorizo hollandaise
Serves 4
2 fresh sprigs chorizo
Sausages (preferably lightly smoked), finely chopped
450g (2 cups) unsalted butter
4-8 eggs, plus 5 yolks
Juice from ½ lemon
2tbsp extra virgin olive oil
1 garlic clove, finely chopped
250g (4½ cups) baby spinach
Salt and freshly ground pepper
4 slices toasted brioche, to serve 
Sweet pimenton (sweet smoked paprika), to serve
Heat a frying pan over a medium heat and dry-fry the chorizo for 3-4 minutes. Add the butter and melt. Pour some water into a small saucepan over a medium heat. Add the egg yolks, lemon juice, 2 tablespoons water and a pinch of salt to a heatproof bowl slightly larger than the saucepan. Rest the bowl over the saucepan and whisk for about 2 minutes or until it gets fluffy, taking care not to overcook it. While whisking, slowly add the chorizo butter in a thin stream until the sauce has fully emulsified and has a creamy mayonnaise texture. Add a touch of salt and pepper and set aside.
Heat the oil in a pan over a medium heat and fry the garlic for a few seconds before adding the baby spinach. Cook for 1 minute to allow the spinach leaves to wilt. Season with salt and pepper and set aside. Lay the toasted brioche slices on serving plates and top each with a spoonful of spinach.
One at a time, break each egg into a ramekin and pour into a pan of simmering water. Gently poach for 2-3 minutes, remove with a slotted spoon and place 1 or 2 eggs on top of each brioche. To finish, spoon the warm chorizo hollandaise over the poached eggs and sprinkle pimentón over each one.
Spanish Made Simple: Foolproof Spanish Recipes for Every Day by Omar Allibhoy (Quadrille, £20) Photography: Martin Poole
Brunching out...
Tucked away in one of the Liverpool city centre's back streets is the aptly named Brunch Club. True to its independent nature, the owner and former builder Karl Nolan designed and crafted the restaurant's interior himself, including the bar and tables. With its bare brick walls, church pews, and bare Edison light-bulbed ceiling, the Brunch Club manages to be a stylish but homely brunching spot all at once.
Despite our early visit the ambience was bustling. The staff who showed us to our table and took our order at the bar gave us the best hospitality Liverpool has to offer. The tables were busy with football fans, glamorous hen parties and families filling their boots before the days' shenanigans.
As a scouser myself, I can confirm that if you're new to Liverpool you will not find a more representative cross section of the city's inhabitants anywhere else.
The menu was thoughtfully prepared by Karl's childhood friend Kevin Taylor, which will satisfy your every brunch desire, and is served until 5pm – so no need for early mornings.
Choose from full English, eggs however you may like them, American style pancakes, or the healthier option of bircher muesli from a bargain £3.80 to £8. I chose the house speciality Duke Street-style eggs: Severyn and Wye smoked salmon with free-range scrambled eggs, fresh herbs, mashed avaocado, vine roasted tomatoes, tenderstem broccoli and two pieces of granary toast for £8.
The post-brunch carrot cake, made on site, featured an out of this world frosting. The brunch cocktail menu, offered the classics including bloody mary and aperol spritz from £7, and for special occasions the restaurant offers a prosecco breakfast.
Brunch with cocktails and coffee for two came to just over £35.
The Brunch Club, 37-41 Duke St, Liverpool, L1 5AP; 0151 709 0650; wearebrunch.com
Register for free to continue reading
Registration is a free and easy way to support our truly independent journalism
By registering, you will also enjoy limited access to Premium articles, exclusive newsletters, commenting, and virtual events with our leading journalists
Already have an account? sign in
Register for free to continue reading
Registration is a free and easy way to support our truly independent journalism
By registering, you will also enjoy limited access to Premium articles, exclusive newsletters, commenting, and virtual events with our leading journalists
Already have an account? sign in
Join our new commenting forum
Join thought-provoking conversations, follow other Independent readers and see their replies