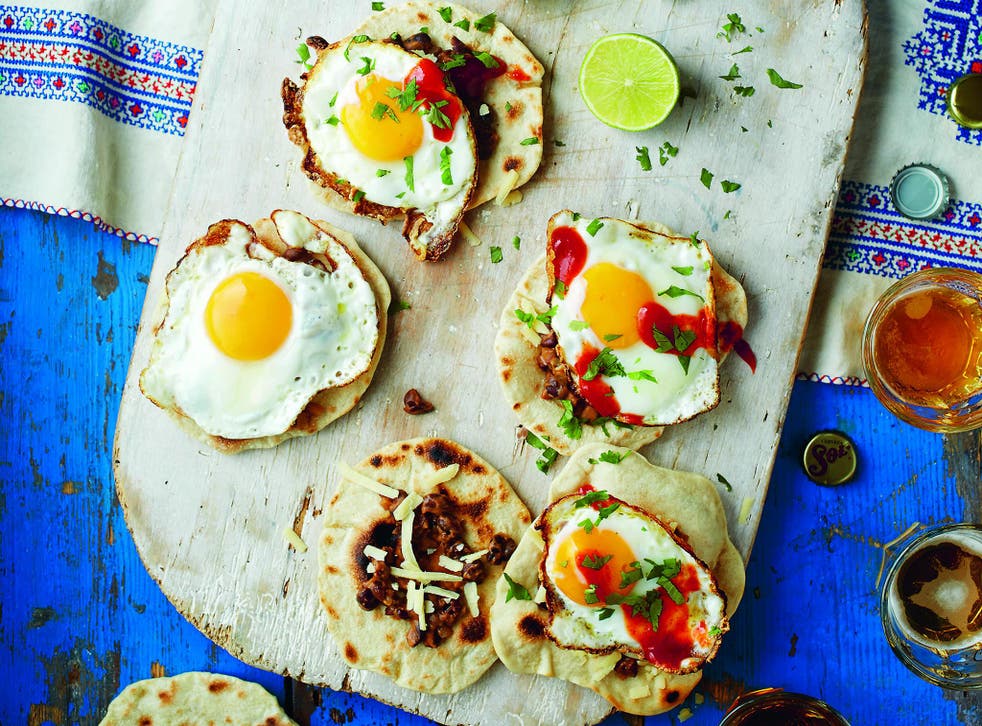 Brunch on Saturday: Tapas inspired dishes and chilli breakfast tacos
This week in Brunch on Saturday, we recommened a tapas inspired menu in Bristol and create Mexican chilli fried egg tacos at home
Brunching in...
Refried beans, fried egg and chilli salsa tacos
What can I say...? These are tasty circles of fiery joy! Enough to kick-start anyone into a good mood.
Serves 8
8 eggs
bunch of coriander (cilantro), chopped
100 g Cheddar, grated
for the mini tortillas
350 g plain (all-purpose) flour, plus extra for dusting
2 tablespoons olive oil, plus extra for oiling
1/2 teaspoon salt
225 ml water
for the chilli sauce
6 red chillies, seeds removed
3 tomatoes, skin and seeds removed
1 shallot, peeled
1 tablespoon lime juice
1 garlic clove, grated for the refried beans
1 x 450 g can cooked pinto beans
1 tablespoon olive oil
1/2 onion, finely diced
1 teaspoon chipotle powder
salt and freshly ground black pepper
Make the tortillas by putting the flour and oil into a mixing bowl, and stir until the mixture becomes slightly coarse. Add the salt and water, and combine using a wooden spoon until the mixture turns into a ball of dough. Flour a work surface and tip the dough out on to it. Flour your hands and knead for 4–5 minutes until the dough becomes elastic. Wrap the dough in some oiled cling film (plastic wrap) and leave it to rest somewhere warm for 30 minutes.
Preheat the oven to 80C (175F/Gas 1/4). Remove the cling film and put the dough back on to a lightly floured work surface. Divide the dough into 16 equal pieces. Roll a piece into a ball then flatten it with the palm of your hand. Use a rolling pin to roll it out into a circle about 7.5–10 cm (3–4 in) in diameter and set this aside on a plate. Repeat with all the pieces of dough.
Heat a griddle pan over a medium heat and dry-fry the tortillas one at a time for 2–3 minutes on each side. Keep the cooked tortillas warm wrapped in foil in the oven. To make the chilli sauce, put all the ingredients into a food processor and whizz until smooth. Pour into a saucepan and slowly simmer for 10 minutes until the sauce has thickened.
For the refried beans, drain and rinse the pinto beans then keep to one side. Add the oil to a frying pan over a medium heat and fry the onion for 3 minutes. Add the chipotle powder and beans and stir. Pour in enough water to cover the mixture, plus an extra 1 cm (1/2 in). Bring this to a simmer and cook until all the water has evaporated. Remove from the heat and mash the beans with the back of a fork until they are slightly mushy. Season to taste.
Heat some oil in a large frying pan and fry the eggs to your guests' liking. Spread each tortilla with some refried beans, top with a fried egg and the pour over the chilli sauce. Sprinkle with coriander and cheese and serve.
Recipe from Breakfast: Morning, Noon and Night by Fern Green. Published by Hardie Grant £18.99
Brunching out...
​The Gallimaufry, Bristol
In the heart of Bristol's trendy Gloucester Road, is The Gallimaufry where you can party with live music in the evening and return to soothe sore heads and replenish on their hearty (and wallet-friendly) brunch menu. While their locally sourced ales and ciders are a major attraction when the sun goes down – when it comes up expect the rustic tables outside to be filled with locals waiting for the tapas-inspired 'The Galli Hangover'.
Brunch runs from 11am to 4pm daily, and the Galli Hangover (£8) features a hearty combination of eggs, mackerel, Chorizo, potatoes and red peppers, served in a skillet with a generous helping of bread. Alternatives to the Galli Hangover include Moroccan bulgur wheat salads (£8), avocado poached eggs with chilli and toast (£7) and even a vegetarian mezze (£8). For something even larger – if you dare – go for beer battered fish and chips for £12 or a Bavette steak with shallot rings and red wine jus for £14. There's also sandwiches served with fries and coleslaw, including a trusty BLT if you need a bit more carbs.
The Galli (as regulars refer to it) is liberally decorated with a mix of vintage and recycled furnishings, with head chef Ian Clark preferring to keep more in line with London gastro pubs rather than take inspiration from its Gloucester Road rivals. So much so that The Galli made its debut in the Good Food Guide in 2013 and has gone from strength to strength since.
The Gallimaufry, 26-28 The Promenade, Gloucester Road, Bristol, BS7 8AL; Sun-Thurs 11am-12am, Fri-Sat 11am-1am; 0117 9427319
Register for free to continue reading
Registration is a free and easy way to support our truly independent journalism
By registering, you will also enjoy limited access to Premium articles, exclusive newsletters, commenting, and virtual events with our leading journalists
Already have an account? sign in
Register for free to continue reading
Registration is a free and easy way to support our truly independent journalism
By registering, you will also enjoy limited access to Premium articles, exclusive newsletters, commenting, and virtual events with our leading journalists
Already have an account? sign in
Join our new commenting forum
Join thought-provoking conversations, follow other Independent readers and see their replies