Brunch on Saturday: Tapas plates in Brighton and healthy fig porridge
This week in Saturday brunch we visit a rustic cafe in Brighton for tapas plates and create a wintry and healthy porridge with cinnamon, figs and cranberries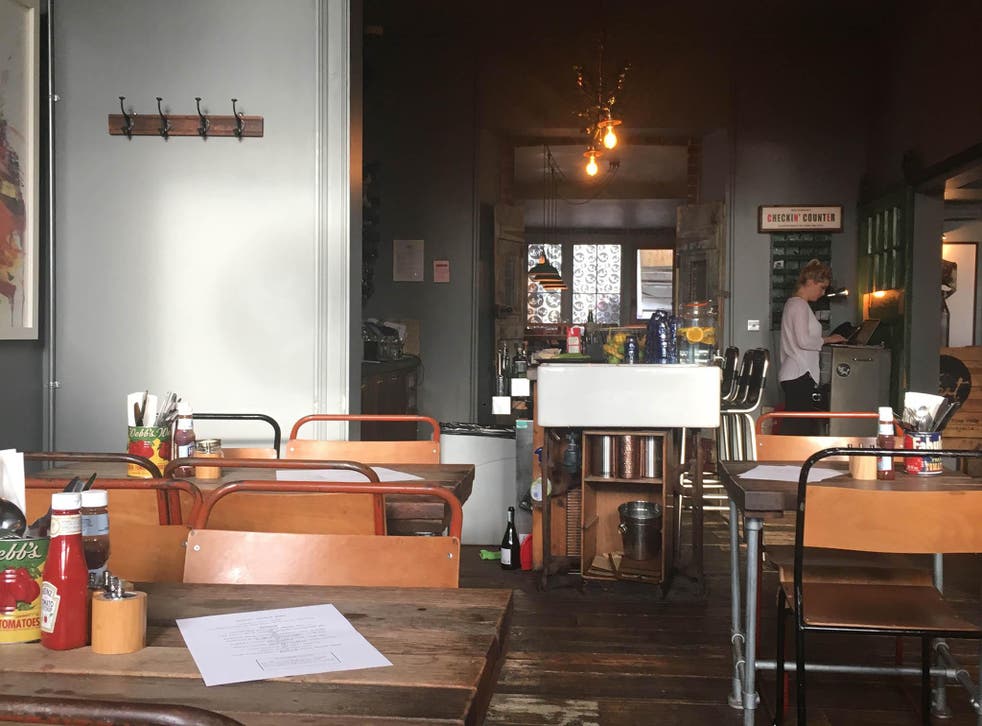 Brunching out
Tapas is not your usual brunch affair. But the modern British tapas style menu at The Set Cafe, is innovative, fresh and exciting – where art is as much in the décor as it is in the presentation.
Found inside the townhouse Artist Residence hotel on Brighton's historic Regency Square, brunch is served on Sundays from 11.30am to 3.30pm. You're advised to pick two dishes each – which is actually quite a hard feat to do from the nine on offer that range between £6 and £8. Dishes come out as soon as they're ready in true tapas style – which is a good idea so dishes don't get cold as you munch through.
The café opened its doors this time last year. The previous spring the restaurant was launched by Semone Bonner Bonner, formerly head chef at The Ginger Pig, and Dan Kenny, former head chef at The Gingerman.
Without a doubt, the highlight of the menu is the partridge hash. As one of the bigger plates, the pulled meat is covered in a light-crisped batter, sitting atop red onions which balance the richness of the meat. Piled on top, is fried egg with a light Marmite hollandaise drizzled over – but if you're a hater of the black stuff, as I am, don't be put off, as it's only a hint. Veggies don't have to miss out on this one, as the chef has rekindled an old British classic, using bubble and squeak in place of the partridge.
Next in line for me is the cured mackerel. This dish alone is a work of art, with thinly cut slices of beetroot bringing it to life, and a pureed parsnip, it forms a lighter option. The rest of the menu uses smaller dishes of traditional main dishes with breakfast twists, like pork belly with black pudding – presented beautifully. And if you've room, go for the fried banana bread for pudding – but you might need to share it. It's sweet and totally indulgent with malt ice cream and smoked fudge sauce.
Without missing a trick, there's also a bottomless brunch menu – for £30 you get two dishes and unlimited bloody mary's or orange prosecco mimosas. Other cocktails include a breakfast Martini, or iced tea, with rum and peach for £7.50 and £7.
Food and drink news

Show all 35
The interior has been given just as much thought as the food. Its stripped back in industrial chic with reclaimed floorboards and exposed bricks, mid-century school chairs and scaffold-pipe style table legs while the walls have an eclectic mix of modern art.
It's a relaxed environment, with newspapers on the front bar which you're encouraged to help yourself to – so says the menu – for Sunday relaxing. Juice and water are also on a help-yourself basis, where the water is brightened with fresh fruit. For the best views, book a table at the front of the café to overlook the sea.
The Set, 33 Regency Square, Brighton BN1 2GG; 01273 855 572; thesetrestauant.com
Brunching in...
Cinnamon millet porridge with fresh figs, cranberries and roasted nuts
A delicious hit of cinnamon.
Whether you enjoy this heartwarming breakfast on a cold winter morning or in the middle of summer, it's perfect to start the day off right. Not only filling, this porridge (oatmeal) will keep you energised throughout the day and make your tummy happy and satisfied. You've never had millet for breakfast before? Then it's about time you try it! Millet is one of my favourite wholegrains to make porridge with. And its delicious, nutty taste goes so well with cinnamon and figs.
Serves 1
Porridge
200 ml water
pinch of salt
4 tbsp millet
​100ml milk or soy, almond, rice equivalent
1 tbsp ground cinnamon
2-3 tbsp maple syrup or sweetener of choice
1 tbsp almond butter
Toppings
2 fresh figs
1 tbsp dried unsweetened cranberries
2-3 tbsp crushed pistachios, roasted
2-3 tbsp crushed pecans, roasted
Maple syrup or sweetener of choice
Bring the water and salt to a boil, add the millet and cook in a saucepan over a medium heat for about 12-14 minutes. Add the remaining ingredients, stir well, turn down the heat a bit and cook for another 4-5 minutes.
For the topping, put the crushed pistachios and pecans into a frying pan or skillet, drizzle some maple syrup on top and toast over a medium heat for a couple of minutes or until golden brown. Take off the heat and let them cool. Add another dash of milk to the porridge if desired and pour into your breakfast bowl. Cut the figs into quarters and arrange them on top of the porridge.
Sprinkle over the cranberries and roasted nuts. If you like you can drizzle more maple syrup on top.
Register for free to continue reading
Registration is a free and easy way to support our truly independent journalism
By registering, you will also enjoy limited access to Premium articles, exclusive newsletters, commenting, and virtual events with our leading journalists
Already have an account? sign in
Register for free to continue reading
Registration is a free and easy way to support our truly independent journalism
By registering, you will also enjoy limited access to Premium articles, exclusive newsletters, commenting, and virtual events with our leading journalists
Already have an account? sign in
Join our new commenting forum
Join thought-provoking conversations, follow other Independent readers and see their replies