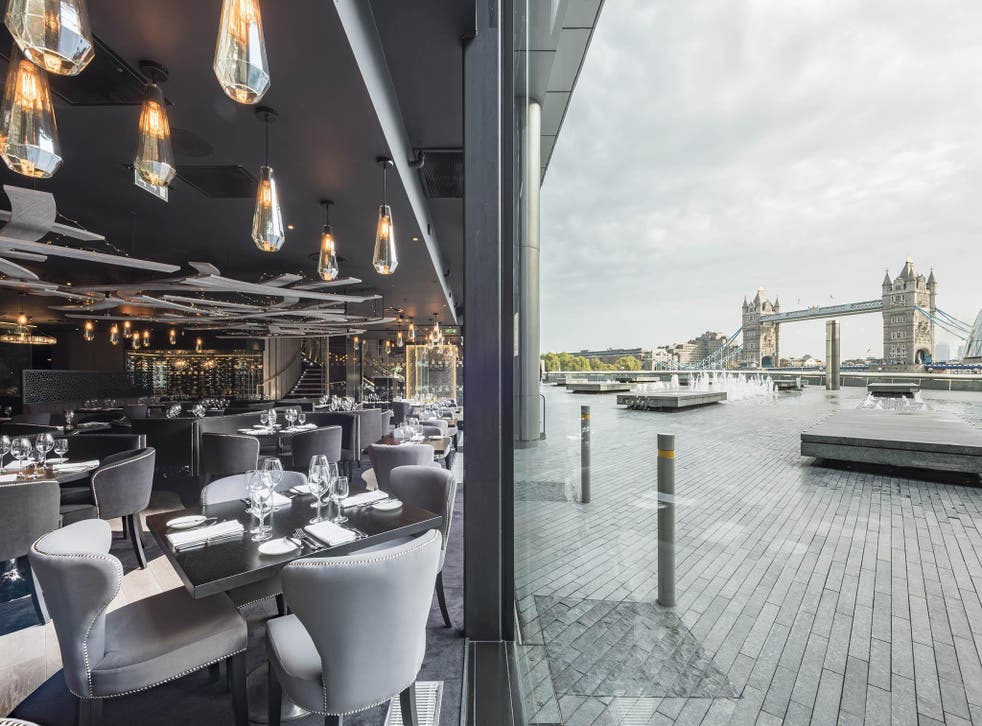 Gaucho Tower Bridge brunch review: Bottomless food to match the booze
This week, Rachel Hosie whiles away a couple of hours with Gaucho's plentiful Electro Brunch, and it's 'shrooms with halloumi back at the ranch
Brunching out...
With a view of Tower Bridge, twinkly lights strung across the ceiling like stars and an interior filled with plush suede curved booths, Gaucho is certainly sleek and sophisticated.
The colour scheme is monochrome, with chrome and glass touches. But you'd be forgiven for thinking this makes it formal and stiff. On Saturday afternoon, there's a DJ entertaining the predominantly young diners enjoying the restaurant's bottomless Electro Brunch (£49.95).
But it's not just prosecco here; there's Aperol spritzes and beer, and you can mix and match too, so you're not confined to your first choice. And if that's not enough, the food is also bottomless...
The good thing about the Argentine menu at Gaucho is that it's all small plates – we know, yawn. When is it not small plates at the moment?
But this format lends itself well to bottomless brunch as your eating is spread out over the two hours to match your drinking.
We kick things off with miniature flaky croissants served with peanut butter dulce de leche, which is, in itself, what dreams are made of. Though it's more peanut butter than dulce de leche, it's still rich and creamy.
Next up, fried provoleta; essentially deep fried cheese served with a pleasant sweet onion chutney.
The eggs royale has a beautiful bright orange yolk, but is disappointingly solid. It redeems itself by being a generous portion, though. The same goes for the eggs florentine which is served on a fluffy toasted muffin with plenty of hollandaise.
What brunch would be complete without smashed avocado? Gaucho's offering is actually more like guacamole and is quite heavily loaded with citrus and coriander, which slightly drowns the avocado.
Being an Argentine restaurant, of course there's something for meat lovers: steak. Despite not being asked how we wanted it cooked, it didn't matter as it's nicely done and comes topped with a fried egg (which actually did have a runny yolk).
Lastly, a classic British dish is given a twist – beans on toast with chorizo – and the choripan sandwich (chorizo sausage and chimichurri served on ciabatta) can't be faulted.
Once you've eaten as much as you possibly can, it's time to move on to the sweet dishes (everyone knows there's a separate stomach for pudding).
The nine best restaurants in the world (2017)

Show all 9
Both my guest and I order the French toast but, oddly, it's served differently. My friend's is cooked in the classic way but cold and mine wasn't cooked at all; it was simply brioche with the peanut butter dulce de leche and strawberries, but both versions were actually delicious.
Lastly, on to the pancakes. They are pleasantly light, full of banana flavour and served with crunchy almonds and a rich chocolate sauce (despite the menu stating Nutella – it was definitely just dark chocolate).
And by this point, we really were full.
If you're hungry, thirsty and after a brunch with a classy but fun vibe, Gaucho could be the one for you. Just whatever you do, get the peanut butter dulce de leche.
Gaucho​, 2 More London Riverside, London SE1 2AP; 020 7407 5222; open daily from 11.30am; gauchorestaurants.com
Brunching in...
Griddled portobello mushrooms and halloumi on ciabatta with coriander and caper dressing
Serves 2
250g halloumi, sliced into 1cm-thick pieces
4 large flat mushrooms
2 ciabattas, sliced open
For the dressing
4 tbsp olive oil
2 tbsp red wine vinegar
½ tsp dried oregano
3 tbsp chopped coriander
1 garlic clove, minced
1 red chilli, finely chopped
2 tsp capers
Make the dressing up by mixing all ingredients together and set aside. Heat a griddle pan until very hot and fry the mushrooms first. Add to the pan closed cup side first. Turn after about 5 mins (liquid will have gathered around the stalk).
Fry on other side for 5 mins, then keep warm while you cook the halloumi until black marks appear on both sides.
Toast the bread and spoon a little dressing on all pieces of ciabatta to moisten. Top with slices of halloumi and the whole mushrooms. Fill the mushroom cup with dressing and drizzle the rest liberally.
Recipe from justaddmushrooms.com
Join our new commenting forum
Join thought-provoking conversations, follow other Independent readers and see their replies