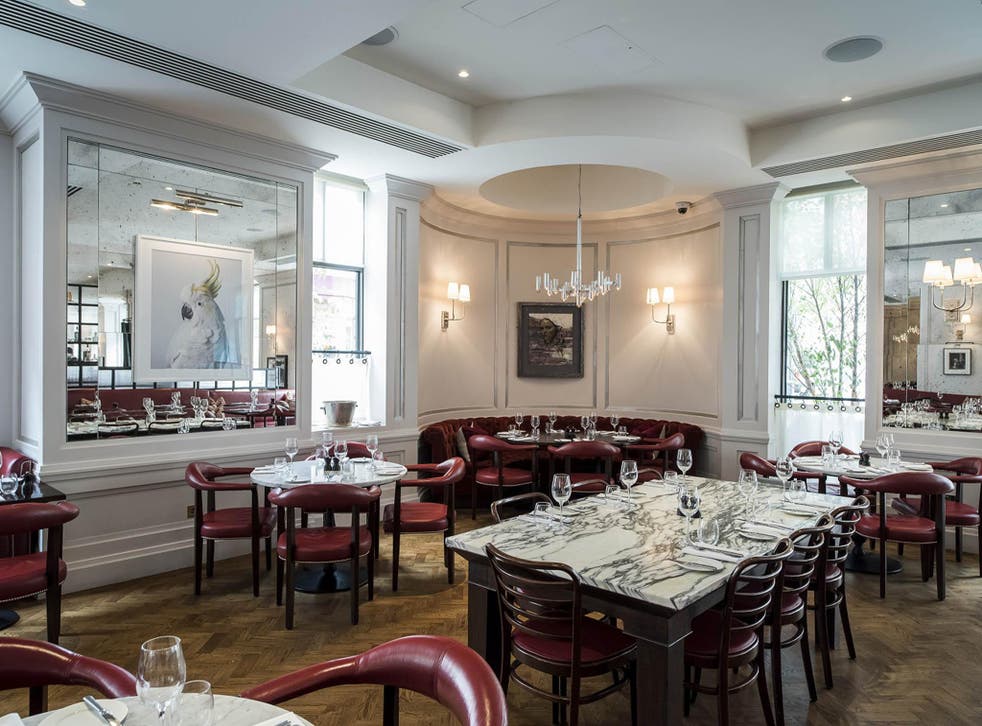 Brunch on Saturday: 108 Brasserie brunch review and vegetarian kedgeree recipe
In this week's Brunch on Saturday, Emma Henderson visits a brasserie in Marylebone for a sophisticated all-day dining experience
Brunching out...
When the French do all-day dining, it's a far classier affair than its American counterpart, where visions of huge all-day fry-ups, dodgy seating and plenty of grease come to mind. At Marylebone's 108 Brasserie, all the meals, from breakfast and brunch through lunch to afternoon tea and dinner are served, but as the word "brasserie" suggests, it's chic and elegant.
The restaurant opens at noon, and brunch is served from then until 5pm on weekends. Aside from the dining room, there's a large bar area – have a brunch cocktail sitting at the bar beforehand – and off from the restaurant is a less formal, and rather cosy, pantry, plus a row of seats outside the front.
Back in the restaurant, table tops are a mixture of marble effect or black, the seats are a sumptuous red and even the menus are elegant, on crisp white cards with delicate gold boarders. The floor is parquet, the ceilings are high and white walls are infrequently dotted with bold art. It effortlessly oozes sophistication. But although it looks French, the food is very much modern British.
Even for brunch, we're brought a trio of breads to begin: white sourdough, Irish soda and, the best, Irish Guinness bread, which I was pleased about as I'd also chosen it as my main along with kiln hot smoked salmon, a poached egg and lemon, £14.50. The lemon comes wrapped in muslin and enough salmon to feed two, but thankfully I had it all to myself as it's the best smoked salmon I've had in a long time: large flaked chunks with a slightly sweet and very smokey flavour. The egg is poached to perfection – not soggy, but still runny inside. The baked eggs with chorizo, feta, spinach and more of that lovely sourdough bread – surprisingly, it's not overkill – is hearty in flavour, with a rich spiciness, but not quite in size.
The rest of the menu ranges from traditional avocado on toast (£10), eggs benedict (from £7), buttermilk blueberry pancakes (£9) and grilled Manx kippers (£12).
Refusing to leave any, I managed to finish my main, only to be met with a dessert menu. Usually I'd jump at anything chocolatey, but the salmon was so good, I couldn't bring myself to do it – even if there was a warm chocolate fondant.
108 Marylebone Ln, Marylebone, London W1U 2QE; 020 7969 3904; open daily 7am-10.30pm; 108brasserie.com
Brunching in...
200g of basmati rice
190g of lentils
2tbsp of vegetable oil
1tsp cumin seeds
3 garlic cloves, finely chopped
2 green chillies, chopped finely and deseeded if preferred
10 black peppercorns
1 potato, diced into small cubes
1 carrot, diced into small cubes
¾tsp turmeric powder
100g of fine beans, cut into 3cm pieces
100g of frozen peas
½ head of broccoli, cut into medium sized florets
½ bunch of coriander, washed and chopped
1tbsp of ghee
Salt
Black pepper
To start the kedgeree, wash and soak the rice and lentils together in plenty of water for 10 minutes​. In a saucepan, heat the vegetable oil. Add the cumin seeds and saute for 30 seconds. Add the garlic, ensuring the heat is low, and fry until golden brown.
Food and drink news

Show all 35
Add the green chilli and peppercorns to the pan and stir. Increase the heat, add the diced potato and carrot and saute for 2 minutes. Add the turmeric and a little salt to taste, and cook for a further 2 minutes. Drain the rice and lentils and add to the pan. Pour 6 cups of hot water in to the pan. Once the mixture starts to bubble, cover the pan, lower the heat and slow-cook until the water has been absorbed.
Add the beans, broccoli, peas and coriander to the pan. Stir well and simmer for a further 5 minutes before removing from the heat. Season the kedgeree with salt and pepper, stir in a tbsp of ghee and serve hot.
Recipe courtesy of Great British Chefs. Visit their site for more beautiful brunch recipes
Join our new commenting forum
Join thought-provoking conversations, follow other Independent readers and see their replies