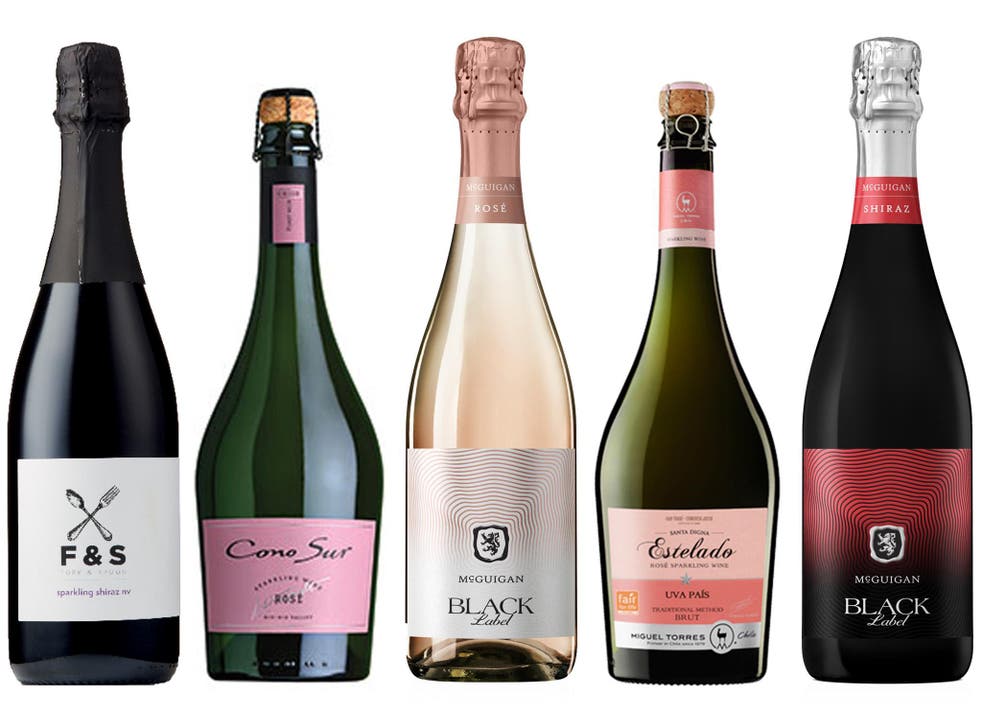 Wines of the week: 10 budget new world sparklers
What is great about the vast range of sparkling wines now available is that they do not all have to be those expensive wines for special occasions. There are now tipples – prosecco, cava and the French crémants lead the way on this – that don't cost a fortune but are are just right to open at the end of a long summer's day in the garden, at work or on the beach, with the promise of good food or perhaps just a sofa 'n' Netflix binge alongside a pizza.
As promised a couple of weeks ago, here we return to the theme of summer sparklers, but this time leave Europe behind as we take off for the New World and a selection of good-value fizz for everyday drinking and gatherings.
First to Australia, where the McGuigan name is mostly associated with a budget branded label that might be reliable but rarely excites the tastebuds. However, the Black Label Sparkling Rose (£7.50 sainsburys.co.uk) is a good all-purpose, crowd pleasing sparkler that punches well above its price point, great for parties or to enliven a takeaway fish and chips.
Much more of an acquired taste is the Black Label Sparkling Shiraz (£7.50 sainsburys.co.uk). Sparkling dry or medium red is a style we are not used to in this country; however, it is popular in some parts of Europe – they drink it in the Loire and Italy – and Australia. Serve well chilled, with either barbecued meats as the Aussies do, or with smoked duck or beef carpaccio, or with cakes and fruit desserts – particularly summer puddings, which are a good match for the intense, rich raspberry and blueberry flavours. In a similar vein, but possibly slightly better on quality is the Fork & Spoon Sparkling Shiraz (£7.99 aldi.co.uk). You could develop a taste for it...
Moving slightly up the price range, the stylish Bird in Hand Sparkling Pinot Noir (£11.99 waitrose.com; £14.95 tanners-wines.co.uk) from the Adelaide Hills region is very dry, pinot pink and perfect as an aperitif with canapes.
Over the Bass Strait, many believe the cool climate of Tasmania is the best place for Australian sparkling wines – try the Jansz Rose NV (£18.99 ocado.com), which is made with the traditional method used for most top-notch sparklers and delivers a fine, elegant, complex mouthful of red berry fruits.
Further east, New Zealand (cooler too) produces some excellent fizz such as the Mount Bluff Sparkling Brut NV (£13.50 marksandspencer.com), made from chardonnay and pinot noir: easy, uncomplicated summer wine, great for any aperitifs or smoked fish canapes.
For the brioche and cream flavours of traditional champagne but at a more budget price, try the widely available Graham Beck Brut NV (£14.99 or £12.99 if bought as part of mixed six bottle purchase majestic.co.uk; £14.99 waitrose.com), a chardonnay and pinot mix from vineyards in Robertson, Franschhoek and Stellenbosch in South Africa. Its warmer, yeasty, more complex style derives from the use of reserve wines in the blend and maturation in the bottle for up to 18 months. In a similar vein is the award winning, 100 per cent chardonnay KWV Laborie Blanc de Blancs 2010 (£12.95 slurp.co.uk), where the brioche and creaminess is shot through with some stringent acidity and citrus flavours. Both are just the kind of thing for a plate of oysters or other shellfish.
We finish our journey around the Southern Hemisphere in Chile, where sparkling wine is improving in leaps and bounds. As recommended before in this column the Estelado Sparkling Rose (£12.50 winedirect.co.uk; £13.50 sohowine.co.uk) is a lovely pale pink, made from the indigenous and recently revived pais grape, delivering a lovely combination of red fruits with some toasty backdrop. Try also the fabulous value Cono Sur Sparkling Rose (£8.49, normally £9.99 thepipstop.co.uk; £10.75 ocado.com) with plenty of pink pinot party perfection.
Join our new commenting forum
Join thought-provoking conversations, follow other Independent readers and see their replies