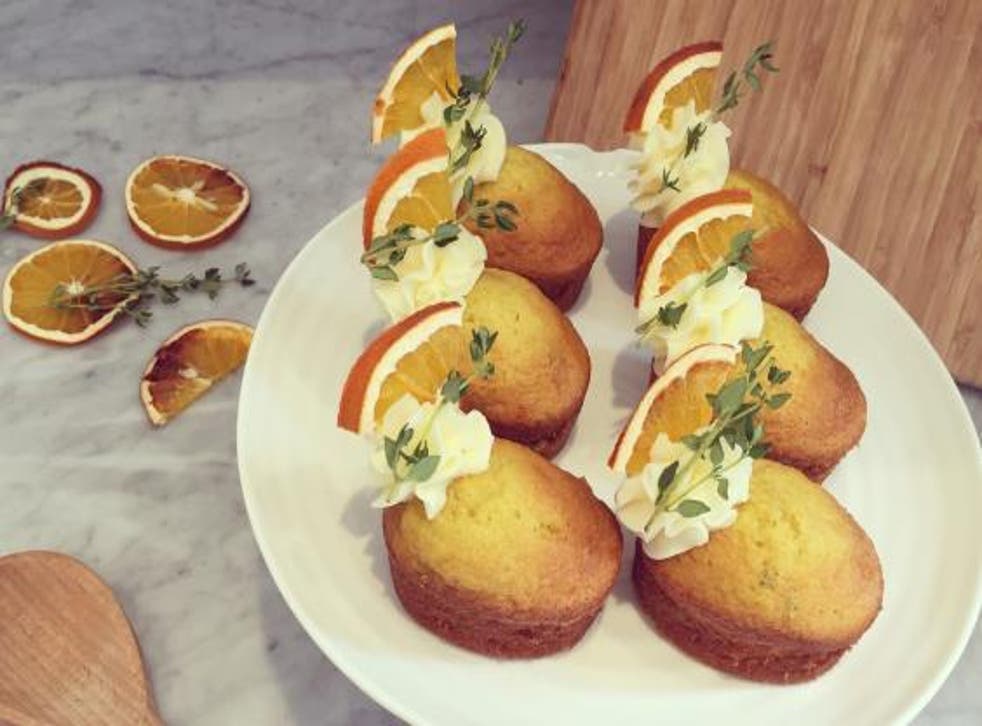 Cake recipes: how to make Orange, thyme and olive oil friands
These make for the pefect afternoon tea break, says our baking columnist Laura Timson
These zesty friands are packed with flavour and deliciously moist. A not too sweet treat, they are the perfect addition to any afternoon tea break.
Ingredients
• 260g Organic Self Raising Flour
• 1 tsp Baking Powder
• 4 Organic eggs
• 260g Organic Caster Sugar
• Zest of 3 Oranges
• Zest of 1 Lemon
• 5 tbsp Fresh Organic Thyme Leaves
• 150g Organic full fat yoghurt
• Orange Buttercream: 345g Butter, 750g icing sugar, Juice and zest of 1 Orange
• Slices of dehydrated orange and thyme sprigs to decorate
Method
Preheat the oven to fan 140C/conventional 160C/ gas 3
Grease a 12-hole Friand tin lightly.
Whisk the oil, sugar, orange zest, lemon zest, yoghurt, thyme and eggs in a bowl thoroughly.
Sift the self raising flour, and baking powder and then add this to the wet mixture above.
Pour the batter into your Friand tin and bake in the oven at 160c fan for 10 minutes until the sponge is light and springy.
Once cooked take out of the tins and leave to cool on a wire rack.
For the Orange buttercream cream together butter and icing sugar and the juice and orange zest.
Pipe the buttercream onto the ends of the Friands and then decorate with the dehydrated orange slices and sprigs of thyme. Absolute Heaven!
Register for free to continue reading
Registration is a free and easy way to support our truly independent journalism
By registering, you will also enjoy limited access to Premium articles, exclusive newsletters, commenting, and virtual events with our leading journalists
Already have an account? sign in