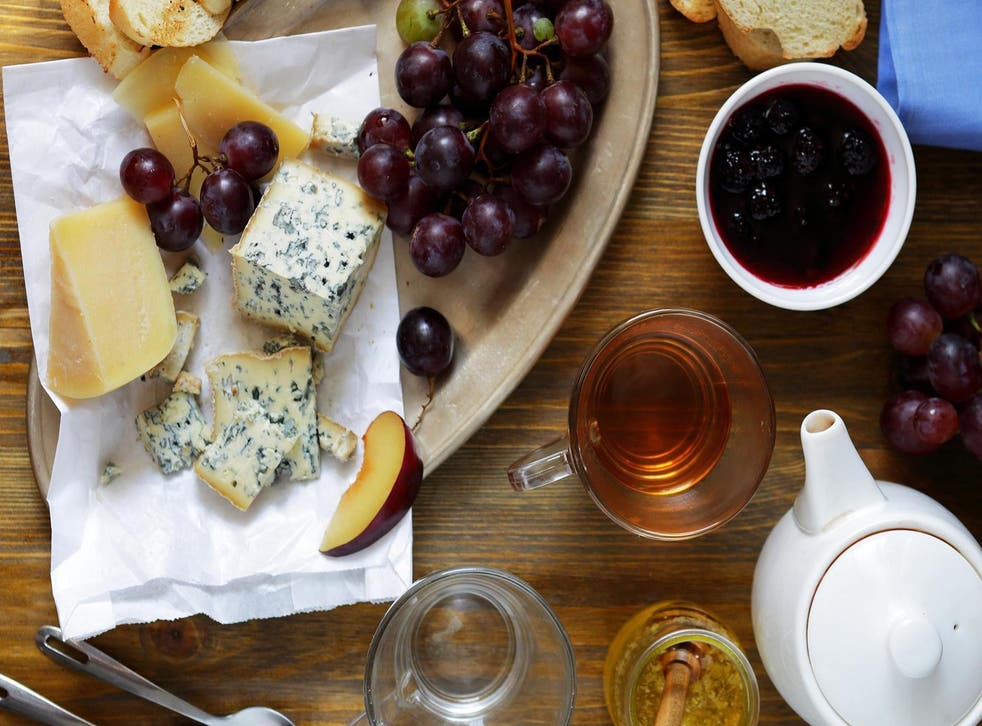 Why you should be pairing cheese with tea
Because there's more tea out there than just a breakfast brew
If existing opinion is anything to go by, cheese and wine go together like tea and cake, champagne and strawberries, and, well, cheese and wine.
But as Brangelina have shown us, even the most established pairings can come tumbling down.
Could it be that wine isn't actually the best liquid to consume alongside your cheeseboard? Is there a drink out there that brings out cheese's best qualities, better?
According to one "food and drink luminary", we should actually all start pairing cheese with tea.
"Most people, in my experience, think of tea as a drink for rainy days, grandmas, or as a little sister to coffee," tea expert Rachel Safko told Forbes. "All of the above can be true, but there's much more versatility to tea – it's the chameleon of beverages."
New York-based Safko offers private events and consultations including a "tea and cheese soiree" devoted to exploring "the flavours that are unlocked when pairing tea and cheese".
She believes tea is underrated and under-explored as there are so many different types with different qualities, and there's a tea for every mood and occasion.
"Whiskey lovers might start with pu-erh or lapsang souchong," she suggests. "Pairing tea and cheese is a leap of faith from there.
"It comes from seeing tea as a drink with real personality, oomph, and flavour, and from feeling its many moods rather than just seeing it as a dull, old-fashioned afterthought."
Garçon Wines: Wine delivery that fits through your letterbox

Show all 7
Safko believes tea could take the place of wine because they're both affected by nature – where the grapes or tea leaves are grown, the soil, and how the wine and tea are processed.
"Like wine, teas have varying degrees of tannin along with a natural astringency: a dryness and feeling that isn't quite bitter or sour, but more like the pleasant tartness and pucker you might get from tasting a lemon or pomegranate," she explains. "Cheese – in its infinite glory – offers a nice balance to that astringency."
But Safko even goes so far as to argue that tea is superior to wine as the heat draws our underlying flavours that a cold drink cannot.
So how should you pair your tea and cheese?
Safko recommends "a crisp, lemony first flush darjeeling – known as the Champagne of tea" with Brie and cucumber finger sandwiches. The classic combination works so well, she says, because "the fatty, creamy umami that most of us go bonkers for in cheese helps round out the bite of more astringent teas."
Just like when choosing a wine for your cheese, you could either choose a tea to contrast salty and sweet flavours, or go for a taste similar to the cheese.
If you have your go-to cheese and wine pairings, Safko says it's easy to swap out your vino with teas – try light green and white teas instead of champagnes and sauvignon blancs.
"Green teas, in general, tend to go really well with fresh goat cheeses or triple-crème cheeses," she says. "The crisp, bright, vegetal, elegant quality of a Japanese sencha, for example, complements a classic goat cheese, which has a spring-like, grassy quality as well as depth and body when nibbled alongside green tea."
If you want something stronger, this is where black teas and pu-erhs come in: "The smoky lapsang souchong or velvety keemun are both dynamite with blue cheeses, partly because the salt and creaminess in the cheese play off the sweetness and darker depths of the tea," Safko explains.
So if you're trying to cut back on your alcohol consumption but aren't quite ready to give up cheese, perhaps it's time for tea.
Join our new commenting forum
Join thought-provoking conversations, follow other Independent readers and see their replies