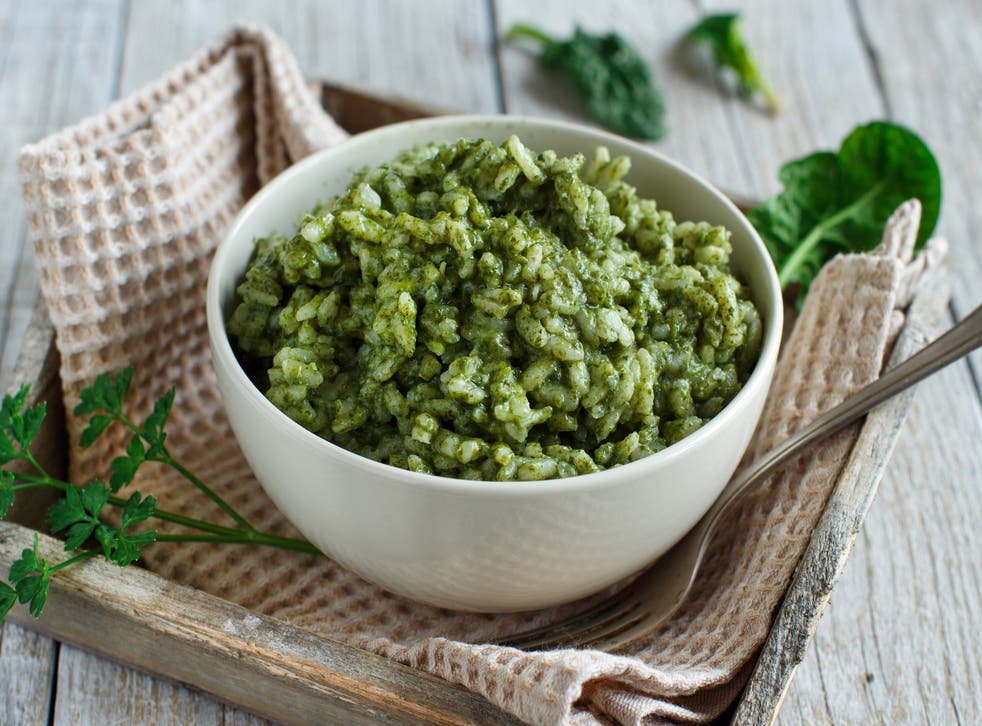 A chef's advice for relaxation: stir some risotto
Ruth Rogers of The River Café in London finds peace in a spinach and taleggio risotto
Melissa Clark
Friday 27 April 2018 16:55 Comments
Some chefs meditate. Some do yoga. Others do shots. But when it comes to finding calm amid the hectic whirl of the professional kitchen, Ruth Rogers, the chef and owner of The River Café in London, likes to stir risotto.
"Risotto is such a relaxing thing to make because of the slowness of it," she says in a recent phone call. "It's got a soothing rhythm that's good when you're anxious about something."
And I was anxious about something, which is why I called. I was anxious about the nettle and taleggio risotto in the recently released River Café London cookbook.
The book, a vibrantly designed celebration of the restaurant's 30th anniversary, includes updated versions of recipes from the classic 1995 River Café Cook Book, along with new ones.
I would have probably passed right by the nettle risotto if it weren't for the taleggio. Melty chunks of that funky, earthy cheese running all over the creamy rice had epic appeal, despite the nettles. I've had an aversion to those ever since I was stung as a kid trampling through the English countryside one summer holiday. That includes cooking them. Any recipe that begins with instructions to don thick rubber gloves for protection is just not very inviting.
So I asked Rogers: could the risotto be made with a less ferocious green that's also easier to find if you're not running around British fields in your shorts?
Spinach, she says immediately, particularly mature, crinkly leaves with a rich mineral taste. That's what she uses outside nettle season, which lasts only a few weeks in spring.
Rogers then gave me a risotto reminder. Contrary to popular belief, you don't need to stir risotto continuously as it cooks. Once you're attuned to the rhythm of adding the broth, she tells me, you can stir intermittently; just stay close by.
Risotto has been a menu staple at The River Café ever since Rogers and her partner Rose Gray opened it in 1987. Three decades later, the restaurant is a different place – bigger and more ambitious, though sadly without Gray, who died of cancer in 2010.
"In the past 30 years, we've seen ups and downs, but there's been a continuous ethos to use the best ingredients and to keep within a strong tradition," Rogers says. "You have to keep growing. That's what makes you timeless."
Spinach risotto with taleggio
Total time: 45 minutes
Serves 6
½lb cold taleggio
625g spinach, any thick stems removed
6tbsp unsalted butter
1 medium red onion, finely diced
675g finely diced celery
2 garlic cloves, finely grated or minced
340g arborio rice
1tsp fine sea salt, more as needed
180ml dry white wine
830ml good vegetable or chicken stock
Cut the rind off the taleggio and discard. Dice the cheese into 1/2-inch pieces. Set aside at room temperature as you prepare the rice.
Line a colander with a clean dish towel and place spinach inside. Heat about 2l of water until boiling, then pour over spinach; the spinach will wilt. Let spinach sit until cool enough to handle, then use the dish towel to squeeze out the water. Transfer spinach to a food processor and blend with 1tbsp butter until smooth. Reserve.
Melt remaining 5tbsp butter in a large skillet over medium heat. Stir in onion, celery and garlic; cook until translucent, about 7 minutes. Stir in rice and 1tsp salt, and cook until toasted and golden, about 5 minutes.
Stir in wine and cook until it's absorbed, about 3 minutes. Stir in stock, about 120ml at a time, stirring often but not necessarily continuously, until the stock is finished and the rice is cooked through but not mushy, 15 to 20 minutes.
Stir in spinach puree, then taste and add more salt, if needed. Add taleggio and stir to melt. Serve immediately.
And to drink ...
With the creamy, earthy, assertive flavours in this risotto, you need an equally assertive white wine that penetrates the richness of the cheese with propulsive acidity. An Italian white like a good soave can do the job deliciously, but while pairing regional wines with local dishes is often a reflexive choice, I'm thinking of several French wines as even better options. Good bourgogne aligoté, I've found, can be terrific with Italian pastas that need a jolt of lively acidity, and I think it will work well here, too. So would a vermentino from Corsica, where it's usually labelled vermentinu, and often seems more stony and incisive than vermentinos from elsewhere. Sancerre and other Loire sauvignon blancs, especially those on the herbal side of the spectrum, will also go very well.
© New York Times
Register for free to continue reading
Registration is a free and easy way to support our truly independent journalism
By registering, you will also enjoy limited access to Premium articles, exclusive newsletters, commenting, and virtual events with our leading journalists
Already have an account? sign in
Register for free to continue reading
Registration is a free and easy way to support our truly independent journalism
By registering, you will also enjoy limited access to Premium articles, exclusive newsletters, commenting, and virtual events with our leading journalists
Already have an account? sign in
Join our new commenting forum
Join thought-provoking conversations, follow other Independent readers and see their replies